When the French astronomer Abbe Louis de la Caille made it to the top of Table Mountain in 1750, he observed no fewer than 10,000 stars and was so impressed that he named a whole constellation (Mons Mensae) after this iconic slab of stone.
Today, you're likely to see almost as many tourists coming and going on the cable car or huffing and puffing on foot. But that's no excuse not to join them – because once you get there the crowds become insignificant in such an exhilarating setting.
Cable car to the top of Table Mountain
We had allocated 45 minutes to wander about on the massive plateau, but it soon became almost two hours – and still, like Moses, we were reluctant to come down from the mountain.
There's so much to do up there. You can hike, picnic, study the rock rabbits (hyraxes), admire the spiky plants that thrive with little in the way of soil, practise yoga, grow tipsy on the champagne air and even abseil down it if you dare. And, of course, you can survey the scene from every angle: oceans to the left, oceans to the right, beaches down below, cloudless skies up above, Cape Point somewhere in the distance.
I was last here 21 years ago, a few months before the first democratic elections were held – and the transformation is astonishing.
The waterfront, buzzing with shops and restaurants, is a little too California for me, but it's one of the city's great success stories. By comparison, the town centre is still sleepy during the day and has largely avoided a full chi-chi makeover. When our guide said we were off to the bus terminal not far from the impressive old City Hall building, it was a case of following on trust.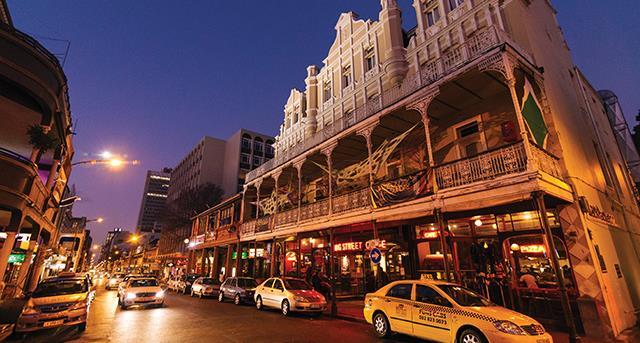 After dark, head to lively Long Street, home to the Mother City's party scene
Our reward was an introduction to a chef called David, one of several who run kitchens housed in cramped wooden shacks. Lunch here is ten times cheaper than on the waterfront and, somehow, ten times more atmospheric.
But perhaps our best meal was at trendy Test Kitchen, presided over by Luke Dale-Roberts, probably South Africa's most celebrated chef. We stayed 30 minutes out of town for our first two nights, at Steenberg Farm in Constantia, the oldest vineyard (1682).
The whole place – its lush golf course, excellent bistro (wine tastings aplenty), intimate spa, manor house and colonial-style rooms – exudes charm and calm. Cape Town is a bubble compared with the rest of the country – and locals of every creed and colour seem to know that.
I detected no smugness, no sense of entitlement. Rather, an acute awareness that this is a work in progress.  And just as the physical backdrop plays such a huge part here, so too does the political backdrop.
I couldn't find anyone with a good word to say about President Jacob Zuma. Some think he could be gone within 12 months, despite his term officially having almost four more years to run.
Visiting a country that remains on a political knife-edge is exhilarating – and I was very much struck by how Nelson Mandela still has such a powerful influence; always will. His presence is everywhere: on street names, on billboards and, crucially, within the hearts of all South Africans.
Bright future: The colourful Bo Kaap district is worth a visit
We made the pilgrimage to Robben Island, where he spent 18 of his 27 years in captivity, joining a tour led by a fellow former inmate. It could be so much more interesting than it is, but if you've never done it, you must.
Visiting the penguins at Boulders Beach in Simon's Town is a good idea, too. Then head back to the city via the False Bay villages of Kalk Bay (lunch at Harbour House was sensational and we loved the ramshackle shops), St James and Muizenburg, the latter described as the St Tropez of Cape Town, which may or may not be a compliment.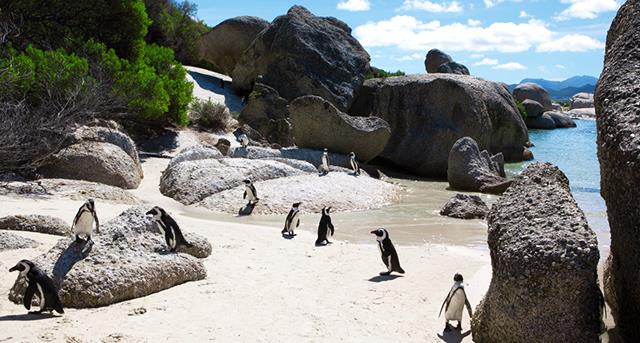 Fascinating nature: Watch the penguins interacting on Boulders Beach
The swimming is colder on the west side of the Cape, but the views better. We stayed at the fabulous Cape View Clifton, which opened two years ago and has only seven rooms, all facing the ocean, all whites and greys, with soulful art and comforts of every kind.
It's a glorious spot high above the beach, with Camps Bay round the corner. A beach house that feels more like a home than hotel. You help yourself to drinks and jot it down; guests wander about in the kitchen chatting to the cheerful staff; no one wears shoes.
The sunset on our last night was the colour of the rosé swishing about in our huge wine glasses. We drank deeply on both counts, painfully aware that the morning would bring a hangover made worse by the thought of flying home.

First published in the Mail Online -  April 2016
More articles below...