Friends have been raving about Cape Town for so long now, that finally I thought it was about time I paid a visit. It's one of the easiest longhaul destinations to visit - because with hardly any time difference (an hour ahead when we went) there's no jet-lag to deal with. So after a direct flight to South Africa we could start to enjoy the holiday the moment we arrived.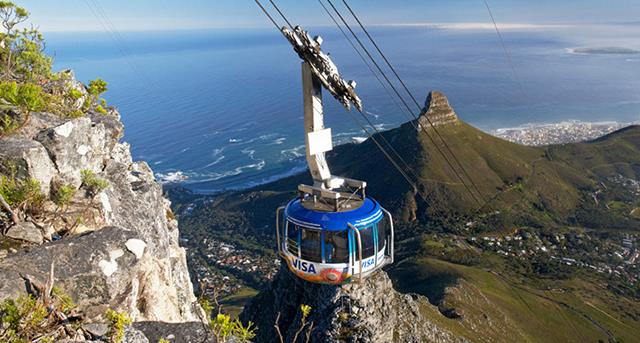 The alternative to hiking up Table Mountain

A TRIP OF A LIFETIME
The trip with my boyfriend Eddie was for eight days, which I thought was probably not long enough to do all the things we planned. We wanted to see great places during some sightseeing trips and visit top restaurants, and the holiday also had to include golf, as Eddie and I are keen players.

We started with a three-night safari at the Sabi Sabi game reserve, situated on the edge of Kruger National Park. We couldn't wait to take a game drive through the bushveld. The Earth Lodge in the reserve was wonderful. I expected we might have to rough it on a safari, but the place was luxurious, serving great food and excellent wine (it had the most amazing cellar – one evening we had a private dinner and sampled lots of fine wines).

One of the highlights for me was a sunset picnic during one of our game drives. We had gin and tonics and some nibbles while sitting on top of our 4x4 as we watched the sun go down. It was a magical experience, and Eddie and I were both blown away by it.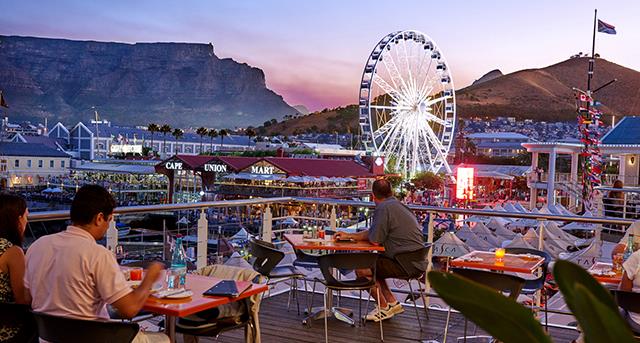 Find a spot at the V&A Waterfront with views of Table Mountain
OUR SAFARI EXPERIENCE
To see the wildlife you have to get up early, and the close encounter we had with a leopard, who was strolling behind the vehicle at one point, was fascinating. It wasn't frightening at all, rather a great feeling that we were in the middle of a huge adventure.

Back at the lodge, it was great talking to the other people who had been out on walks and drives. It was a chance for all of us to share our experiences.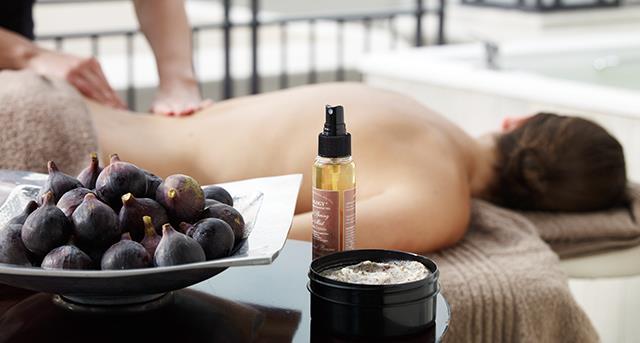 Treat yourself at the spa at The Cape Grace

CAPE TOWN CALLING
After the safari, our next stop was Cape Town, which is one of Africa's most fashionable cities. We stayed at the Cape Grace Hotel and our room had a fabulous view of Table Mountain. The Cape Grace had the feel of an old-school grand hotel and occupies a brilliant location near the busy V&A Waterfront, which has lots of shops and restaurants.

The great thing about South Africa for British travellers at the moment is the exchange rate. While sterling is struggling against the euro and dollar these days, we got about 17 rands to the pound, and prices are very reasonable. When Eddie studied the menu in restaurants he would point out wines for £20 which would easily cost £80 a bottle in Britain.

On the spur of the moment, one day we decided to hike up Table Mountain, which took about two-and-a-half hours. We were warned that it could be very windy at the top, but fortunately the weather was really warm and sunny during our jaunt.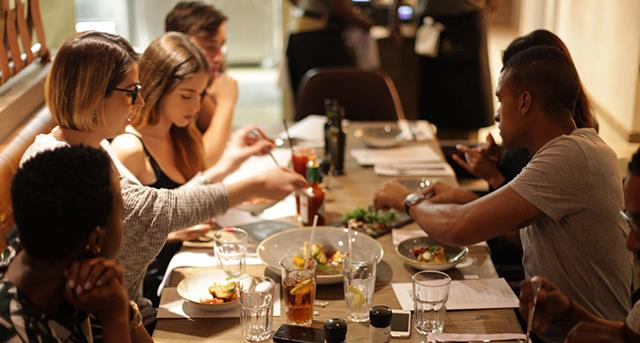 Shortmarket Club: a very luxurious and intimate restaurant serving modern food
FOOD & ACTIVITES GALORE
On another occasion, we managed to secure a table at the trendy and very popular Shortmarket Club restaurant in the city centre. The restaurant serves modern food with a South African twist.

We'd been looking forward to a round of golf since our arrival, as South Africa has some famous courses. We had  an excellent round at the Steenberg Golf Club. The fairways and greens were well manicured and the course had amazing views. A good round of golf was followed by a great meal in the club's fine bistro, where we had a glass of sublime local wine.

Another place worth exploring  are the beautiful Kirstenbosch Gardens which host numerous outdoor concerts during the warmer months. The whole holiday was perfect and at the end I said to Eddie: 'I don't want to go home!' When we left for the airport, I had tears in my eyes, and that doesn't happen very often at the end of a holiday. I really want to go back and next time I'll take my seven year-old daughter Betsy, because I think she will love it.

And Eddie is keen to go diving with sharks. I think I'll give that experience a miss… perhaps I'll go shopping with Betsy that day instead.
First published in the Mail on Sunday -  January 2018
More articles below...