We'd come to sample sauvignon, sip shiraz, marvel at malbec, and savour world-class cuisine. But if you ask why we'd travelled to the southern hemisphere when we have all that on our European doorstep, you obviously haven't been to South Africa.
This pilgrimage to the wine-taster's paradise of Franschhoek began not with an aperitif - say a Graham Beck Game Reserve chenin blanc - but with an appetising few days in Cape Town. Our hotel, the Cape Grace, sits alongside the lively marina. From here, you can take a tourist bus ride around the city, a cable-car trip up Table Mountain, and shop at the Waterfront area.
At the Baia restaurant we feasted on seafood bisque, lobster and langoustine - and presented with a bill as cheap as chips.
For something more sedate, the colonial grandeur of Mount Nelson is the place for afternoon tea. However, if I could eat only one meal on the Cape it would be at The Pot Luck Club, the hottest restaurant in town.
From Cape Town, we headed for the open countryside, climbing through Helshoogte Pass with its amazing mountain views. Just 90 minutes later we were in a different country - think Tuscany comes to Cumbria, with some Dutch gable architecture thrown in.
The wine tram disgorges its merry passengers at the Rickety Bridge vineyard
After being hounded out of Europe, it was the Huguenots who brought their distillery skills to this verdant triangle of South Africa, transforming it into one of the World's most beautiful wine valleys. Relais & Chateaux has now captured a corner of Franschhoek and discreetly created the Provencal-style retreat of Le Quartier Francais.
The hotel has a tranquil hidden garden, lavender-lined walkway and Tasting Room restaurant, all set within the charm of a Victorian village square. There is a glorious list of wine estates to visit in this area, all with restaurants and tastings.
La Petite Ferme sits at the back of Franschhoek and has mountain views and a mouthwatering lunch menu. Delaire Graff is a gem of an estate, where you can view the oak-barrelled seasoning process, or visit its famous art collection, including Tretchikoff's Chinese Girl (it's said to be the most reproduced painting in the world), and a diamond showroom on which the Graff fortune is built.
We opted for the hop-on, hopoff Franschhoek tram tour of the vineyards, along with a boisterous party who got ever squiffier as we rumbled from one distinguished estate to the next.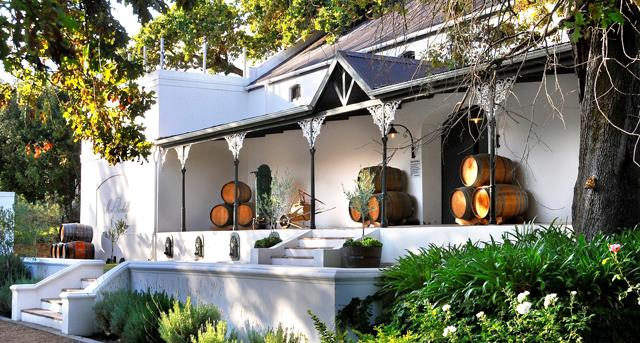 Mont Rochelle cellar
There was Mont Rochelle's chardonnay, fermented in a butterscotch-flavoured barrel, La Couronne's plummy malbec which we partnered with a local cheese platter, and my favourite, Moreson's In My Bed cabernet sauvignon merlot.
Moreson's has a brilliant collection of wines, wittily named around the good-natured naughtiness of their Weimaraner dog. Rather tipsily, we left the tram party to the strains of Chicago's If You Leave Me Now. We needed all our concentration for the task ahead: a night in The Tasting Room at Le Quartier Francais.
Some restaurants are worth making a pilgrimage to - and this is one. Award-winning chef Margot Janse weaves her magic in the kitchen, combining earthy African and sophisticated French to create two audacious flavour combinations.
Janse once considered a career in the theatre - and each of the eight courses, accompanied by a different wine, was drama on a plate. There was texture, humour, sex appeal and surprises with every mouthful. The Eastern Cape marron crayfish, Cape gooseberry and lemon verbena was like leaping into the freezing Atlantic - so tinglingly exhilarating I nearly went to change into my swimwear to eat it.
We finished our trip on the coast at the glamorous Twelve Apostles Hotel and Spa in Camps Bay.
The unabashed luxury of Twelve Apostles was like being treated to a glass of Klein Constantia Vin de Constance - a silky, rich dessert wine much loved by Napoleon. The perfect end to a trip as well.
First published in the Mail on Sunday -  November 2016
More articles below...