For as long as I can remember, Italy has held a place in my heart. The food, the culture, the fashion... in fact, for a brief period in my twentysomethings, I even toyed with the idea of upping sticks and moving there.

My dream at the time was to renovate a run-down Italian villa, all the while savouring the best truffles and gorgonzola, washed down with amarone.

Of course, things didn't quite work out like that, but over the years I have had many Italian adventures. Trekking through Tuscany, watching the Grand Prix in Modena, honeymooning in Rome, high fashion in Milan, and stays in Sicily.

Sardinia had got away from me, and was definitely on my go-to list. What wasn't on the list was missing our flight to Cagliari and having to rebook from a different airport - but this definitely added a certain frisson of excitement to the trip, particularly with my husband and two small children in tow!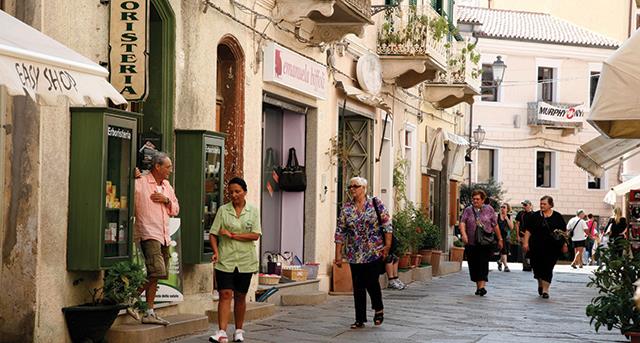 Sardinia retains a laid-back Mediterranean charm much sought-after by the Italian's themselves
But we reached our destination later that day, if a little later than planned and made our way to our resort in the south of the island - Forte Village in Santa Margherita di Pula. It's hard not to be impressed by this resort. It's essentially a luxury holiday village, nestled in gardens along a white sandy beach.

There's a choice of accommodation - from five and four-star hotels and luxury villas. We were staying in Hotel Castello, in a deluxe family bungalow which had been newly refurbished alongside other extensive multi-million pound renovations which have taken place over the last few years.
An ideal hide-away
The villa was perfect - contemporary and comfortable, with plenty of room for a family of four and with lots of garden space.

There were gourmet and buffet restaurants, numerous swimming pools, infinite activities, a charming piazza with evening entertainment - the nightly children's disco was a particular hit - boutiques and a Thalasso spa.

There's even a children's restaurant where youngsters can stock up on child-friendly food.

It means they get to eat before going to the kids' club, so parents can enjoy a more intimate meal together. A really good idea.
In fact, there's so much to do here that we found we didn't have to leave the village - which, to be truthful, is awkward when holidaying with small children anyway.

There's a number of sporting academies and clubs, ideal for older children. Our girls are so young they were more than happy splashing in one of the pools, or the waterpark, or the Children's Wonderland - essentially a child-sized play village.

There's even a Barbie house where children can colour, get their nails painted and maybe even meet the famous blonde.

And speaking of famous blondes, there's a good chance you'll bump into one here. The place is full of beautiful people, and it is prime people-watching territory.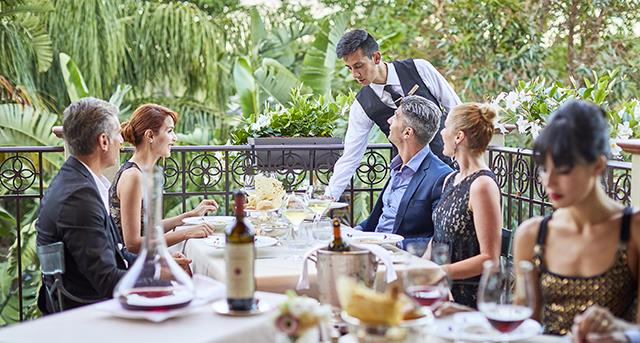 Food is a way of life in Italy, and The Forte Village offers a number of excellent dining options
Foodie heaven
Foodies in particular will love it here, and eating is a big part of the Sardinian experience - and let's face it, of any holiday. Everywhere we ate was really, really good - and as resolute carnivores, we were pleasantly surprised with how much we enjoyed our meal at the Michelin-starred all-veggie restaurant, Peaches Cream. And I got to make pizza at the Gourmet cooking academy, the Italian way (although I've yet to repeat this experience in my own kitchen).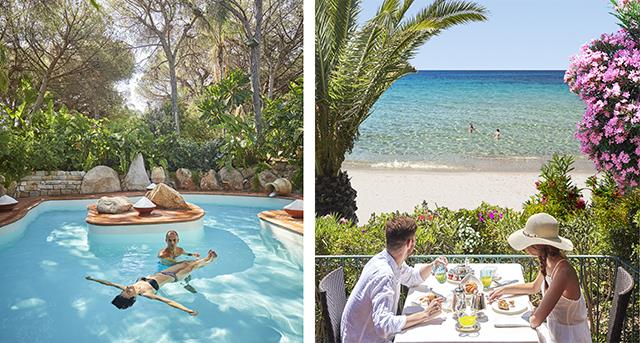 The Forte Village is a haven for peace and escapism
As parents know only too well, any time you get to yourself is precious, and you need to make it count. So I managed to slink off for a couple of hours one day to experience the Acquaforte Thalasso & Spa, which dates back millennia to the time when ancient Romans built thermal baths at the nearby port town of Nora.
After I recovered from the shock of sliding into the murky warm water - filled with those miracle-working marine algae and minerals - I really relaxed and enjoyed it.
We came home tired but happy. And very relaxed. Particularly because we didn't miss our flight this time.
First published in the Mail Online - March 2019
More articles below...