Some hotels manage effortlessly to combine a hip and trendy image with old school charm - and the Splendido Hotel in Portofino is certainly one of them. In the Hotel Splendido's case a generous dose of Italian style is also thrown in for good measure.
THE ROAD TO SPLENDIDO
It is perched on the Italian Riviera coastline, two hotels in one, both boasting roof gardens, geranium-filled terraces and a languid way of life. Carved from a 16th Century Benedictine monastery high above the village, the original Hotel Splendido opened in 1902 and has 65 rooms surrounded by terrace gardens with a swimming pool. In 1998, a satellite branch on the harbour - the Splendido al Mare - opened with 16 rooms and suites.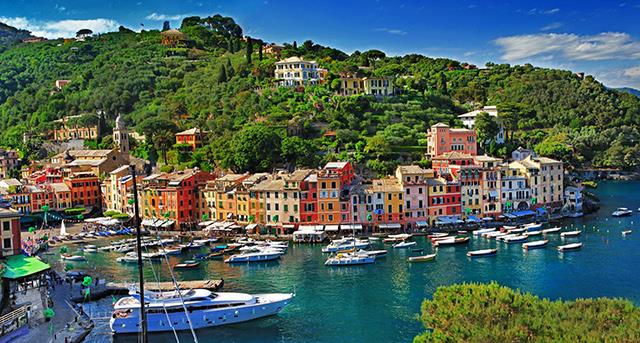 Pastel-coloured houses, high-end boutiques and crystal clear waters
Portofino is still a fishing village, south-east of Genoa. Pastel-coloured houses, high-end boutiques and seafood restaurants fringe the Piazzetta, which is a small cobbled square overlooking the harbor, which often has a selection of super-yachts in evidence.
A path leads from the Piazzetta to Castello Brown, a 16th century fortress and museum with frequent art exhibitions and constant panoramic views of the town and the Ligurian Sea.
The village in general, and Hotel Splendido in particular, has always been a magnet for celebrities, past and present. The visitor of note list includes Liz Taylor and Richard Burton, Steven Spielberg and Kate Capshaw, Humphrey Bogart and Lauren Bacall, Ava Gardner, Beyoncé and Jay-Z, Madonna, Rihanna.
WHAT TO EXPECT
All the hotel's rooms are spacious with a mix of antiques and marble, maintaining a timeless feel. Gadgets are kept to a minimum, although the Splendido does have its own yacht. There is also a shuttle to spare guests the 15-minute walk between the two sites.
ITALIANS DO IT BEST
Food takes centre stage - this is Italy, after all. Elizabeth Taylor, who honeymooned here, has a spaghetti dish named after her – but Ava Gardner went one better. There is a suite named after her.
La Terrazza is the Splendido's most iconic restaurant – it's romantic, relaxed, with serious seafood and alfresco tables.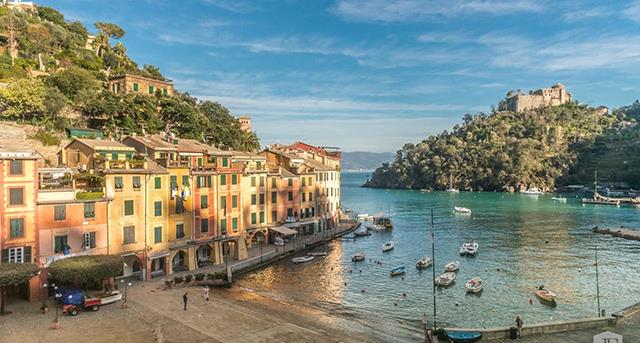 A view of the stunning Piazzetta in Portofino
Down in the harbour, Chuflay offers a more formal dining experience, but many celebrities - including Madonna and Rihanna - see it as the perfect place to hang out during yachting holidays.
The location on the Ligurian is as scenic as could be desired, and Portofino's harbour is one of Europe's most beautiful. The many-coloured villas hugging the coastline are the subject of many calendars.
The waters of this fishing village are now frequented by the yachts of the super rich. Yes, there's nothing much to do - but that's really the whole point of Portofino. You stroll, indulge in some light shopping at Ferragamo, and then indulge some more at a restaurant or bar.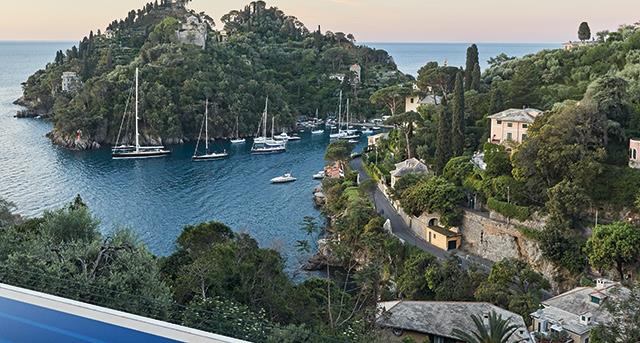 The horizon pool at Hotel Splendido, where Beyoncé and Jay Z have stayed
HOME TO THE STARS
The USP of Portofino is that it can claim to be Italy the way it was - for Hollywood stars at least - around 50 years ago, when celebrities could wander through the cobbled streets without being pestered for selfies.
It's still, relatively speaking, a safe zone for celebrities. But Beyoncé learned that stilettos aren't the best footwear for the terrain in 2010 - when she returned in 2014, she opted for more suitable flats.
Regular guests Steven Spielberg and his wife Kate Capshaw holidayed at the hotel with their family very recently. Kylie Minogue, another regular visitor, was also in Portofino recently to perform at a Dolce & Gabbana show.
FINAL CONCLUSION
But is it good enough for the rest of us? Undeniably it is. You can sip your aperitif at one of the delightful harbour bars and feel just like a star.
And at the Splendido, from the stars twinkling above the moonlit ocean to the swaying palms in the garden, you can live la dolce vita. It is the epitome of Italian glamour.
First published in the Mail Online -  June 2018
More articles below...