There is so much more to Mallorca than Magaluf. I had never been to the largest of the Balearic Islands before heading to picturesque Port de Soller and, admittedly, prior to my visit, the first (and only) thing I associated with Mallorca was the infamous resort town.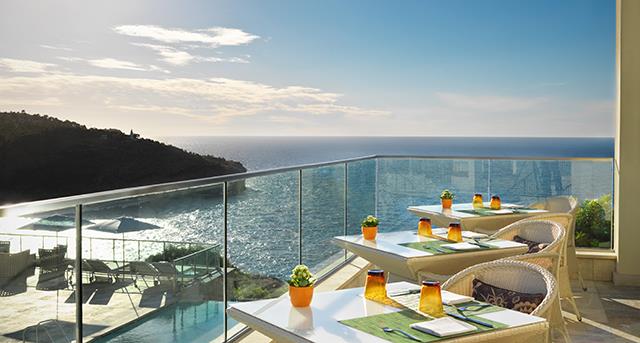 Es Fanals Restaurant Terrace
However, from the picturesque hill-top location of the Jumeirah Port Soller Hotel and Spa, which is nestled among the Tramuntana mountain range, you'd be hard-pressed to believe you're on the same planet, never mind the same island.

Just a 30-minute drive north from Palma Airport, this five-star hotel houses 121 sea or mountain facing rooms spread across 11 buildings. All boast a private balcony or terrace, complete with a cushioned sunbed to take utmost advantage of the sea views.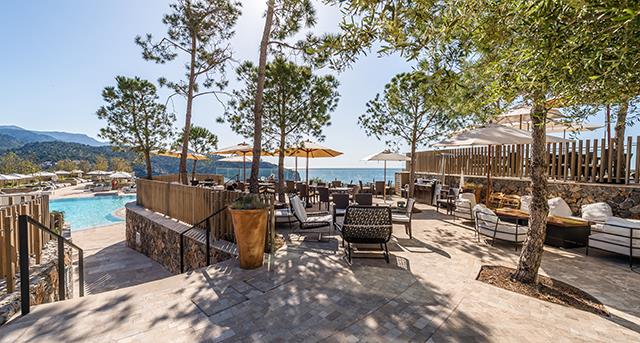 Sa Talaia Pool Bar Terrace
The casual bistro specialises in seafood and regional tapas, including several varieties of paella, but it's the location - at the highest point of the resort - that is its most noteworthy feature.

Book in for supper to enjoy the sunset views over the Mediterranean. The resort's Cap Roig is a more formal affair known for its fresh local seafood and impressive tasting menu that changes seasonally.

While it may be tempting to lounge by one of the hotel's two infinity pools, a 10-minute walk down the hill leads you to the small harbourfront town of Port de Soller, home to the only beach of note along Mallorca's north west coast.
There's a promenade lined with cafes, touristy shops and plenty of water sport and climbing rental facilities.

The area's known for its cycling routes, one of the more famous being the Coll de Soller, which crosses the Tramuntana and connects Palma with the port of Soller. In fact, the resort of Alcudia in the north is a favourite of Britain's pro cycling team, Team Sky, during the winter months due to its challenging landscape.

While I'm the type of person who prefers an exercise bike to a brutal uphill climb, my travelling partner did - successfully, I might add - take on the 38-mile ride, which included 55 switchbacks and six miles of incline.

The area is also a great base for walks and hikes, such as the hour-long trail that takes you to the Cap Gros lighthouse, offering panoramic bay views. For those who prefer to go further afield, there are plenty of tour companies offering Tramuntana mountain treks, both in organised groups and privately guided walks.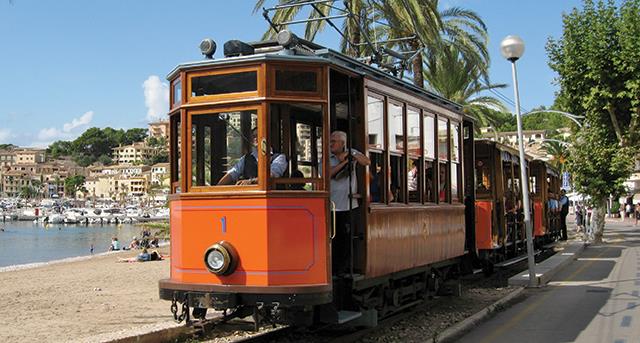 Riding the tram at Port Soller
On Saturdays, a gentler walk will lead you to Soller town centre where you can take advantage of the extensive pop-up marketplace. Don't want to walk? A tram runs along the promenade to town, about three miles away.

Until mid-afternoon, you'll find everything from jewellery to local artisan goods and fruit - the area is famed for its Navel and Canoneta oranges. In both Port de Soller and Soller, there are also plenty of al fresco dining options available too. And, conveniently, Jumeirah runs a regular shuttle service into town.
Another highlight of the sprawling Jumeirah Port Soller is the Talise Spa which boasts a hydrotherapy pool and ice cave. There are regionally-focused treatments too that give a nod to the citrus groves, almonds and olive oil native to the area.
One thing's for sure: a stay here will banish any preconceived notions you may have once had about the infamous Spanish island. And, for the record, I still have not been to Magaluf.
First published in the Mail Online -  April 2016
More articles below...