Mid-afternoon and the sun is at shirt-sleeve strength, the air scented with shrimp, garlic and sherry and every inch of the Plaza del Salvador is occupied. A public holiday? No – merely Seville as Friday ripens into the weekend.

For the full spectrum of the city's pleasures in a weekend, opt for one of the newer, smaller hotels near this central square. Hotels such as the Alminar, where manager Francisco and his team will let you in on the Seville's secrets.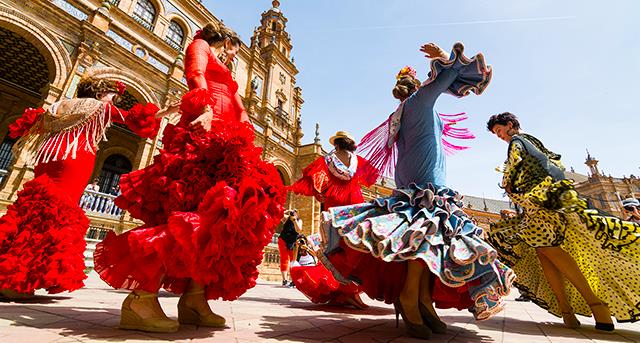 Street flamenco dancers are a riot of colour and castanets
Santa Cruz, once the Jewish quarter, is east from here and home to the baroque splendour of the Salvador church. There is little traffic, just the occasional car or waspish moped. It is a bewildering tangle of fountains, courtyards and secluded gardens.

The Giralda, the bell tower, spot-lit at night, which crowns the cathedral, is a helpful marker: use it as a guide and you can wander, perhaps to Calle Mateos Gago, where the pavements overflow with tables, chairs and orange trees. For artistic intensity, head to Casa de la Memoria on Calle Cuna for flamenco of almost spiritual possession; heels machine-gunning down on bare floorboards.

Back in a roof-terrace room at the Alminar, you have a private view of the cathedral, just 50 yards away. An empire of a building, its dark interior has an altar drenched in gold and a tomb supposedly containing the remains of Christopher Columbus.
Enjoy the lush splendour of Seville's Gardens of the Alcázar Royal Palace
Two minutes' walk to the south is the Alcazar, the royal palace, which requires a full afternoon. Its toy fort castellated walls belie the decorative intricacy within including colonnaded courtyards and regal chambers with stucco friezes and azulejo tiles. The gardens boast palms, peacocks and an hourly water-powered organ recital.

Squeeze in also Casa Pilatos, one of the Duchess of Medinaceli's many residences. There is an El Greco in the dining room, a Tintoretto in the tower room and, most memorably, a painting of a breastfeeding, bearded woman, with her husband looking haggard at her shoulder.

The Sevillanos do justice to Sunday lunch, dining until at least 5pm – so there is time to digest the feast of your experiences at an outside table at Modesto in Santa Cruz or La Fabrica in the Alameda area before flying home.
First published in the Daily Mail -  April 2016
More articles below...