As we were waiting for our flight to the Maldives to be called, I started to have a few serious doubts about my sanity. Here I was, heading halfway round the world with three youngsters who find it absolutely impossible to stay still for even a minute.
What's more, we were flying to an island that I feared might be just too small for a whole week's stay.
We'd heard that Kandima Maldives - on part of the Dhaalu Atoll - was different from the usual five-star luxury honeymoon spots. It is billed as a four-star lifestyle resort - on a lush tropical island with a large natural lagoon - and what particularly attracted us was the promise of an exhaustive list of activities for both adults and children.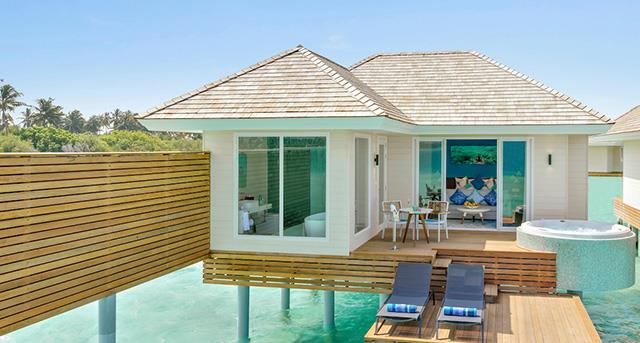 Let the ocean lap beneath you in an Aqua Villa
Still, this, our first foreign beach holiday in 12 years, was a bit of a gamble. But we got off to a very good start. Before the flip-flops had even come out of our suitcases, Sarah, 11, discovered that at 4pm they turn on the water at Kandiland, a kids' club which has a large wet play area. And parents can have peace of mind by knowing that the Kids' Club here is supervised by a multilingual team of fully qualified child carers.
After getting soaked and bouncing on the trampoline for a while, she scanned the Kandiland itinerary and signed up for candy-floss making, Maldivian drumming, rock painting, an art class and mocktail mixing.
George, 17, was itching to go on a jet ski, but when he declared it was the only activity he would try, my heart sank - because my husband Gavin and I had set our hearts on mojitos by the pool.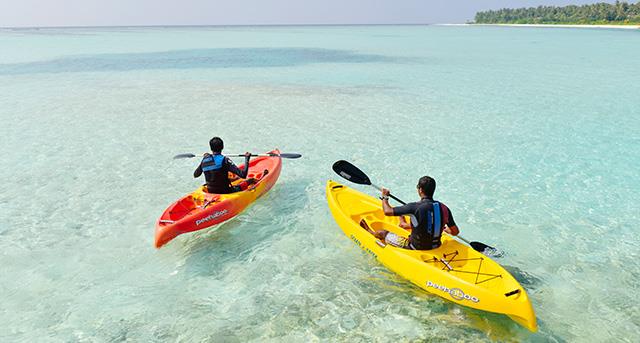 The resort offers a selection of watersports including kayaking
However, all was not lost. George discovered Burn, Kandima's fully equipped air-conditioned gym - he's sports-mad and cannot waver from his intense training schedule, so this was a real godsend.
He also joined us on a sunset fishing trip, landed a red snapper and ate it for lunch the next day.
I worried about the food on offer before we left the UK, as our children are fussy eaters. We always argue about where to eat and there would plainly be no McDonald's, Starbucks or Burger King available at Kandima.
We were on an all-inclusive package, which included all meals in the resort's self-serve Flavour restaurant - and fortunately the choice on offer there was immense.
They had everything from a full English breakfast through to curries, freshly griddled fish and a dizzying array of salads. In fact, Sarah and her 15-year-old sister Alice were both so inspired by the food at Kandima that they were only too happy to sign up for a pizza-making class. We also had high tea in the Deli - known as K Tea.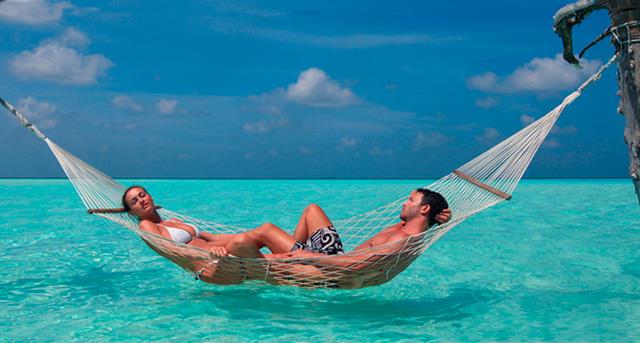 Peace and quiet on the idyllic beaches
There are a number of other restaurants and bars including Azure, which has a chic beach house atmosphere and provides casual dining by day and elegant Mediterranean dishes by night.
Sea Dragon has excellent authentic Chinese cuisine, served family-style. To end the evening in some style, with exotic cocktails, there is the ultra cool Forbidden Bar where DJs are in action late into the night.
For perfect steaks, fresh fish and incredible sunset views, Smoked restaurant was the place. Guests dine al fresco here, and the food is prepared barbecue style.
The temperatures in the Maldives tend to hover around 28–30°C (82–86°F). We liked to stick to the shaded areas, of which there were plenty to be found, until about 3pm. Thankfully, our Sky Studio with interconnecting rooms was blissfully air-conditioned. It was also spotlessly clean, modern and had a vast bathroom. Best of all, it had a balcony, complete with a swing seat, overlooking the Indian Ocean.
Enjoy your own private outdoor tub and shower in a Beach Villa
Of course, no parent needs me to tell them that a holiday with the kids is never really a total break, but our trip can only be described as a huge success.
George, Alice and Sarah were happily exhausted at the end of each day and us adults even found that we could manage to grab the odd siesta.
For all of us, Kandima turned out to be exactly the right mix of paradise and practicality.
First published in the Mail on Sunday -  August 2018
More articles below...