I was already convinced The Maldives were as good as it gets for a beach holiday. Hot sun, over-water villas, white, talc-like sand, psychedelic snorkelling and glittering turquoise ocean are all a given.

But Soneva Jani, a new luxury eco-resort and latest A-list bolt-hole on Medhufaru in Noonu Atoll, about 125 miles north of the capital Malé, is on quite another level. Set on a lagoon that could hold 7,000 Olympic pools, and so flourescently blue it could be illuminated by under-sea lightbulbs, it feels almost unreal.
A WARM WELCOME
Stepping off the seaplane we were greeted at the dock by our 'Man Friday', Roman. A young ex-soldier from Ukraine with flawless English, Roman welcomed us with fresh coconut water and icy towels infused with orange water.

Then he golf-carted us through forests of screwpine and banyan trees to our villa, the last on the bleached-wood boardwalk that runs higgledy-piggledy through the middle of the island.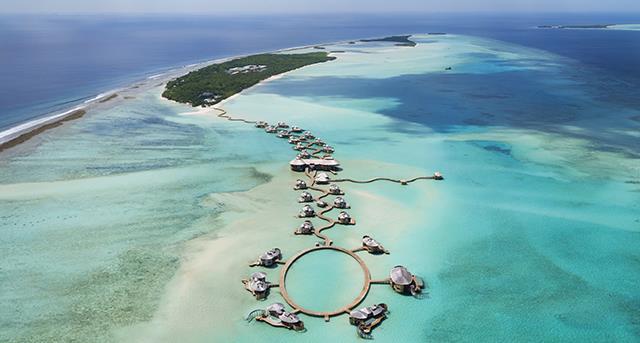 A bleached-wood boardwalk runs higgledy-piggledy to the villas
ALL ROUND LUXURY
To the south are four more islands that belong to Medhufaru - an archipelago, really, more than an island - all of which are uninhabited.

Soneva Jani (the Sanskrit word for 'wisdom') is one of the world's lowest-density resorts, with only 25 villas on 150 acres. If you're seeking seclusion - obviously the aim of former guests Will Smith and Kate Winslet - then this is for you.

Many villas have a water slide running from the living room to the lagoon. We had a remote-controlled retractable ceiling over our bed so we could stargaze from our pillows.

We could have gone on a dolphin cruise but often we could see them from our villa. It's not unusual to see 100-strong pods of bottlenoses spinning and somersaulting along the reef. There are harmless baby sharks too, deposited by their mothers in the lagoon to avoid predators.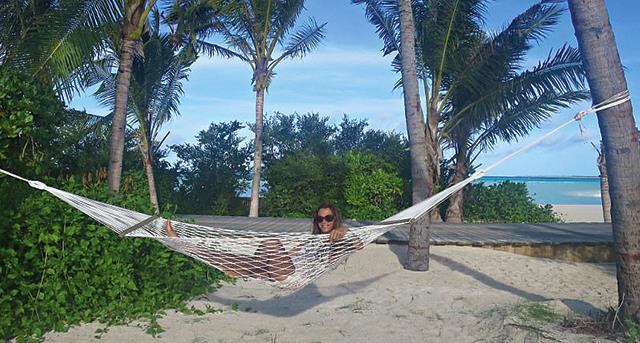 Journalist Christa D'Souza takes some time out in a hammock
WHERE IT ALL BEGAN
Sonu Shivdasani and his Swedish wife Eva are pioneers of the luxury eco-resort concept and founders of the Soneva 'chain' (Soneva Fushi, Jani's sister resort, is about 80 minutes away by speedboat, and there's also Soneva Kiri in Thailand).

They cater for guests who want a seven-star experience but an added, almost obsessive, regard for the environment.

From the purple cushion pads on our pedals so we could ride our bikes everywhere shoeless to the glass floor in the bathroom so you can watch the fish - no detail is overlooked.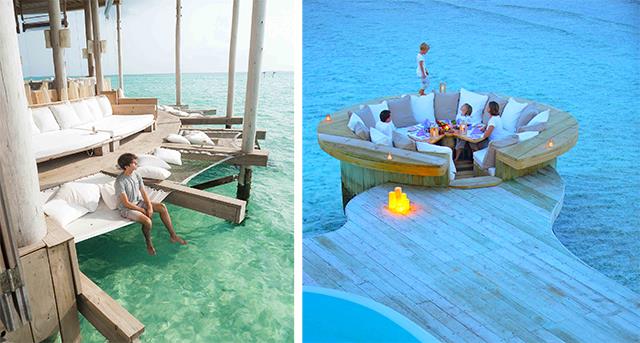 Order cocktails and tapas at The Gathering bar while you chill out on a day bed or a catamaran net
In the 'gathering', the three-storeyed heart of the resort, there's a sushi room, a 24/7 home-made chocolate and ice-cream room with 50 flavours, and an overwater spa.

At So Starstruck, the resort's turreted open-air observatory, you can have dinner with resident astronomer Mike Dalley (low-light pollution means the Maldives is a magnet for astronomers from all over the world). A massive telescope emerges silently out of the glass floor.
A DIFFERENT ETHOS
The high-tech experience is the perfect foil to the resort's 'No Shoes, No News' ethos (you're given a beautiful linen bag to put your shoes in when you arrive and strongly urged not to put them on again until you leave).

As Bond-like as the telescope is the overwater 'silent' cinema, kitted out with divinely comfortable, yards-deep sofas and hammocks, where guests are provided with Bluetooth headphones.
An outdoor cinema experience you'll never forget
This helps not to disturb the giant mangrove crabs which are out in force as dusk falls.

Solar is a big part of the power source and fresh water is also produced on site, via the resort's own desalination system.

An extensive organic vegetable garden supplies most of the resort's produce. Maldivian cuisine is wonderful - especially a breakfast speciality called mashuni, a mixture of freshly-grated coconut, chilli and canned tuna. I didn't hold back on the basil and yogurt sorbet or focaccia bread and tapenade. But the mark of a truly amazing holiday is this - when I put on my 'real' clothes to go home, my jeans felt at least a size too large.
First published in the Daily Mail -  October 2017
More articles below...