My first family break was in 1978 to Burgh Island, the Art Deco hotel in Devon that inspired Agatha Christie to write And Then There Were None. For me, however, the place's major delight was not its murder-mystery connections but the brilliant sea tractor ride from Bigbury-on-Sea.
I spent endless sunny days hunting spider crabs, and then eating hot crumpets at 4pm. It was the best time of my life. Granted, it was the only holiday of my life at that stage, but I can remember it as clearly as yesterday, and what are great holidays but memories glued like fading polaroids to the albums of our minds?
It was a question I asked myself again as I waved goodbye to Martin Cody, manager of the Four Seasons Landaa Giraavaru in the Maldives. The ingredients of a brilliant break are well-documented - good weather, impressive accommodation, wonderful food - yet the end product is less clear-cut.
I've stayed in some of the finest hotels in Dubai and yet have no memory of them whatsoever. However, I'll never forget the weekend in a crumbling two-star hotel in Bangkok en route to my first bar job in Koh Samui - but that's another story.
Manager Martin told me that there are never too many guests on Landaa Giraavaru. My guess is that is because few can pronounce it, let alone spell it. But once you have overcome this potential pitfall, I can promise that you won't be disappointed - nor should you be with rooms costing up to £30,000 a night.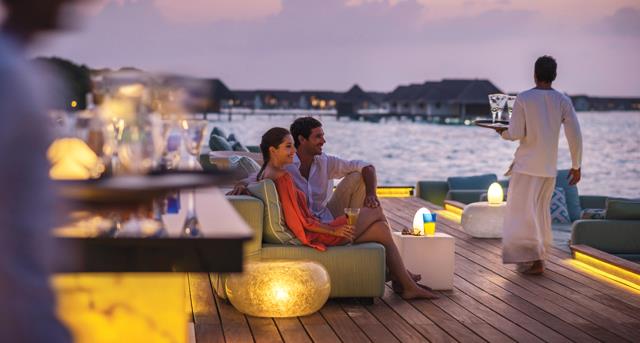 Favourite view: watching the sunset from the Italian bar/restaurant
The Maldives are going through a period of one-upmanship in an effort to attract suitors from Russia and the Middle East. Essentially, this means building villas the size of leisure centres. While this has little impact on us mere mortals, it does make for some interesting gossip around the pool.
The resort is situated just 30 minutes north of Male and reached by seaplane. As you can imagine, this caused much excitement among my two young boys - Sid, five, and four-year-old Kit.
It's quite large by Maldivian standards, measuring 44 acres, and Sri Lankan-based architect Geoff Bawa has done a clever job of blending understated luxury with complete privacy. The 102 thatched bungalows and villas are located on the beach, over the lagoon or within the lush gardens.
The spa and Ayurvedic retreat was a big hit with my wife Sophie. Here our Ayurvedic physician suggested a chakra blessing, which at one stage involved sitting on a terracotta chimney pot as he lit incense beneath us. With our chakras suitably blessed, it was time to visit the Marine Discovery Centre.
The centre is in the nearby Baa Atoll and was recently awarded Unesco World Biosphere status. This means you can enjoy the company of manta rays and whale sharks at the atoll's Hanifaru Bay. Sign up for the Manta-On-Call programme and you'll even receive a text to invite you to swim with giant mantas when the beasts make an appearance.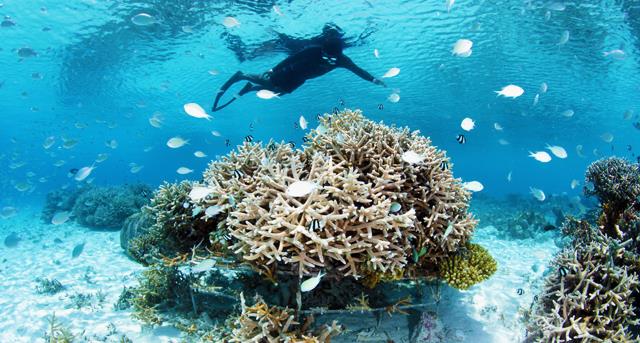 The Marine Discovery Centre in the Baa Atol is improving the natural marine habitat
For the less adventurous, you could always spend some time with Elisa the turtle. According to the WWF, six of the world's seven species of sea turtles are endangered because of the human consumption of their eggs and the effects of rising ocean temperatures. Elisa is fitted with a GPS device, which helps track her movements on the atoll. Such a device was not something I needed in the Maldives - the most energetic thing I did most days was to decide where to eat.
Any Four Seasoned traveller knows that the dining experience is a priority, and Landaa doesn't disappoint. Our favourite was Blu, an Italian bar/restaurant with a view over a narrowing strip of beach which disappeared where the sea meets the sky. While the boys raced crabs, mum and dad sank watermelon cocktails.
During the day, the boys often went to the Kuda Velaa kids' club and were kept occupied with a programme that included craft sessions and making ice cream. If it's tranquillity you're after, lazing by the pool and being interrupted occasionally by a spot of pampering in the spa, Landaa hits the spot.
If, however, you fancy something a little more active, there's plenty to get you off your lounger - from motorised underwater scooters to yacht parties, arranging a private picnic on your own private island, or being serenaded under the stars by a local choir.
In fact, you'd be hard-pressed to find a hotel that offers a better definition of the perfect holiday - and that includes Burgh Island.
First published in the Mail on Sunday -  May 2016
More articles below...