Rumour has it that when the architect was commissioned to shape One&Only Reethi Rah in the Maldives, he said he wanted each guest to 'feel like a king'. He failed spectacularly. Because from the moment we set foot on the island, we felt like a god and goddess instead - we were in heaven.
After leaving Male's international airport, we were greeted by a band of merry men who promptly ushered us on to a luxury private yacht to take us to the resort. Feeling like Jay Z and Beyoncé, my husband Julian and I kicked back and pressed the start button on our honeymoon.
If first impressions were anything to go by, our marriage had just got off to the perfect start.
At the resort there were more warm and welcoming faces, before we meandered down the tiny, sandy 'roads' towards our beach villa in a golf buggy - cars have no business on this island.
Along the way, our personal concierge Gizem told us that staff at Reethi Rah outnumber guests by more than three to one - although you would never know it, as the level of privacy made us feel as if we were on a deserted paradise. But every request was fulfilled with discreet precision.
Of the eight villa types available, we chose the thatched beach villa with high ceilings, beautiful Balinese-style decor and a pool. But no matter where you end up laying your head, rest assured you will be in a den of luxury.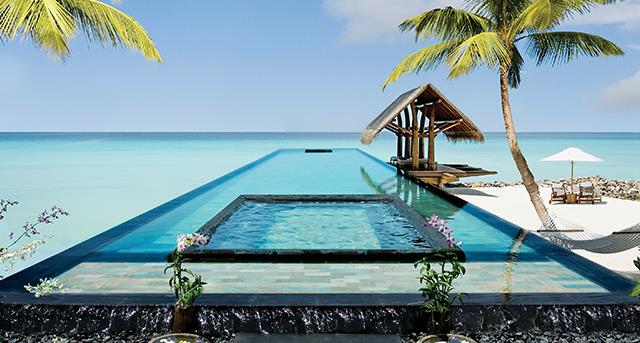 The ultimate infinity pool
Behind our wooden front gate, there was a distinct and blissful feeling of isolation. There was a secluded patch of beach to call our own, with two palm trees harbouring a hammock.
We were spoiled with an unpacking service, a choice of pillows, essential oils menu, a bathroom with two massive sinks complete with his-and-hers soaps, and wooden shutters everywhere (which stayed open during our stay, as I didn't want to miss a single second of that spectacular view).
There was also a shower outside should guests want to recreate that Timotei advert for fun.
You could be forgiven for never leaving your villa, but that would be foolish. The 24-hour golf buggy service will happily whisk you to any of the countless amenities.
For sporty guests there's a state-of-the-art gym - instructors put me through my paces on an outdoor circuit.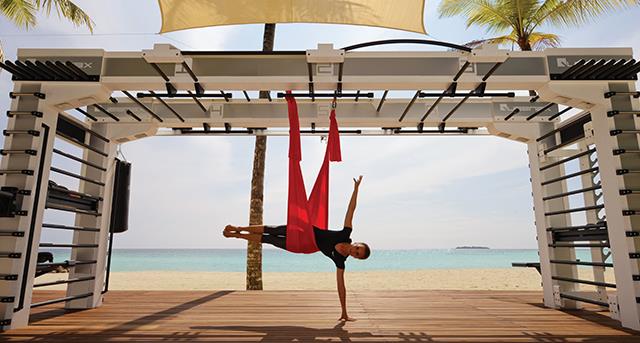 Aerial yoga
UPSIDE DOWN
In the yoga pavilion you can do aerial yoga (you are suspended in a low-hanging sling, so anyone who doesn't like being upside down should beware!) - there's also a full-size football pitch, and badminton and tennis courts.
There's also an art gallery, Taylor Taylor hair salon, Pedi:Mani:Cure Studio, barber shop and KidsOnly club. Meanwhile, the beach club was alive all day with a DJ playing the latest tunes.
Most afternoons, Julian and I loved grabbing an ice cream before working off the sugar rush on the  massive water trampoline. Bouncing up and down on the giant inflatable, I felt like one of the contestants on Total Wipeout, the BBC series I used to co-present with Richard Hammond.
Sea excursions include luxury yacht big-game fishing, turtle adventures, sunrise fishing, reef snorkelling, sunset cruises and shark safaris.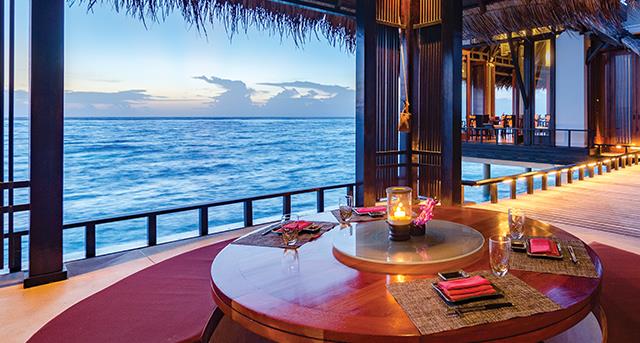 Tapasake - one of Amanda's favourite restaurants
There are four main restaurants. Reethi is beautifully constructed, with high ceilings and carved wooden pillars and doors, and serves contemporary Asian, French and Italian. This is also where the fabulous breakfast is served.  
Another of our favourites was Tapasake, serving exquisite modern Japanese dishes with noodles and fish straight from the ocean outside your villa.
Fanditha, which means 'magical' in the Maldivian language Dhivehi, is aptly named - an Arabian Nights-inspired restaurant and bar with beautiful sunset views. 
In keeping with the romantic setting, the spa has massive his-and-hers steam and sauna rooms, with floor-to-ceiling windows overlooking a courtyard. It's a haven of serenity, set in a beautiful expanse of manicured trees and grass leading to the ocean. During your time here, you can practically feel the stress in your shoulders dissipate and your mind let go.
Reethi Rah is a stand-out experience because of its vision to create paradise and the sheer determination to sustain it.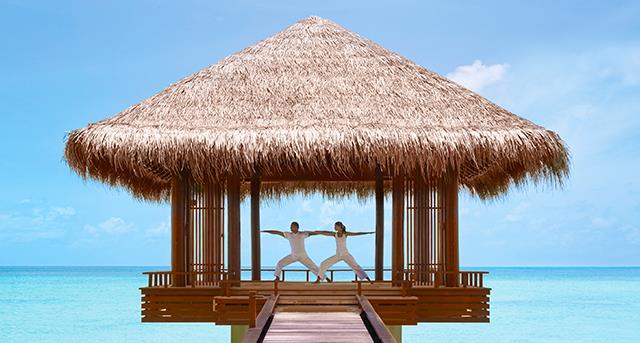 Practising yoga at the Chi Pavilion
Before I left home I was looking at a website about the Maldives and came across this quote: 'We travel not to escape life but so that life doesn't escape us.' After our experience in this magical destination, those sentiments more than ring a bell.
What we discovered on the Maldives was an escape that took you away not just from your nine-to-five routine but offered an entrée into another world - a life-affirming boost that lasted much, much longer than a suntan. 
We can't wait to return.
First published in the Daily Mail - February 2017
More articles below...