We step out of limpid, tropical air into the rich, dark-wood, terraced lobby.
Several staff take everything from your hands, sit you down and give you a cup of Wonderful Sky. Instantly refreshed, you wonder why you've never had it before. It's because they invented it: spring water, cinnamon, honey, lime juice and pandanus (a Thai herb). Like everything at the Tongsai Bay resort in Thailand's Koh Samui, it's exceptional.
With 83 rooms nestled into 28 acres of green hillside, each room, family cottage and villa overlooks Tongsai Bay beneath a sky that alternates between shades of blue, green and flaming sunset amber.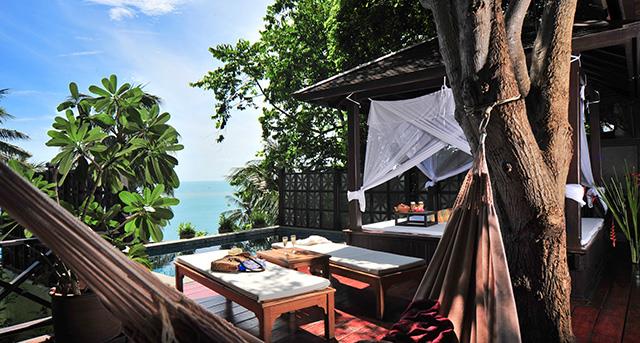 Enjoy your own private space in a Beach Villa
Of nature's glory my children take no notice, and yours won't either. What they do immediately see and love are two pools. One for adults and one for kids.
Then there are the family activities for all ages; kayaking, tennis, sailing, paddle-boarding, windsurfing, Thai music, dancing, language and, err, fruit carving - the children loved hacking at nutritious fruit without having to eat it. You go to your room, or better still to your villa with an oversized bathtub on a deck with a stunning view. Maybe first you'll have a massage.
Massage is to Thailand what wine is to France. The interaction between you and the masseuse is a cross between thermodynamics and yoga. It's serious.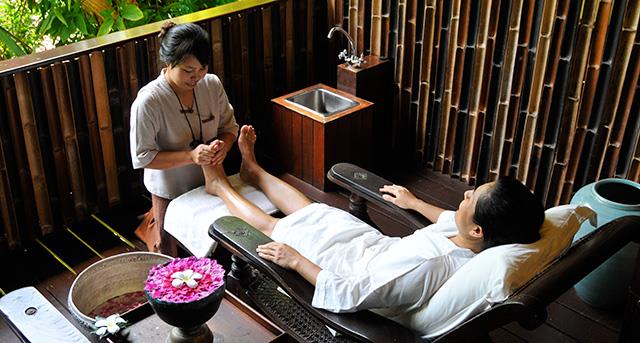 Relaxing at the spa at Tongsai Bay Resort
And then there are the wonders produced in the kitchens. Whether it's Thai, Chinese, Japanese, Italian or European cuisine, they've got it all.
The kids exclaim: 'This is the best burger, waffle, ice cream etc ever!'  You're astounded by the wonder that is Kha Soi Kai (curried chicken with egg noodles).
I had the Tongsai Bay eggs benedict with hash browns and Penang curry and immediately booked a private cooking class.
While I learned to whip up a four-course Thai lunch, my husband learned to do nothing and the children played ping-pong and billiards. Then they all devoured the lunch.
Managers Martin Heiniger and Mark Harrison lead an award-winning team who have a deep, eco-responsible respect for the environment, including running their own organic garden.
We toured it with Earng from reception and chef Golf (her nickname - almost everyone has one, including 'Guitar' at reception).
They displayed all their herbs, including Morning Glory. Yes, I know what that phrase means and so do the ladies here. They giggled and then showed my husband the organic cucumbers.
The family-owned, family-friendly Tongsai Bay resort may be secluded but it is just a short drive to all manner of adventures. The rainforest Skyhawk zip line turns you into a superhero.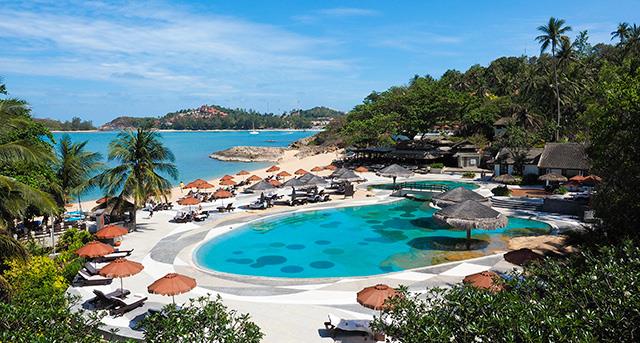 The freeform pool at Tongsai Bay Resort overlooks the sea
You can have a day trip to a pristine emerald lagoon with snorkelling, kayaking and lunch.
You can go crazy in banging, neon clubs and then return to the calm of the Tongsai Bay, and this exclusive tranquillity is at the heart of its magic. You always feel as if they have all the time in the world for you and that you're the only ones there. That's their secret.
The resort celebrated its 30th anniversary in 2017, still with employees from when they opened as the first luxury hotel on Koh Samui.
We left Koh Samui for 'the greatest city in the world'. At least that's the view of Bjorn Richard Richardson, manager of 137 Pillars Suites & Residences, in the heart of Bangkok. This hotel-cum-residence is inventive, cool and busy.
137 Pillars and Suites offers a variety of luxury facilities and a rooftop pool
The clever design touches include details such as a check-in lounge with a massage chair, shower and sleeping pod, and a digital golf facility with a resident pro. The hotel's London cab runs you to and from all nearby hotspots and Nori and the reception team will take care of all your planning.
The 27th-floor pool is a crowning touch and the Nimitr restaurant is elegant and inventive. In Bangkok, one must go to Chatuchak (world's biggest market), Chinatown (the world's biggest) and the reclining Buddha statue (the world's biggest). And then return to the tranquillity of 137 Pillars.
First published in the Mail on Sunday -  August 2018
More articles below...