This year was the first time I've ever taken a long holiday. I was away for a total of three-and-a-half weeks. Everyone was surprised that I took such a long break - last year I managed just three days off.
I decided it was time to relax and get away from running my hotel, the Belmond Le Manoir aux Quat'Saisons in Oxfordshire - life is too short to work all the time. I wanted to rediscover a part of the world that has long fascinated me - South East Asia. This region has the most beautiful food, an extraordinary climate, and the people are so warm and friendly.
The food at my hotel has a strong South East Asian influence, particularly the area around Chiang Mai in Thailand. And about 25 years ago I discovered the resort of Chiva-Som in Hua Hin, one of the best spas in the world.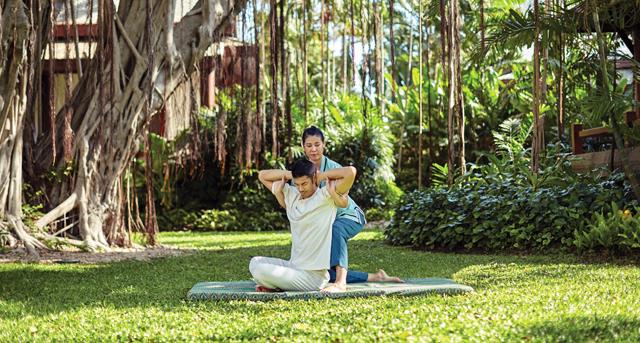 Along with healthy food, a healthy body is essential
It was the place that ignited my interest in nutrition - something I've developed at Le Manoir with my Raymond Blanc Cookery School.

All those years ago, staff at Chiva-Som were connecting food with health, and within the spa they had the best yogi, the best acupuncturist, the best medicine. For me, visiting here is a way to get back to good health.
Another key element is really learning how to breathe properly so that you 'reconnect' with your body. So each day at Chiva-Som involves detox, exercise, swimming, massage, acupuncture, and, of course, some wonderful spa treatments.
Good food is at the heart of maintaining good health - something the Government is beginning to accept with its plans to give every child a quality, nutritious meal every day.
By staying somewhere like Chiva-Som, you soon realise the benefits of eating good food. This place is a foodie heaven - meals made with herbs grown on site, spices and grain.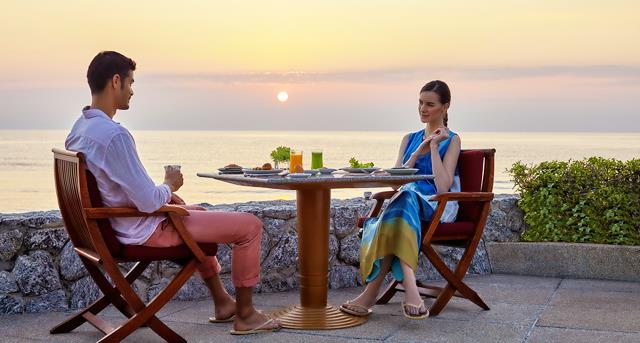 Nutritional food is complemented with a day of invigorating exercise
During my stay I ate an awful lot of quinoa, fresh, crunchy salads, and different types of rice. The chefs also cooked me lots of fresh fish and delicious vegetables.
The kitchen garden at Chiva-Som is magnificent, although perhaps not as amazing as ours at Le Manoir, because we are obsessive about our garden.
The garden at Le Manoir isn't just a showpiece; it actually has a huge impact on our gastronomy as well. We have eight people working in the garden during the winter and 12 during the summer.
One of the key things about the Chiva-Som experience is meditation. I find meditation very difficult because I always have about 50,000 things in my head at the same time, so to try take them out and meditate - oh my goodness, it's so hard!
Once I was enveloped in the heaven that is Chiva-Som, I was very happy - I had no desire to venture outside. In the resort you are asked not to use your mobile phone outside your room. And that's perfectly correct - after all, you're staying in a place that is calm and restorative, so mobile phones are inappropriate. I must say, however, that I felt the urge to tweet the whole world what a great time I was having!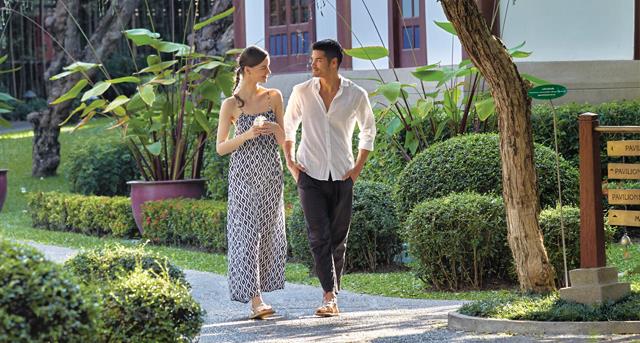 Wandering through Chiva Som's gardens is an aromatic delight
After a few days of Chiva-Som you become completely Zen-like. At the end of my stay I kept asking myself why I had to leave this wonderful place.
The good news was that my holiday wasn't over. Next we headed to another fabulous get-away-from-it-all resort - the Belmond Napasai in Koh Samui.
Situated between verdant tropical gardens and the shimmering sea, this is a resort that deserves to be described as paradise. Standalone villas sit within 17 acres of tropical gardens, rich with cashew and coconut trees, hibiscus and bougainvillea.
Tempting aromas of fresh local cuisine drifted through the air, and staff greeted every request with a warm smile.
To finish the holiday, we had two wonderful days in Bangkok, staying at the Mandarin Oriental, another heavenly place.
I love Bangkok for its antique shops - you can't keep me away and I always buy something.
The managers at Le Manoir get worried about what I'll come back with: on a previous trip I managed to return with a huge bed (it came back in a container - there wasn't room to bring it with me on the plane!)
Over the years I've bought all sorts of lovely antiques - my house is full of them. This year, I bought only a delightful Buddha made from lapis stone, and a beautiful opium pipe which will join the collection of other pipes in our Opium Room at Le Manoir.
Already I can't wait to go back to Thailand. To me, that's the sign of a perfect holiday.
First published in the Mail on Sunday -  September 2016
More articles below...