When it comes to island paradises, Phuket is a winner. Located off the south west coast of Thailand, it has wide beaches, blissful temperatures and clear, inviting water with a distinctive blue-green hue.

You can spend your days lazing on the soft sand, hiking through rainforest, enjoying world-class spa treatments or snorkelling, scuba diving, surfing, windsurfing or Hobie Cat sailing.

Your evenings might well be taken up enjoying delicious food (the island will soon, for the first time, be included in the Michelin guide to Thailand). The cuisine on the island tends to be a wonderful blend of complementary styles - an alluring mix of Asian and western delicacies - and it's one of Phuket's major attractions.

Chefs here seem to know better than anywhere else in the world how to use delicate flavours and fragrant spices and the seafood is heavenly.

Spa treatments here take on a new concept as they are married with the ancient traditions of natural healing, including herbal baths and meditation. The levels of tranquility and relaxation that can be reached are remarkable.

For a change of pace, Phuket Town has temples, markets and cultural attractions. And the Old Town has street after street of colourful colonial-style mansions and townhouses now the home to shops and small restaurants.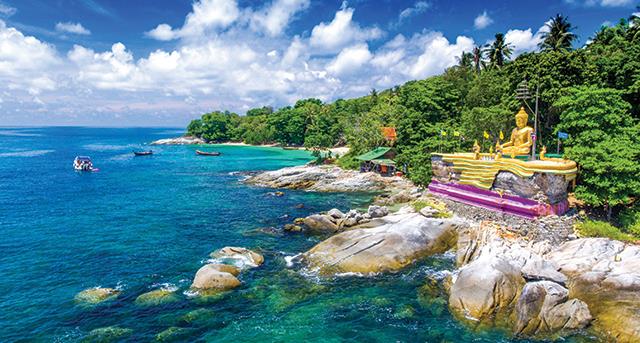 Ko Kaeo Rawai, also known as Buddha Island, has many beautiful statues along its shoreline
Breathtaking views
And a simple but enthralling experience can be had by heading for one of the noted viewpoints, such as Kata, Rang Hill, Leam Singh or Promthep Cape - they give a magnificent vista of the entire island. One of the best views is from the site of The Big Buddha (the majority of Thais are practising Buddhists) - it's a 45-metre tall white marble statue that is worth a hot walk up to see close.

Phuket is one of those destinations that can be delightful at any time of year - it has such a wide range of attributes that it can come up with the goods for whatever type of holiday, active or otherwise, that is required.

November to April is generally cooler and drier - a great time to escape the British winter. Some of the more popular hotels and resorts book up quickly at this time.

It is often at its warmest in July and August, when temperatures can occasionally reach 40 degrees - and often accompanied by some intense downpours. But this is also when your hotel of choice may well be available at particularly good value.

Stunning pools and gardens at the contemporary designed Twinpalms Resort Phuket
If you're looking to stay at a beach resort, you are spoilt for choice. There are many from which to choose and each has its own distinctive character and personality.

You'll find upmarket resorts – with equally upmarket accommodation – on Surin and Ao Bang Thao, family-oriented spots on Rawai, a party atmosphere on Patong, culture in Phuket Town and wildlife sanctuaries and national parks in the north.

There is accommodation of every conceivable type to suit every conceivable taste - from intimate boutique properties to expansive wellness retreats.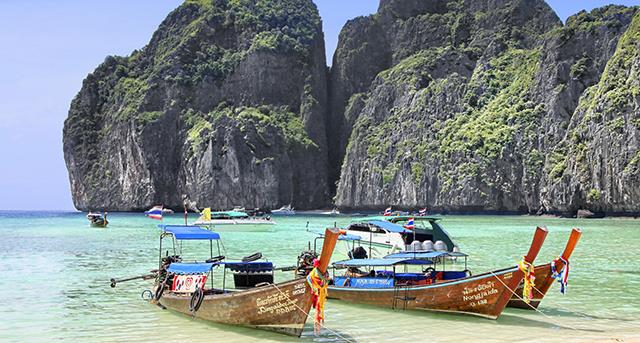 Longtail boats moored in Maya Bay lagoon on Ko Phi Phi Lee
Something for everyone
Patong and Mai Khao are both popular options for beach stays. For undeveloped beauty, Mai Khao is hard to beat - it has an 11km stretch of coarse white sand that has remained untouched thanks to its location inside Sirinat National Park.

Patong, on the other hand, is all about having fun, with lively nightlife, watersports and activities available during the day.

Many decide that they want to mix a stay in Phuket with a visit to other parts of Thailand. The multi-centre trip is becoming ever more popular.
The obvious partner for a Phuket beach stay is the buzzing capital city of Bangkok. A twin-centre holiday such as this delivers fabulous contrasts.

Or you could also have a different type of beach and city experience by combining a sandy sojourn in the Phi Phi Islands with an exploration of the towns and interior on Phuket. This can be very rewarding.

This combination of stays, for example, could see you based at Wanaburi, on the doorstep of the beautiful Kho Phra Teaw National Park.

Whatever face of Phuket you choose to focus on, you'll find yourself captivated by this deceptively diverse island. 
First published in the Mail Online - March 2019
More articles below...