Phuket may not be perfect. But parts of it are approaching that state of bliss. And it's fairly easy to avoid the parts that aren't.
For example, the busy beachside strip of Patong can be rather a test of patience for those of us who might have grown a little weary of sunset-to-sunrise shenanigans.
But that's not the whole story. After all, Phuket is quite a big island, stretching 30 miles north to south and 13 miles across (joined to the mainland by the Sarasin Bridge) and it offers plenty of options for holidaymakers looking for almost-guaranteed sunshine.
It has come a long way since the days when it boasted just a few beach front bungalows for barefoot backpackers in the Seventies. Back then, it was a grim 17-hour bus ride to get there from Bangkok.
The construction of one international airport later, and there are more than 750 licensed places to stay, with 47,000 rooms available. And in the next few years another 35 hotels are expected to be built.
Mick Jagger, Beyonce, Kate Moss and Rihanna are among the celebrities who have all checked in at Phuket at one time or another.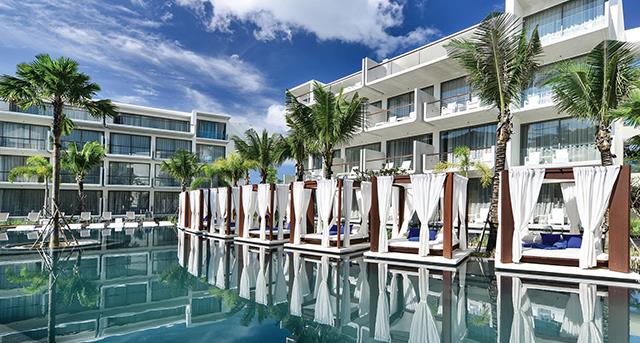 Dream Phuket has large pool complex as well as a beach setting

 
On my most recent visit I stayed at the five-star Dream Phuket, a newish hotel on Layan Beach, a lovely, tranquil stretch of sand on the island's west coast. It is only 20 minutes from Phuket International Airport, but definitely away from any hustle and bustle.

It has giant beds in large rooms, partly open-plan bathrooms, an enticing swimming pool, international cuisine, a roof-top bar with infinity pool - from which there is a breathtaking panoramic view of the surrounding lush hills - and a great spa offering the full range of treatments including deep tissue massages, aloe wraps and spice scrubs.
At the signature restaurant Trilogy, there's a 'theatre' kitchen where you can watch the chefs sauté and flambé to their hearts' content.
The hotel is not directly on the beach, but it has a separate beach club, with sun loungers and private cabanas,  just two minutes away by shuttle bus.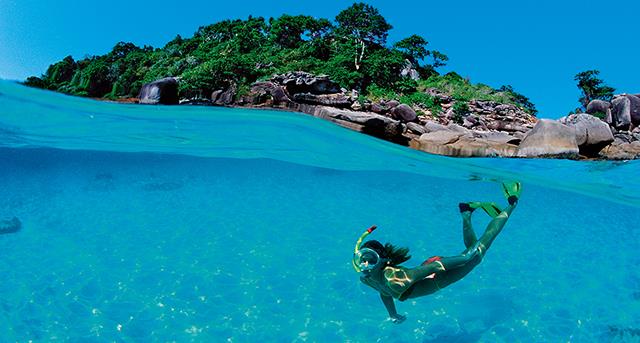 The clear waters are perfect for snorkelling
 
It is at the beach club that the young and fabulous from Russia, Singapore, Australia and Britain pose on their stools at the swim-up bar and use their phones to snap, study and share their selfies. All day long.
That is good news for the rest of us, as it means there's no wait for the cheap massages on the beach. They're seriously good; I couldn't resist having two in one day. During one of them, a vast man having a massage next to me snored loudly despite the fierce kneading.
Less than half a mile from our hotel is the Project Artisan, Laguna. A labour of love from a gentle Croatian couple with a deep affection for all things Thai, it's a restaurant and deli, open for breakfast, lunch and dinner.
The hotel also offers foot massages and mani-pedis, while there are plans for a cookery school and art club.
A boat trip is a must. Some prefer to barter for a place on speedboats, which take a well-worn route to celebrity-touched islands such as Phi Phi Le, where Leonardo DiCaprio's film The Beach was shot.
It's clear to see why Phi Phi Island was made famous by The Beach
I opted for a trip on a larger boat which motored to the less well-known Phang Nga Bay.  If you want to be more active you can kayak, swim off the back of the boat - or watch long-tailed boats take visitors to the islands of Khao Phing Kan and (The Man With The Golden Gun was filmed here) before returning as the sun sets.
The boat crew speak fluent English and Chinese and, at the end of my trip, the captain said: 'If we have done anything wrong, we hope you forgive us.'  There's absolutely nothing to forgive.
The next time I return to Phuket (and I will be returning) I hope to explore more of the island and perhaps fit in a safari experience – yes they offer safaris in Thailand!  There are some great luxury safari companies which come highly recommended and offer authentic and respectful encounters with native wild elephants and other spectacular wildlife. After all, there's more to Thailand than stunning beaches and spas- but it's a good place to start.

First published in the Daily Mail -  March 2018
More articles below...