1. Do some research and decide which attractions are most important. If you can, tick these off first. If you arrive without a plan head for the furthest point and then work your way backwards instead of joining the procession from the entrance.
2. Try and avoid the Magic Kingdom on Sundays and Mondays. These are the first days after guests check in and most head straight there.
3. If you are not staying at a Disney resort avoid days when a park has Extra Magic Hours (EMA) as it will be much busier. Always try and go the day before or the day after.
4. During the school term American families tend to visit at the weekends so those days can be especially busy.
5. Stay nearby. Go early in the day and then leave the park as the queues build up so the kids can have a swim and a nap before returning in the evening.
6. If you really want to beat the crowds the best time to go is Mon -Thur during the first three months of the year! But it can be cold so dress warmly.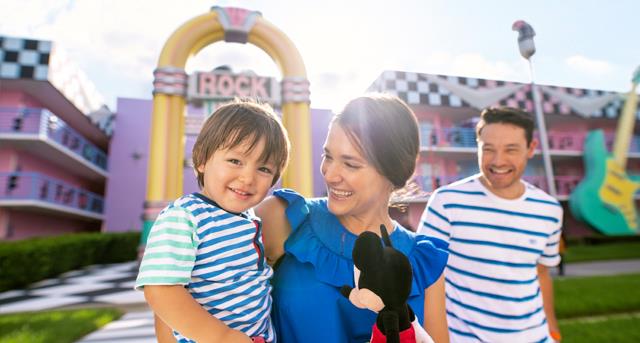 Earn Extra Magic Hours at Disney resort hotels.
7. Stay in a Disney hotel and each day you'll get Extra Magic Hours (EMH) which allow you into one of the Disney parks an hour early before the crowds build up and you can stay beyond closing time in another.
8. If you are staying in Disney's Grand Floridian, Contemporary, Wilderness Lodge or Polynesian hotels you'll also get to see the Electrical Water Pageant which is a show many people don't know exists.
9. Stay at one of the Universal Hotels and you can use your room key as an Express Pass allowing you to skip lines at both Universal Parks. (Except for Harry Potter's Forbidden Journey)
10. If you stay at a Universal Hotel you also get an hour's early admission to Islands of Adventure allowing you to avoid the crowds and get straight on to Forbidden Journey. Early Park Admission is available the day you check in and the day you check out so even if you stay only one night you could get in early twice.
11. Top tip. If you are not staying in a Theme Park hotel get to Universal Studios early in the morning. Customers have reported getting in as much as 15 min before the doors officially open.

12. Normally Disney raises its ticket prices in August and we suggest buying before then to lock in the lower rate.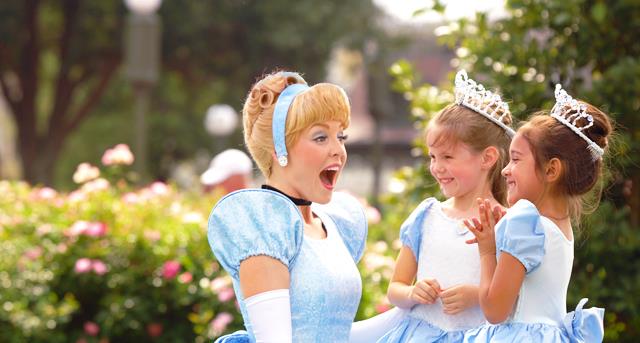 See your favourite princess' in the Magic Kingdom
13. Do not try and do more than one Park in a day. It's at least 45min from one Disney Park to another.
14. Do sit down and eat but try and avoid the busiest period from 11-2pm. It will allow the kids to decompress and there are several places serving non-junk food. It's best to pre-book by phone or email as these can be busy.
· In the Magic Kingdom there's French cuisine at the Be Our Guest restaurant - the only place serving alcohol in the Park. There's also good seafood at Columbia Harbor House in Liberty Square and Italian at Tony's which has a Lady and the Tramp theme.
· At Universal choose from Lombard's Seafood Grille or pub grub at Finnegan's Bar and Grill. Harry Potter fans will love eating at the Three Broomsticks and Mythos Restaurant has won numerous awards as best theme-park restaurant. There are also some good options at Universal City Walk like The Hard Rock Cafe and Jimmy Buffet's Margaritaville.
15. Busch Gardens. If you want to do the Skyride don't join the England queue which is always busy. Go to the France or Germany line.
16. Disney's Hollywood Studios. Get to the park by 9am and go first to Toy Story Midway Mania. If you want to go on Rock 'n Roller Coaster and Tower of Terror get a Fast Pass for one before queueing for the other.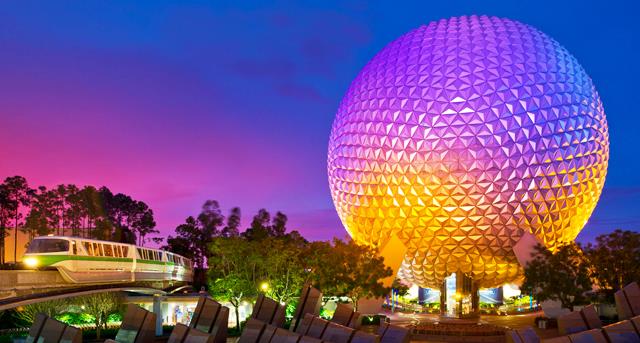 Soar into Epcot
17. Epcot. As soon as the park opens head to ' Soarin for a Fast Pass. Then go to either Mission:Space or Test Track and ride one followed by the other before heading back to 'Soarin. Go round the Park anti clockwise and go to Spaceship Earth in the afternoon when queues are short.
18. Islands of Adventure. When you enter Harry Potter's Forbidden Journey stay to the left if you don't have anything to leave in a locker (that's everything you can't fit in your pocket). It will save several minutes. On Men in Black aim for the red light in your own vehicle. Hold down the trigger, don't keep pressing it. You'll hit it every time and get major points.
19. Animal Kingdom. This park opens earlier than the others so get up early and head straight to Kilimanjaro Safaris for a Fast Pass then get a coffee or go on Expedition Everest before heading back to Kilimanjaro.
20. Seaworld. A good first stop is the Dolphin Nursery and when it gets hot head for Dolphin Cove where the viewing area is nice and cool.
21. Discovery Cove. Get there early. If you've booked a swim it's first come first served.
22. Don't get Fast Passes for live shows. Just get there 30 min in advance.
23. With older kids agree a place to meet in advance in case someone gets lost. Also suggest they stand against a wall as it cuts down the search area.
24. Take pictures of younger kids on your mobile. Write your mobile number on a luggage tag which can be attached to a belt loop or similar and explain to the child what it is for. Also show them what a park employee's uniform looks like.
25. Wear sensible shoes. There's a lot more walking than you think. And bring water bottles (which can be refilled from drinking fountains) and sunscreen which are both expensive to buy in the park.

26. Take a photo of where you park your car. You won't believe how many rental cars of the same model and colour as yours there are when you get back to that car park tired...