I've always longed to visit the Florida Keys because it sounds so romantic. I'm a huge fan of the 1948 movie Key Largo, which starred Humphrey Bogart and Lauren Bacall. And of course, the area has a strong connection with Ernest Hemingway - the author lived on Key West.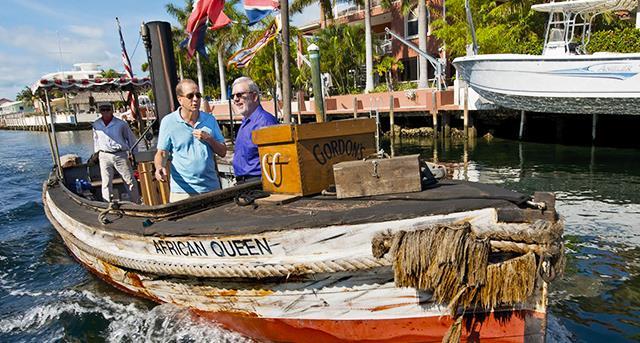 The lovingly restored African Queen

Fans still turn up in Key Largo every October for the annual Humphrey Bogart Film Festival. One highlight is a chance of a cruise on the fully restored African Queen, the original boat from John Huston's 1951 film of the same name starring Bogart and Katharine Hepburn.
Hemingway fans aren't forgotten either. The annual Hemingway Lookalike competition takes place in July at Key West bar Sloppy Joe's. An entire bar full of Hemingway clones sounds slightly frightening but each to their own.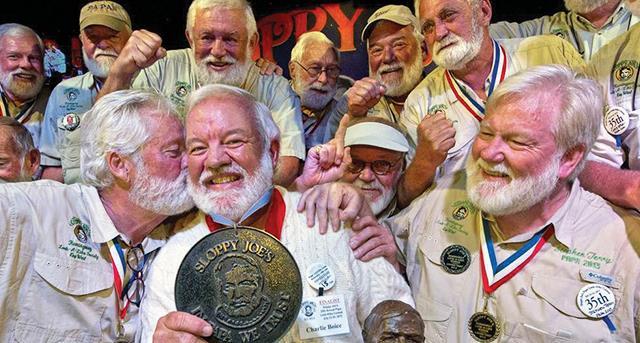 Annual Hemingway lookalike contest
My actor husband Trevor and I had long ago decided we wanted to visit the Keys, but never seemed to get around to it. However, a pleasure deferred is a pleasure intensified.
After our plane touched down in Miami, we rented a car and headed south. It may not look far on the map but from Miami to Key West is around 150 miles - a three-hour drive because the road isn't brilliant.
We were based at Sunset Key Cottages, reached from the Westin Key West Resort and Marina.
At the Westin we were ushered aboard a little ferry and whisked across to the amazing Sunset Key. It was a fabulous away-from-it-all place but had the advantage of the bustling delights of Key West on its doorstep.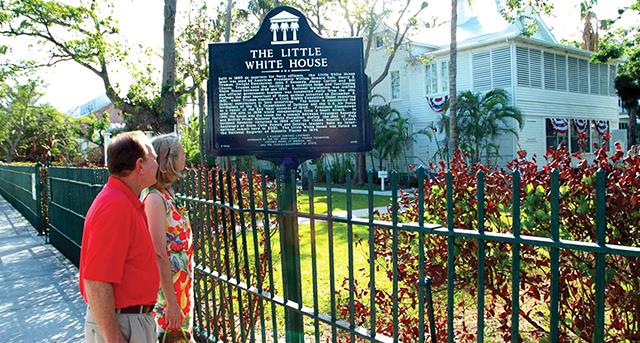 Little White House
NOSTALGIA
We immediately fell in love with Key West and its coloured clapboard houses. For many young Americans, this is a vibrant party town.
Main Street at night is a delight because so much goes on: music pouring from crowded bars and the occasional Hemingway lookalike waiting for his big day!
During the day there are several interesting places to visit. I enjoyed the Little White House, the holiday home of US President Harry Truman, famous for his remark 'the buck stops here'.
It was on his watch that atomic bombs were dropped on Hiroshima and Nagasaki - the responsibility must have been immense. Another unmissable place is the Ernest Hemingway Home and Museum. The writer lived here for ten years during one of his most prolific writing periods. The main attraction here is its 50 six-toed cats.
Hemingway was given a white six-toed cat by a ship's captain, and some of the cats who live in the museum grounds are descendants of that original feline, named Snow White.
There is also a good Tennessee Williams exhibition in Key West - the author had a home here for 34 years. It was in Key West that he is believed to have completed the final draft of A Streetcar Named Desire.
For most of the time, however, we were content to bask in serenity on our 27-acre island, which was a naval base before it was acquired by the Westin. It was a little piece of paradise.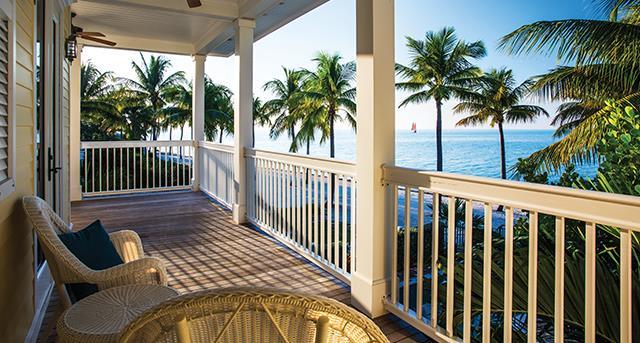 Beautiful vista from Sunset Key Cottages
ISLAND PARADISE
One minute we were in Key West, with its tourist bustle and huge cruise ships - the big Disney liners a particular feature - but when we crossed back to our island, all the noise disappeared.
We had an idyllic white-sand beach and azure waters. It was the best five days we've ever had. Sublime. Watching the sun go down is a big event in Key West - everybody stops to watch. And when it got dark we loved looking up at the stars.
After our Key West stay we drove back to Miami. We were staying in Miami Beach, at the very southern end of the resort. We met some really cool people.
One of my great pleasures was swimming in the ocean - so warm and silky. I'm a Liverpudlian and Liverpudlians have a special love for the US - Liverpool used to the main port for travel to America. Our city is where all the Cunarders used to sail from.
If you're staying in Miami, I would recommend dining at the fantastic Seaspice on the Miami River.
They serve what is described as a 'globally inspired menu' featuring a raw bar and dishes ranging from wood-fired casseroles to Dover sole and branzino, a type of seabass. The views over the city and the river are also very special. 
A lot of people think that Florida means Disney World or the start of a cruise, but if you're prepared to search a little further you'll discover that there's much, much more.
First published in  March 2017
More articles below...