In January 1981 when mass tourism from the UK to Florida had hardly begun, I made my first trip to the Sunshine State - flying to Miami; this was memorable if only because in the departure lounge at Heathrow I found myself standing next to Eric Morecambe and his wife Joan.
Bring me sunshine, he was probably singing to himself. He needn't have worried; it was freezing in London but when we landed in Miami in the late afternoon, it was roasting. In January! Yet in 1981 Miami was in decline. In the 1960s, for example, when The Beatles made their first trip to the US in 1964 to appear on the Ed Sullivan Show, they demonstrated their stratospheric success by finding time for a sunshine break in glamorous Miami Beach.
But 20 years later the Al Pacino gangster film Scarface showed how fast Miami Beach had fallen - business was so bad that plans were laid to demolish the famous Art Deco hotels which had largely become hostels. (Curiously, it was the filming of the 1980s cop series Miami Vice that initiated the preservation campaign - the rundown buildings clashed with the show's Ferraris and Armani suits, so the city was forced to smarten up.)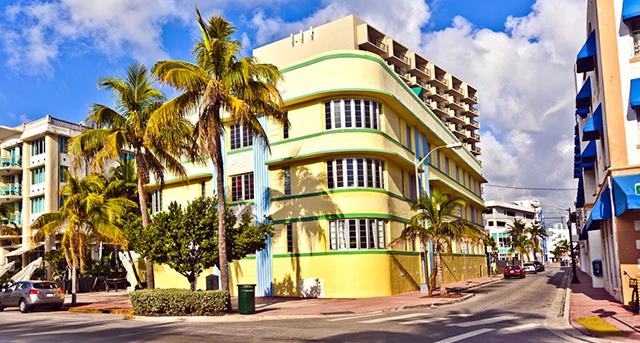 A beautifully and lovingly restored Art Deco masterpiece, framed by palm trees
By 1981 Walt Disney World in Orlando, Florida, had been open for almost a decade but the place was relatively modest; EPCOT didn't open until 1982.
My trip in 1981 was to write a piece on Air Florida, which had announced the start of low-cost flights between Miami and Gatwick - a route on which it was to compete with Laker Airways. Laker went bust the next year while Air Florida collapsed in 1984. But by the mid-Eighties, thanks to the marketing of some mass operators, Florida had begun to dominate the UK long-haul market.
It had good year-round weather and offered extraordinary value for money. Brits found the accommodation well-appointed and spacious and in the favoured Orlando suburb of Kissimmee, theme parks were on your doorstep.
Since that first visit, the more I've seen of Florida, the more I like it. I've been pretty much all over from Key West - so far south it is just 100 miles from Cuba - up to St Augustine and beyond. I like it all but I'm beginning to decide that I like the western Gulf coast the best, especially the stretch between Tampa and Sarasota.
For a week recently I had a house rental on Anna Maria Island, about an hour's drive south of Tampa. Tampa is an attractive entry point into the States, with shorter immigration queues.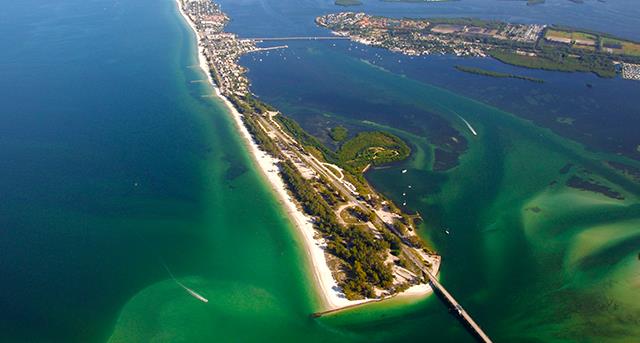 Anna Maria Island, a slice of laidback paradise
Everything in Florida is nice and easy, from picking up a hire car to obtaining the keys of your holiday house (most have lock boxes, all you need is the combination - I never met anybody from the house rental company). Florida has everything to make a holiday perfect. Had we wanted, we could have made the two-hour drive to Orlando for a theme-park fix, but Anna Maria island has pretty much all you need.
The property came with a golf cart for short trips to the shop or the beach - bikes were also available. There was a large pool, a table-tennis table, a multi-channel TV with domestic TV catch-up - and the fastest wifi I've come across: 80mbps (ten times faster than I get at home). With a Slingbox connection, I was able to sit next to the pool and watch England beat the Aussies in the Ashes - holidays don't get much better than this.
Bradenton was a 25-minute drive, worth it to visit the Ellerton premium outlet mall with outrageous bargains on designer clothes. A similar distance away  down at the end of Longboat Key (winter home to writer Stephen King) was Sarasota, worth visiting to stock up on food and drink at Whole Foods: not as cheap as the Publix, a ten-minute golf-cart ride away from the house, but in a different universe in terms of quality.
Because Anna Maria is a place which doesn't attract day trippers, the beaches are never crowded, and at many times of day, if you avoid the busier stretches, you will have them to yourself. Keep an eye out and you will spot dolphins skimming the offshore waters.
The house had a rooftop deck area where one night we watched the Perseid meteor shower stream across the night sky.
Even on non-meteor-shower nights, it was a delight to sit up on the roof and look at stars that seemed close enough to touch. There may be more perfect places to holiday than Florida but, at this very moment, I'm finding it hard to think of one…
First published in the Mail Online -  January 2016
More articles below...