It could well be the emirate of which you've never heard. It's not far down the coast from Dubai - but in many other ways it's a world away.

Ajman is the smallest emirate (it's about two-thirds the size of the Isle of Wight) but has some wonderful attractions - lovely natural beaches among them. A handful of five-star hotels are dotted along its ten-mile coastline - and an increasing number of Brits are attracted here for a sunshine holiday that is both quieter and cheaper than the glitzier side of the Emirates. And believe it or not, its most popular attraction is a dusty museum.

Breakfast on the beach at the Ajman Saray hotel
I checked in at the five-star Ajman Saray, a Marriott hotel, which is right on the beach and boasts a spa, two pools, four excellent restaurants and rooms staring out to sea.
Dubai's glitz is on the doorstep
The top hotels here have free shuttles throughout the day to and from central Dubai 30 minutes down the coast, so all aspects of the Gulf are available - but at a very attractive price as far as luxury accommodation is concerned.

Ajman's beaches are white sand and shelve into warm water all-year round. The weather is bankably balmy – even December temperatures are about 20C.

Its malls aren't a match for the Gulf's glitziest, and its souks are not olde worlde, but it's friendly and laid-back.

When I go for a jog along the corniche, a one-mile seafront promenade buzzing with juice bars and falafel joints, a group of locals draw me into their game of beach football, then invite me for a juice afterwards. At the entrance to the creek, I haggle for a shimmering mackerel at the fish market and have it grilled over a barbecue on the quay.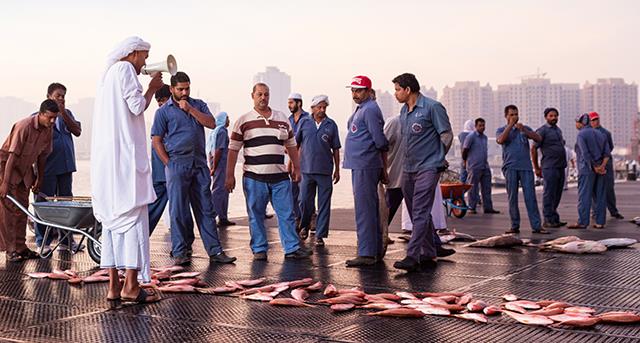 Ajman's public fish market at the entrance to the creek, where local fisherman ply their trade
I get chatting to my Yemeni mackerel-griller, Mubarak, and his mates, who ply me with enamel-dissolving coffee and photos of their kids. 'Why did you move to Ajman?'I ask him. He gestures to the sea and the sinking sun, and shakes his head in the international language for 'Why do you think?'
'It is a relaxed place, friendly,' he tells me. 'Not crazy modern,' his friend says.
Modernisation is inevitable
Not crazy modern, perhaps, but it's getting there – at least if Al Zorah is anything to go by. Wedged between mangrove and beach, it's a 1,300-acre villa, hotel and leisure development in high-end isolation across the creek from downtown Ajman.
Much of it is still under construction, but there's a wakeboarding park, a golf course designed by the Nicklaus group and a sleek new Oberoi hotel (with a 280ft infinity pool) that combines concrete and glass design with Italian textiles and Arabian antiques.

The beach here is long, white and empty, with a wild feel.
Wildlife in abundance
Better still, Al Zorah borders a 250-acre mangrove reserve, where I recommend doing the two-hour kayak tour in search of the 60 or so bird species that shelter here. At one point, a flock of flamingos blaze past in a fiery crimson flyby; later, as we paddle below twisting branches, a rare collared kingfisher zips past in the late-afternoon sun.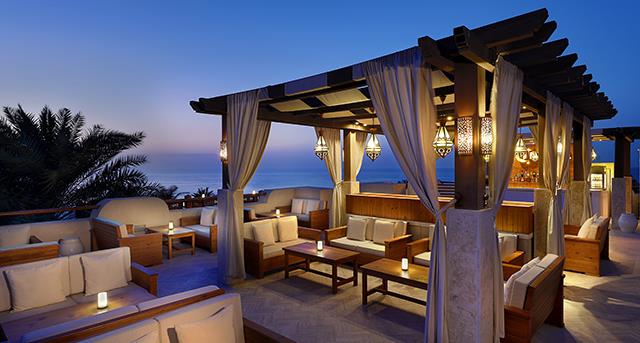 The perfect place to relax and watch the sunset at the Ajman Saray hotel
That evening, on a sunset dhow cruise on the same creek, my guide recounts Ajman's pearl-diving past, then opens an oyster and finds one inside. 'Keep it,' he tells me. 'Ajman welcomes you.'

In the end, I even fall for that dusty museum. For one thing, it's housed in an 18th-century fort, the oldest building in Ajman and home until 1970 to the emirate's royal family; for another, it has some fascinating exhibits, including an ancient Koran and Ajman's first car (a 1940s Land Rover owned by the current sheikh's father). But it's my guide, Tariq, who really swings it, clucking at the exhibits as if they were his grandchildren.

'I really love it,' he says, leading me through ancient teak doors into the oldest working barjeel, or wind tower, in the UAE. We linger, fanned by the cool air from the vents above. It is a moment of ancient, mesmerising peace. 'Wonderful,' Tariq whispers. 'Wonderful.'
First published in the Sunday Times -  July 2019
More articles below...