Having been to Dubai before parenthood, we wanted to try it as a holiday choice with our one-year-old daughter Ella Rose. During our last visit, we enjoyed fine-dining restaurants, visited the malls, and drove a buggy over the sand dunes. On this occasion, our requirements had altered! We needed a hotel that had plenty to keep us occupied.
They don't do anything by halves in Dubai, and that is certainly true when it comes to hotels. You get great service, incredible food and drink, and the perfect atmosphere.
We stayed on The Palm peninsula for the first half of our break. Man-made at an estimated cost of $12billion, it has 30 beachfront hotels. It means you can get away from the bustle of the centre of Dubai but still be close to all the action. We chose the Anantara, which has striking sea views. It's not just the main beach you can enjoy either - there are several other smaller man-made ones dotted around the resort which were ideal for Ella Rose.
This resort ticked all the boxes - it was spotlessly clean, and there were plenty of loungers and towels to make sure guests had every opportunity to relax.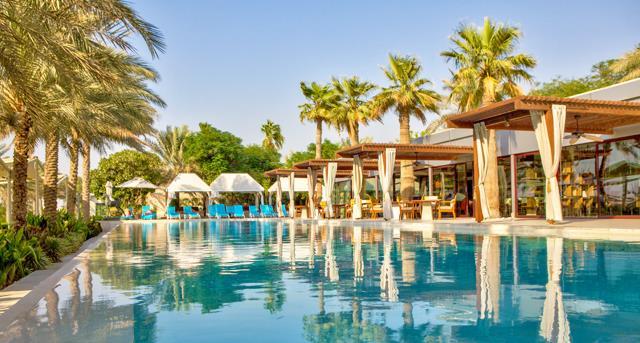 An oasis in the desert: the pool at PerAquum Desert Palm
However, we soon discovered that being on holiday with a one-year-old means that you do not get the chance to sit down too often - no matter how many luxurious loungers there may be scattered around.
For those parents who want a bit of 'me' time, there's a kids' club for youngsters aged over four.
We liked the hotel's children's menu as it wasn't just everything with chips, but had dishes such as spaghetti bolognaise (which turned out to be a bit messy for small fingers but the waiting staff took it all in their stride), and healthier options including poached chicken with vegetables and mashed potato, which certainly went down well with Ella Rose.
The Beach House is a great place to sit at lunchtime and watch the world go by, and a definite dinner highlight was the Mekong restaurant, which offers a combination of Thai, Vietnamese and Chinese dishes.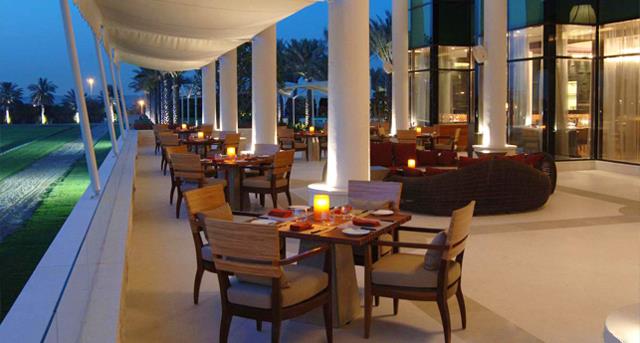 Rare restaurant at Per Aquum desert Palm
For the second part of our holiday, we moved to the Per Aquum Desert Palm. We weren't sure what to expect, venturing inland, but I love horse-riding, so the idea of going to a hotel where they play polo matches was very appealing. There is a wonderful sense of calm as you are surrounded by the green fields of the 160-acre estate. It is a truly beautiful setting, with cascading flowers in abundance, and olive trees hundreds of years old imported from Italy.
We stayed in a spacious suite overlooking the polo fields. You might feel like you're in the middle of nowhere but you still get a great view of the Dubai skyline in the distance.
The country club vibe is helped by a varied events programme. We went to a 'Tipples and Cheese' evening, and the Vintage Friday Brunch at the Desert Palm must be among the best in Dubai. Starting with champagne and oysters at 12.30pm, the brunch goes on until 4pm, giving everyone the chance to make the most of all the sumptuous food and wine on offer.
Eating at the fine-dining Rare restaurant was a memorable experience as the food was exquisite. The restaurant specialises in steaks, but you'll find it difficult to choose between other dishes such as slowroasted duck breast with confit duck leg, or miso black cod.
The neighbouring Epicure restaurant dispenses with the usual buffet offering for breakfast and just does a la carte. You have to be strict with yourself not to be tempted by the amazing selection of fresh cakes and pastries.
Afternoon tea and polo - an unexpected side of Dubai
To help you work off some of the excesses, there is a gym, the option of going horse-riding, or swimming a few lengths in the infinity pool. Meanwhile, the Lime Spa has an extensive menu of treatments. I had a blissfully relaxing Lime intuitive massage tailor-made to suit my needs.
And you don't need to worry about missing any of the action if there's a polo match on - the thermal beds overlook the field, giving you the perfect view while relaxing.
We took a tour of the estate for a closer look at the horses, and it meant Ella Rose could try sitting on one for the very first time.
It was quite something watching all the action from our balcony, hearing the thunder of hooves and the thwack of the polo mallet as it hit the ball, while we sat and enjoyed the sunshine. We fell in love with this real gem of a hotel.
Dubai showed you can still have a family holiday while preserving that 'grown-up' feeling. We came back refreshed and relaxed after some special family time together.
First published in the Daily Mail -  November 2016
More articles below...