Vassilis was born in a boat.

His mother was trying to make it from her home on the island of Ammouliani only a mile across the Aegean to the mainland, but she was too late.

And so a boy came into this world at sea, and there was only one life he was fated to live.

Today, tall and bronzed, like a warrior from the legions of Alexander the Great, Vassilis is at the wheel of a speedboat thrumming across the sparkling seas off the Mount Athos peninsula in north-eastern Greece.

As we fly along like a turbo-charged bronco, dolphins breach the surface and plunge below, and then a sea turtle, almost 5ft long, slides alongside.
Vassilis's eyes instinctively scan the water - and then he shouts with delight. The man who has sailed these waters all his life hasn't seen a turtle here in 25 years.

Vassilis is the boatman at the Eagles Palace, a long-established family hotel designed to look a little like one of the many monasteries further along the coast.

It's 90 minutes' drive from the airport at Thessaloniki along a road that meanders through olive groves and low-lying wooded valleys into a corner of Greece that's a world away from the fleshpots of the party islands far to the south. We were afforded the warmest of welcomes.

Set on tumbling levels down to its own beach, the hotel is a labyrinth of terrace restaurants (serving food and wine from local farms, vineyards and its very own olive grove), cooling courtyards, beach bars and a large saltwater pool.

Historic ruins dot the rocky coast of the Mount Athos Peninsula
The beach itself shelves gently into water, which is astonishingly clear because the Aegean sweeps into the bay and then out again every 20 minutes.

There is a kids' club, probably more suited to younger children than our son, Mike, 11, and daughter Alice, seven.

Pavlos is the man if you want to take out a sea kayak or do some light paddle-boarding or more strenuous mountain-biking.

Unlike most dudes you meet at a watersports hut, he's got an MBA from New York — oh, and he runs ultra-marathons, too. He does a brilliant job of shepherding Mike on his first sea kayak outing, helping him steer his boat nimbly around rocks jutting from the sea bed.

Pavlos has just introduced a specialist course for children, which will see them developing their skills on the water as the week goes on.

If Pavlos is the urbane young face of adventure sports, Mr Dinos, the watersports supremo, is the salty sea dog who looks as though he might have sailed in his youth with Odysseus. Crinkly blue eyes smile out from under his weather-beaten cap as he waves his walnut arm and asks: 'What will it be today?'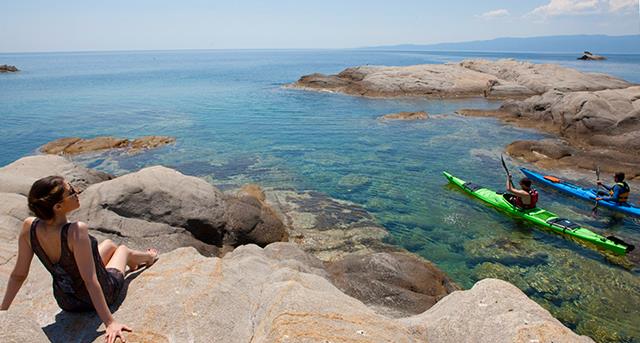 Kayaking is just one of the sports on offer
Somewhat more costly adrenaline watersports include parasailing (70 euros for two people for ten minutes) and jet-skiing (50 euros for quarter of an hour). But, hey, you're on holiday.

While Alice yells to go faster on the jet ski, Mike chooses the more sedate but vertiginous thrills of parasailing.

As he is winched up into the piercing blue sky attached to a harness in front of his nervous mum, his face cracks into a huge grin and, despite his legs jiggling around like a demented frog, he calls it the 'best fun ever'.

This area of Greece is known for its astonishing panoply of monasteries.

Prince Charles is a regular visitor, spending time in the company of the monks in the Simonos Petras monastery, which crouches on top of a rock high above the sea.

Such is said to be Charles's fascination with the Greek Orthodox religion that he has installed Byzantine art in his Highgrove garden. Far above the twinkling domes, on the peak of Mount Athos itself, sits a stone building.
Who would build a chapel on top of a mountain 6,000ft high?, I wonder out loud.

'They have faith,' Vassilis tells me.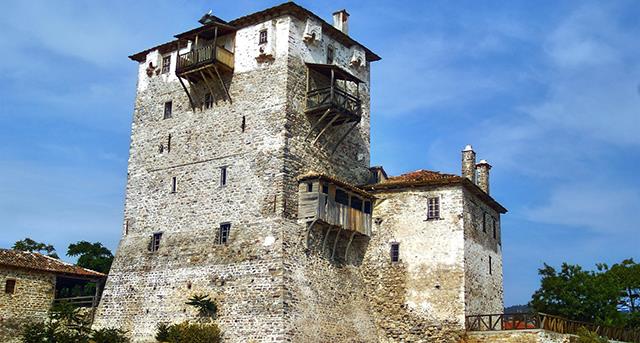 The fortified monastery of Prosforio, built in the 14th century
Then he recounts the story of the monk who tumbled over a cliff and plunged 150 metres. Surely, his fellows thought, he is dead. But he dusted himself off and trundled back up the hill. Miraculous, you might say.

One morning, Pavlos takes us boys on bikes into the town of Ouranoupoli - where an ancient watchtower stands sentinel above seafront tavernas - then we head out along a gravel track. Here, trees heavy with wild figs strain over the roadside and olive trees offer dappled corners of shade.

And at the end of the path? A monastery which is probably 10th-century, and the first of all those built along this peninsula.

It is a reminder of the history that seeps through the earth in this land — and courses through the veins of Vassilis and the other descendants of the ancients who shaped this Greek marvel.
First published in the Mail on Sunday - July 2015
More articles below...