Costa Rica is like an I-Spy book checklist of exotic holidays; you can travel from the Caribbean coast to the Pacific, stroll on white beaches with monkeys and pelicans and zipline through mountainous cloud-forests.

But unlike some of its wilder neighbours, the water is filtered, the hotels are chic, crime is low and the food is healthy, with a heavy focus on meat, rice and black beans.

My trip began at El Mangroove, a sophisticated boutique hotel on a beach on the Gulf of Papagayo on the north-east coast near the border with Nicaragua. There were howler monkeys in the trees, and cocktails at the bar.
The quirky Boutique El Mangroove hotel on the Gulf of Papagayo
It's not far from the Arenal volcano, a natural wonder that looks like a child's drawing. The shape of an incense cone, it sits reflected in Arenal lake, a manmade bowl of water fringed with vine-looped trees.

Luckily it hasn't erupted since 2005, though it still feeds hot springs all around the area. At the Tabacon hot springs complex, it emerged that 'hot' meant 'skinsearingly boiling'. There are more than 20 pools and waterfalls in the black volcanic rock, among tropical plants and flowers.

In one pool, an elderly couple stood blissfully beneath the waterfall, while others floated in glassy jetblack ponds amid floating clouds of steam as evening fell.

I found my own little pool, and lay back with my eyes closed for so long that I opened them to find myself facing a pair of orange Crocs worn by a concerned Texan man who was clearly wondering if I was dead. If I was, it was a good way to go.

That night, I stayed at the Arenal Springs hotel, a Spanish-style resort featuring rows of neat bungalows, like a tropical version of The Truman Show. I was worried that my Spanish doesn't extend beyond 'vino por favor', but almost everyone speaks English in the country's resorts, used as they are to vacationing Americans.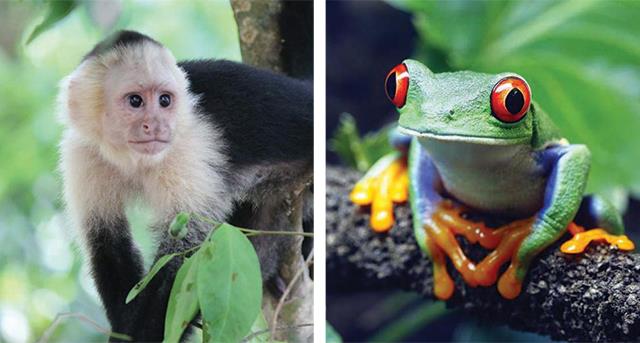 Be amazed by the variety of exotic creatures
Costa Rica's main draw for me, though, was the wildlife. Already, I'd seen citrus-peel-bright butterflies, vultures circling over the Pan-American highway, and a clutch of hefty iguanas slowly blinking the day away in a tree.

But a cruise down the San Carlos river made all that look like a palatecleanser. As the boat set out across the still, peat-brown water, vines and foliage hanging from the banks, a cayman lay immobile on the sand, watching us with eyes golden as chocolate money.

There were basilisk lizards the searing green of primary-school poster paint, mangrove swallows following the boat, and - high up in the branches - a sloth, dangling upside down.

We saw capuchin monkeys with faces like cross old men and birdlife to make any twitcher weep - a fluffy Great Potoo, Amazon kingfishers and boat-billed herons perched on bleached branches.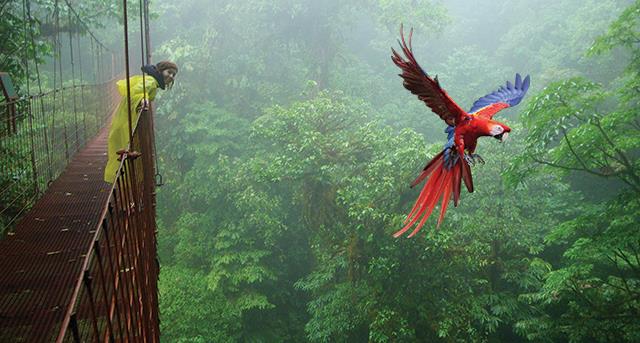 Encounter stunning wildlife high above the trees in the Monteverde Cloud Forest
The following day, we headed uphill to Monteverde, a small town in the mountainous north west. It's more than 5,000ft above sea level and wreathed in misty cloud. And when we arrived, it was raining biblically. It's a town for backpackers and adventurers, strung with telegraph wires and lit by the fog lamps of Isuzu trucks.

I found the thin, humid air hard to breathe, and though our hotel, El Establo, was smart and pleasant, I was relieved to get into the cooler cloud forest the next day, where Selvatura Park offers ziplining through the trees (I feebly declined), a beautiful butterfly house, a hummingbird garden, and a walk along eight astonishing hanging bridges (I said yes to all three).

In the hummingbird garden, the tiny birds whirred frantically around feeders filled with sugar water. Flashing emerald, royal purple and scarlet, and so tame they'll perch on your finger, it was like holding a tiny portable fan, and one of the best experiences of the trip - particularly when a coatimundi emerged and snuffled through the flowers.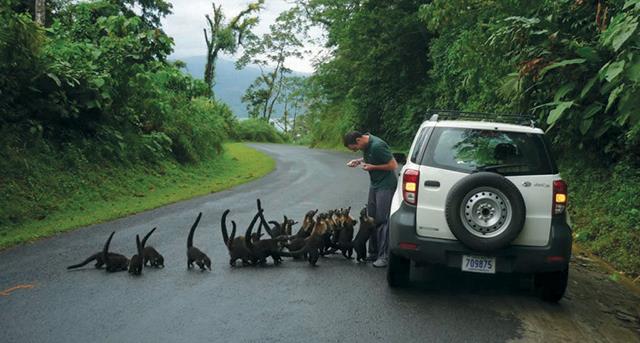 Feeding the very friendly coatimundi
The hanging bridges are where parts of the Paddington movie were filmed. There was no sign of Aunt Lucy, but we did hear howler monkeys barking in the trees like a pack of junkyard dogs, and trip over a millipede the size of an inner tube.

After that, riding a horse through the Santa Rosa National Park amid clouds of yellow butterflies, and visiting the Monteverde coffee plantation belonging to flirtatious 78-year-old Don Juan ('He has a much younger wife,' said our guide) were added bonuses.

We finished the trip at Dreams Las Mareas, above Salinas Bay and close to Nicaragua. Newly built, with swim-up terraces by the rooms, and a series of high-end restaurants, this is luxury the American way with every whim catered for.

I'll admit I preferred the wild side, where vultures hover over houses the colour of Skittles sweets, monkeys hurl themselves through the vines, and a kaleidoscope of tropical birds whirls among the soursop trees of the rainforest, high above the clouds.
First published in the Mail on Sunday - June 2016
More articles below...