Some of this flight might be intense, but trust your guide and be brave.'  The words of warning came from Dr Jackie Ogden as our group gathered in the Link Chamber of the Pandora Conservation Initiative. We had already been through the Genetic Matching Room and been decontaminated for micro-parasites, and were being given the final sequence of instructions before being let loose on the alien planet.
THE ADVENTURE BEGINS
With the final motivational message of 'Rise to the challenge!' we were swooping off across the otherworldly terrain and lush foliage of Pandora on the back of a Mountain Banshee, the gigantic dragon-like beast from Alpha Centauri that eats people for breakfast.
Fortunately - or unfortunately, depending on your level of bravery - all this excitement was  purely man-made. Or, we should say more accurately, Disneymade. Because we were in the Animal Kingdom theme park in the heart of Walt Disney World, Orlando.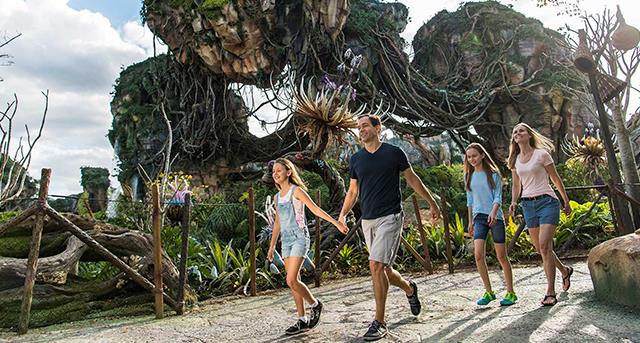 Step into an unbelievable new realm with the family
A WHOLE NEW WORLD
Pandora: The World Of Avatar is the latest attraction built by the House of Mouse - with the help of film-maker James Cameron - in its vast Florida resort. It has taken seven years to complete.
While some Disney die-hards doubted the wisdom of such an obvious film franchise being successfully shoe-horned into this most naturalistic of parks, the end result is a 12-acre immersive environment that is so packed with features and special effects it would take a small book rather than one article to list them all.
It starts with the Floating Mountains that seemingly hover over the area - gigantic, 156ft-tall rockworks that are complete creatures and waterfalls –  and continues through a junglelike panorama of immense complexity, studded with the bioluminescent plants from the 2009 movie that are all recreated in amazingly painstaking detail. They include some examples that react to touch and movement using specially developed sensors.
Cleverly hidden among the alien terrain - which mixes artificial plants with real ones from Hawaii and Africa - are two contrasting rides that take the story of Avatar into the future, 100 years after the war between Earth's Resource Development Administration and the indigenous Na'vi people.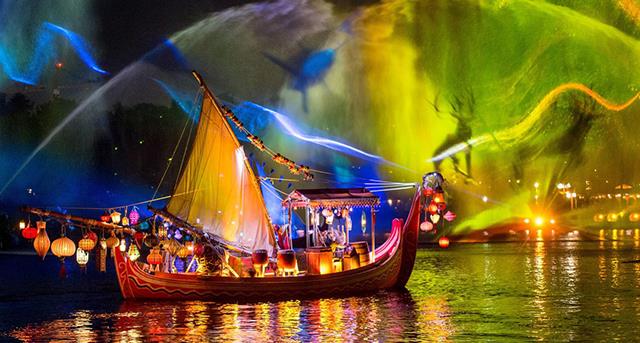 Rivers of Light: the first nighttime spectacular at Animal Kingdom
RIDE OF YOUR LIFE
The Na'vi River Journey is a meandering boat ride through the Pandoran jungle, usingwith vegetation, a mix of animatronics and screen projections to create a stunningly realistic series of encounters with the flora, fauna and people. It takes an ecofriendly approach, highlighting conservation principles and real-world issues such as habitat destruction.
After this the action intensifies - Avatar Flight Of Passage kicks things up several notches with the aforementioned simulator ride in the company of Dr Ogden. Sitting astride a kind of stationary bike (and equipped with 3-D glasses), riders seemingly dive, twist and turn in through a long whirl over Pandora, taking in the sights and sounds that made the film such a visual extravaganza.
There also ought to be a special award for the Blueberry Cream Cheese Mousse with its neon blue a there is such a thing as alien looking food, this is it.
Even James Cameron was apparently initially surprised at the huge scale of Disney's plans when they approached him with the idea of Avatar Lane. He said: 'I thought we were going to be talking about creating an attraction. Disney's vision when they came to me was to create a land.'
 
ART & ENGINEERING
It has been reported that the area cost up to 500-million dollars to complete. It features music composed by the late James Horner and Simon Franglen, based on the original score from Avatar.
The final word, though, deserves to come from Disney's Zsolt Hormay: 'We had to use a lot of experts to help us with the technology. It needed a lot of different skills. It melds art and engineering. It is like finishing a painting, only in three dimensions - and with a lot of engineering.'
First published in the Mail on Sunday -  January 2018
More articles below...