You'll know the feeling. You wake in a luxurious hotel room, look around, and you could be anywhere. So many look the same but until you venture outside it's often hard to know where you are.

But in Portugal or Spain you can avoid this danger by staying in magnificent pousadas and paradores - partly state-owned castles, palaces, monasteries and mansions offering unique but affordable accommodation with a huge helping of antique style and historic class.

On the way down to breakfast you're likely to come face-to-face with a full suit of armour, pass through ancient cloisters and along ramparts and corridors wide enough to take a coach and horses.

I had already experienced the splendour of the Spanish paradores, but this time I was including Portugal where the pousadas - different name, same concept - cast a similar spell.  I travelled around the beautiful Douro Valley and in and out of Porto staying in a 12th century monastery, several palaces and a couple of extraordinary mansions.

They've all been cleverly converted and renovated to provide top class accommodation while retaining their historic charm.

Dining with a difference at the former monastery - Parador de Cangas de Onis
There are many different routes you can take where you stay exclusively at pousadas and paradores. DialAFlight can provide you with all the details necessary and make the arrangements for an unforgettable trip.

I began at a castle near the Spanish border - the Parador de Monterrei, on a hilltop overlooking the town of Verin. It has only 12 rooms but each has a wow factor with views across a lovely valley into Portugal. Strolling around the ramparts before dinner was delightful.

Over the border and next stop was the pousada Barao de Forrester at Alijo - a stately mansion in the heart of town and a great base for seeing the Douro, the 'River of Gold', visiting the famous port and wine estates and stopping at delightful towns such as Pinhao and Lamego.

Next, the majestic Santa Marinha pousada looms large over the lovely city of Guimaraes. From reception to my suite, overlooking the city, took me via stone stairs, hushed cloisters, grand panelled rooms and vast corridors. Meals were taken in an expansive monks' refectory. The gardens and lake were a joy.

From Guimaraes I headed north past Porto to the Pousada Monte de Santa Luzia, above the ocean-side city of Viana do Castelo. From my balcony I looked down on planes taking off from the local airport and watched waves crashing on the rugged Atlantic coast.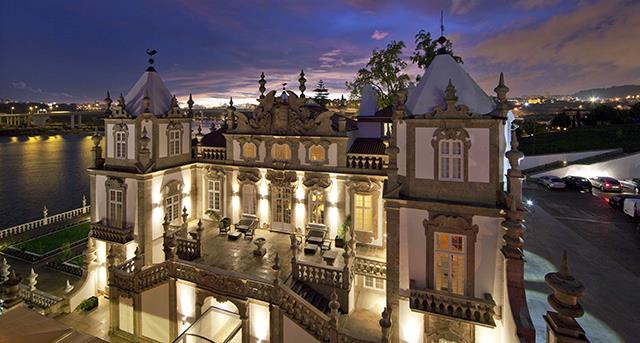 Palacio do Freixo - a wonderfully restored 18th Century baroque palace
I didn't think it could get grander than this, but then I hadn't experienced the Palacio do Freixo, a beautiful pousada on the banks of the Douro and a short walk from the old town of Porto. Built around 1742, the Freixo Palace is a remarkable example of baroque architecture and when you're not walking around marvelling at the place, you can relax in the superb spa or swim in the indoor/outdoor infinity pool.
Sample the finest local flavours at Pousada de Viseu, with its unique wine room
My next, pousada de Viseu, was an imposing 19th century building, with rooftop statues of Faith, Hope and Charity. It started life as a convent then became a hospital but now the old infirmary and mortuary have given way to a slick spa, roomy restaurant and covered courtyard. The polished cherry wood interiors add extra gloss.

I drove on to the walled city of Braganza, set in rugged countryside, and the stylish, modern pousada Sao Bartolomeu. It's handily placed for walks around the old town and picturesque ravine. The elegant rooms have balconies overlooking a beautiful medieval castle.

My last night was back across the border in Spain, at the Parador de Cervera de Pisuerga in the foothills of the Picos de Europa mountains. It stands in the Fuentes Carrionas Nature Reserve and has a hunting lodge feel, with stone fireplaces and wood panelling. Here I encountered the first  snows of winter, making my stay even more magical.
Most towns of interest in Portugal and Spain have a pousada or parador nearby. Fly out, pick up a hire car - and stay somewhere memorable every night.
First published in February 2019
More articles below...