The Pearl of the Atlantic, the island of eternal spring, a veritable Eden - these are all ways that Maderia has been described since its accidental discovery by some lost Portuguese sailors in the 13th century.

But there's one thing that keeps getting overlooked in the breathless reviews of this stunning island with its undeniably impressive flora and its jaw-dropping scenery of volcanic rims and craggy cliffs…Madeira is FUN.

The archipelago has a reputation as being a destination for the older traveller. The traveller who enjoys long walks, and beautiful scenery - and it retains this reputation with good reason.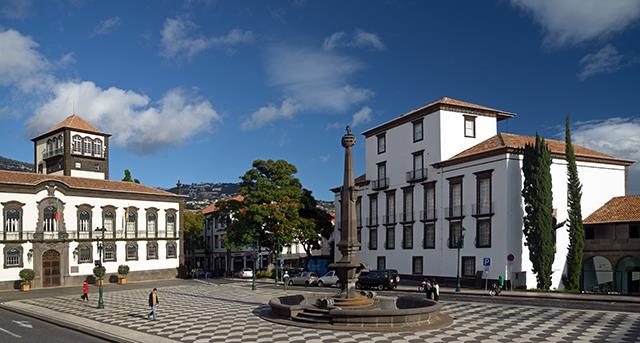 Funchal's main square in the Old Town is a focal point for locals and tourists
Madeira's breathtaking gardens and walks along the levadas – trails beside disused mini-canals - will make anyone feel like they've escaped the stresses and strains of modern life.

But the island is also so much more than this...it's a destination for families wanting to get away from it all, loved-up couples seeking solitude and girls' weekends of sunshine, spa treatments and evening cocktails.

It's into this final category that we two intrepid travellers, myself and my friend Nicola, fell as we headed south from drizzly London.

Stunning scenery, lazy sun-filled days and long nights in the best restaurants and bars; this is the Madeira that we discovered during a whistle-stop break.

We had only a long weekend to explore - but by Friday lunchtime we were relaxing in extremely pleasant 22°C heat with sunglasses on and a glass of wine in hand.

The true beauty of Madeira is that it has such an unspoiled feel – even the busy cobbled streets of Funchal Old Town retain an atmosphere of being off the beaten track despite having been given a young and trendy makeover. We thirty-somethings really took a shine to the Old Town.

The recent Art Project Open Doors is a vibrant introduction to Madeira's art and culture which sees the old wooden doorways of the back streets painted in colourful graffiti, a real case of 'street art'.
The Open Door Art Project saw many old wooden doors painted in colourful graffiti
The streets are laden with outdoor cafes and bars and the alleys get more lively as the night wears on and locals come out for a drink. Rest assured, this will never be a full-on party town because the vibe here is completely different, more relaxed and less frenetic.

It is entirely driven by the people who actually live in Funchal who gather in the square around midnight at the weekend to drink a few glasses of the famous (and very tasty) plancha spirit.

There's a mix of restaurants - some geared entirely towards tourists, but with a few gems with a great selection of local food and wine and a fantastic welcoming atmosphere.

We ate superbly at the Gaviao Novo where the specialities include swordfish with banana (interesting), flambé steaks with sauces and Roquefort cheese, and of course the ever present scabbard fish, which seems to be the dish of the day everywhere on the island but is very tasty despite its less-than-appealing name.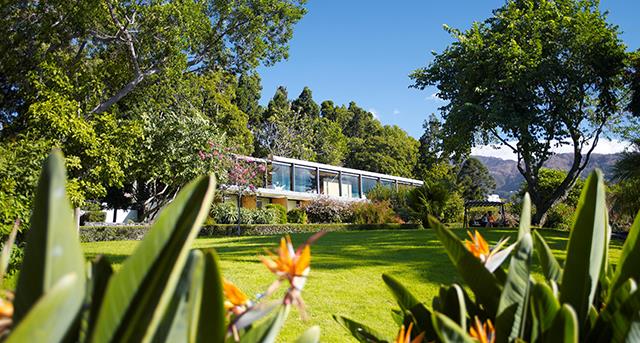 Quinta da Casa Branca is an oasis of boutique charm with its own botanic gardens
Our hotel - the five-star Quinta da Casa Branca - is an oasis. It's just a 20-minute drive from the airport, and a 15-minute downhill walk from Funchal town centre (and a five-minute taxi ride into town). It has just 26 rooms and is tucked away in a lush botanical garden filled with what seems to be Madeira's signature flower - the bougainvilla.

Every room has a pair of sunbeds on a small patio outside the room, and the pool never seemed  over-busy.

There was an excellent spa, always a bonus on any holiday, and a tasty selection of cocktails and Portuguese wines served by the poolside.

The hotel also has a fantastic restaurant - Casa Da Quinta - considered to be among the best on the island. Each item on the Mediterranean style menu has a selected wine to match and is absolutely delicious.

It is here on the restaurant's terrace, while eating and drinking some of the finest produce Madeira has to offer, that we fully appreciate the hotel's stunning gardens and the hills of Funchal in the distance.

We had certainly found our own personal paradise.
First published in the Daily Mail -  October 2019
More articles below...