The most famous of Portugal's Atlantic islands, Madeira is a gardener's heaven. Perched on windowsills or on steps up to the doors of even the tiniest houses, flowers are a constant welcome to visitors.

The semi-tropical climate means you are as likely to see an African flame tree, a jacaranda or a popcorn bush as a lupin or hollyhock. I was guided by landscape architect Dr Gerald Luckhurst, author of The Gardens Of Madeira.

Here is his pick of the bunch…
Gardens at the iconic Reid's Palace
Belmond Reid's Palace Hotel
This is Madeira's most iconic landmark and Gerald helped design its peaceful and soothing gardens. Paved with pebbles, the terraced garden was the vision of hotel founder William Reid.

'I used to think cacti and succulents were something small boys collected – but since working in this climate, I have realised what beautiful forms they have,' says Gerald, showing me a crown of thorns set off by towering agapanthus.
 
Quinta da Boa Vista
High above red tiled roofs, a green door in a crumbly wall transports us into Madeira's orchid farm.

Originally a vegetable and then a flower farm, Boa Vista is run by Patrick Garton, whose late father, Group Captain Cecil Garton OBE, was British Consul in Madeira and founded the orchid garden in the Sixties.

Long staircases with Spanish moss and steep paths flanked by hibiscus lead to glasshouses, where rare orchids bloom.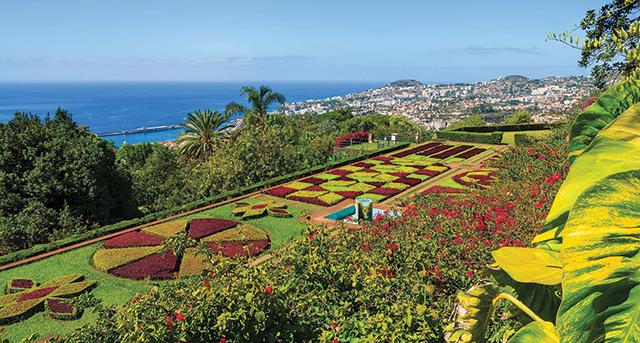 The Botanical Garden is as spectacular as the views if affords of Funchal
Botanical Garden
Behind tall, iron gates in a faded ochre wall lies a handsome old mansion, a late 19th-century cream house with dark-green shutters – today home to a natural history museum.

The garden is divided into five parts and is known for its formal mosaiculture, or carpet bedding, an ornate purple and green patchwork with views over the city of Funchal.
Monte Palace Tropical Garden
Monte Palace Tropical Garden
This lofty garden is reached by cable car. It plummets from a Gothic structure housing African sculpture and an impressive gem and mineral collection. Archways, rails, bridges and pagodas are a vibrant Chinese red, accentuating the lush green around them. Waterfalls tumble into pools and lakes.
Palheiro Gardens at the Casa Velha do Palheiro hotel
Palheiro Gardens
These best represent Madeira's flamboyant soul. They are mainly the work of the Blandy family, who bought the estate in 1885 from the Count of Carvahal.

They were neglected until the Eighties, when Mildred Blandy's Swedish daughter-in-law Christina re-invigorated them. 'Christina likes serendipity, rather than colour plans,' explains Gerald as we walk amid jasmine, calendula, birds of paradise, azaleas, camellias, pansies, dahlias, foxgloves and roses.
First published in the Daily Mail - October 2016
More articles below...