It had been a long time since I had the chance to visit St Lucia and I was looking forward to it. Happily, I wasn't disappointed. It was my annual break - the one I take following the final of Strictly Come Dancing and before the start of the Strictly tour.

St Lucia is one of the Caribbean's loveliest islands. It's very lush, with much of it covered in rainforest, home to rare plants and animals including the delightfully named whistling frog and the wonderful St Lucia parrot.

What attracted me to The BodyHoliday resort was that there are so many things you can do - a variety of activities are offered by the hotel, with a daily programme of complimentary body treatments in the Wellness Centre and an unbelievable array of sports, all set in gorgeous scenery.

There are also excursions you can take from the island - to St Vincent, for example, or you can take a catamaran cruise to the Grenadines, which is fantastic. I did both on a previous visit and loved them.

I'd also enjoyed a trip to St Lucia's La Soufriere volcano, all sulphurous smells and primeval jungle - it felt like a scene from Jurassic Park.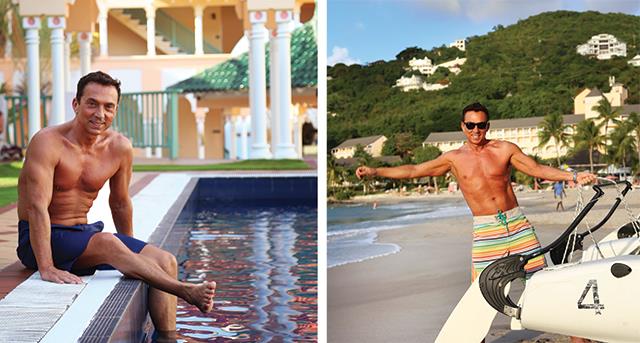 Bruno topping up his tan in St Lucia
This time I was looking to recharge the Tonioli batteries. I like my annual break to include brief outings, lots of good things to eat, some exercise and a couple of books.

For a start, the hotel's location was perfect: it is in a stunning spot, near to where they filmed the movie Dr Dolittle with Rex Harrison.

St Lucia has become very fashionable in recent years and The BodyHoliday resort is one of the Caribbean's leading all-inclusive spa resorts.

But the big surprise is that the resort is such good value. It's unbelievable what visitors get for their money. What makes it even more attractive for me is that it's largely an adults only place: we all love children, but sometimes you need a break from them.

Unusually for me on holiday, this time I kept fairly busy - going to the gym regularly, enticed by the prospect of classes in zumba, aerobics, yoga, spinning and the services of a personal trainer. Fitness--wise, you name it and they have it here. And it's all free of charge.
On two wheels: A great way to explore the island
One of the big events at the resort this year is Jive June. It's being held from May 29 to June 26 and will introduce guests to the Cuban cha-ch-cha and salsa, the fiery Argentine tango, the Caribbean merengue, American jive and the energetic Colombian zumba - a whole month devoted to dance.

The resort says it is hoping to inspire more people to take up this amazing exercise and have some fun. There will be 19 daytime dance--fitness classes during the week plus three themed dance evenings led by guest presenters - Latin Night, Step By Step Dance Party, and Rock 'N' Roll Night - as well as a weekly zumba party and beach party.

But while there are lots of organised events, all free of charge, you don't have to join in. You can just relax in the sun and have lots of treatments.

I had an amazing four-hand Ayurvedic massage, which was beyond belief. I also enjoyed an oxygen facial, aromatherapy, and a foot and hand massage.
I spent 12 days at the resort but the time went by in a flash. Having been to the Indian Ocean a number of times recently, it was interesting to see how the Caribbean compared with a destination such as the Maldives.

While I love the Maldives - I don't think there is anything there like this. It is a completely different type of vacation: relaxation mixed with the feelgood factor you get from exercise and different therapies.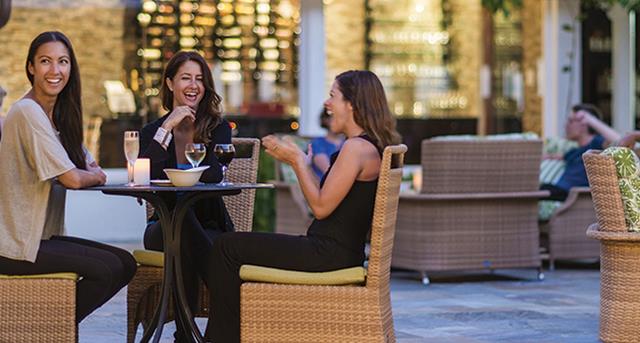 A little indulgence at the BodyHoliday
You could eat healthily at every meal, but you didn't have to - there are five restaurants and you can choose from a very wide range of good pasta dishes if you want to. I don't have lots of carbs very often, you know, because my body is a temple!

I'm very toned but I don't totally exclude carbs - I had a couple of pizzas there, which were lovely. But most of the time, when I'm away in the heat I eat grilled fish and salads. That's all I want.

They also have the most amazing juice bar. I used to have a daily ginger, turmeric and carrot juice, but you can have any combination you want.

And my holiday reading? Robert Harris's Dictator, the concluding volume of his Cicero trilogy. It's brilliant and I also gave a 'Ten' to the latest J.K. Rowling/Robert Galbraith thriller Career Of Evil, which was very good indeed - and a 'Ten' to the BodyHoliday resort, of course.  
First published in the Mail on Sunday - May 2016
More articles below...