Last Christmas, my sun-loving mother opened a small box, which had an airline luggage tag inside it. We were off together to Saint Lucia, one of the Caribbean's most attractive islands.

Specifically, to Anse Chastanet, in the jungle on the west coast of the island near Soufriere. It doesn't allow children, and so this promised to be a complete break for both of us (it does allow grown-up children, so I was allowed to go!).

Embracing Saint Lucian culture, the rooms and restaurants are decorated with native fabrics and the smiling staff are resplendent in traditional dress, with small numbers in their hats that reflect their marital status; one for single and looking; two for engaged; three for happily married. We liked to keep an eye on their hats throughout our stay for any change of status.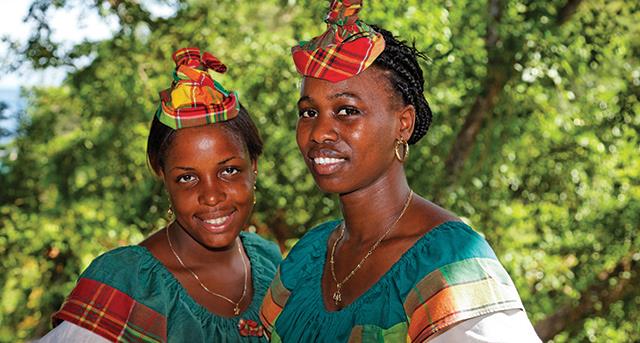 Smiling staff are resplendent in traditional dress
The hotel sits on a steep hill. On one side, rooms look over a perfectly formed sandy cove; on the other, the view is the Pitons - those dramatic mountains that rise out of the sea like prehistoric fangs.

It all reflects architect owner Nick Troubetzkoy's passion for nature. He plainly wants the foliage and the flowers, and the birdsong, to be an integral part of your holiday. The resort encompasses 600 lush tropical acres with two soft sand beaches. It's a World Heritage Site and the resort's two crystal-clear bays are part of a designated marine reserve protecting miles of colourful coral reefs teeming with tropical fish.

Mr Troubetzkoy is obviously committed to green principles and is extremely environmentally conscious.
Enjoy panoramic views of St Lucia's tropical jungle and its iconic Pitons
A dozen of the rooms are tucked in behind the coconut palms that line the beach and the remainder are built on the flower carpeted hillside. To make the most of the panoramic views and the refreshing trade winds, the octagonal whitewashed cottages come with wrap-around flower-draped balconies and louvered windows.

There are some very quirky and appealing touches to some of the suites. In one, the balcony is built around a full-grown red gommier tree; in another a flamboyant tree drapes its red blossoms around the balcony. Some have their fourth wall open entirely to the vistas, yet are still completely private.

The ethos is to embrace the outdoors: there is no glass, rather shutters that allow the gentle breeze to drift in.

No phones, no TVs, no air-con, not even any curtains.

We were woken each morning by the jungle cacophony, as though the birds were screaming for us to get up and make the most of every moment.

A gentle routine started to emerge.

After breakfast in the treehouse restaurant, I'd put on my gym gear. But instead of pounding the cross-trainers, I'd spend a sweaty hour exploring the jungle trails behind neighbouring beach, Anse Mammet. That took care of any guilt about spending the rest of the day horizontal.

My mother normally loves nothing more than to be out exploring the local markets, finding a great fishmonger and creating abundant feasts for her extended family. Here, she had little choice but to relax.
Designated a World Heritage Site, St Lucia's tropical jungle gives way to the soft sand beach
One afternoon, seduced by the promise of colourful reefs and abundant marine life, we boarded a boat for a snorkelling safari at the foot of the Pitons.

Julia, our guide, led us for an hour, wending our way above the underwater rock formations, signalling to creatures hiding in dark crevices or camouflaged in the coral.

She taught us how to dive to the shallow sea floor to get a better look at the shy puffer fish and pointed out a turtle drifting past.

Above Anse Chastanet lies Jade Mountain, a sister hotel that is different in character.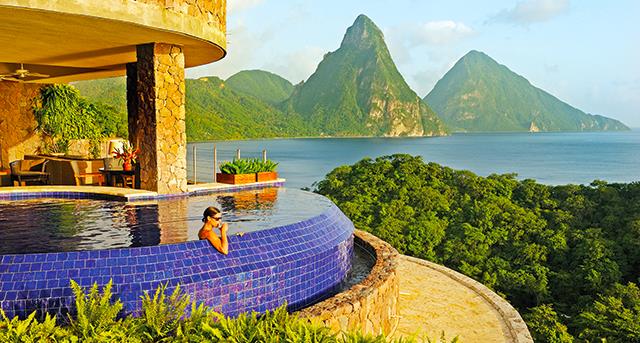 Jade Mountain, in the hills above Anse Chastanet
It's a modern structure that looks like something from the sci-fi series Lost, with a maze of walkways and bridges leading to the 24 huge rooms.

Our week was spent eating our way through the menus of the different restaurants. Our favourite evening was spent at Apsara, on the torch-lit beach, the waves a few metres from our table.

The food is a fusion of Caribbean Indian, like nothing we'd tasted before and utterly delicious. A week of eating, sleeping, swimming, snorkelling, reading and chatting passed in a flurry.

The bond between my mother and me has always been strong, but to spend a whole week together in such glorious surroundings was a rare treat.

My mother said it was one of the best holidays she's ever had - and I don't think she was just being polite.
First published in the Mail Online - October 2016
More articles below...