I have happy childhood memories of family holidays in St Lucia, so when I got engaged to Chloe I really wanted to take her there. I knew she would be bowled over.
The Sandals Resort was the perfect romantic place to stay. The 'no-kids' rule gives it a very chilled-out vibe and  makes it ideal for a couples holiday.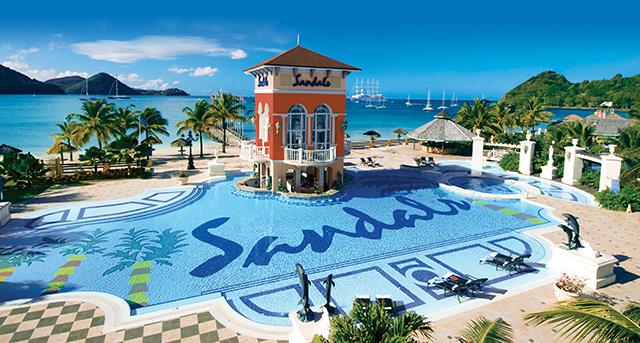 Sandals boasts beachfront rooms, lush gardens and luxury amenities

NEW TO SANDALS
Our resort, Sandals Grande St Lucian, has new over-the-water bungalows with glass floor panels that allow you to look down into the sea. They also have outside hot tubs, over-water hammocks and the services of a butler who can organise restaurant bookings, serve an in-suite champagne breakfast or arrange a picnic.
I began to wonder how I'd managed all my life without my own butler. I always set out on a holiday intending to relax completely, but soon get restless. A great attraction here is the amount of activities available: canoeing, sailing, snorkelling, windsurfing, water skiing, aqua-triking, paddle-boarding, scuba-diving and kneeboarding, to name a few. For the less energetic, there are swim-up bars in five pools.
And as guests of Sandals Grande St Lucian we could use the amenities at its other St Lucia resorts, Regency La Toc and Halcyon Beach.
From the airport it took about 90 minutes to get to our resort; it must be the most scenic transfer in the world, through forests of banana trees with stunning views of sea and mountains.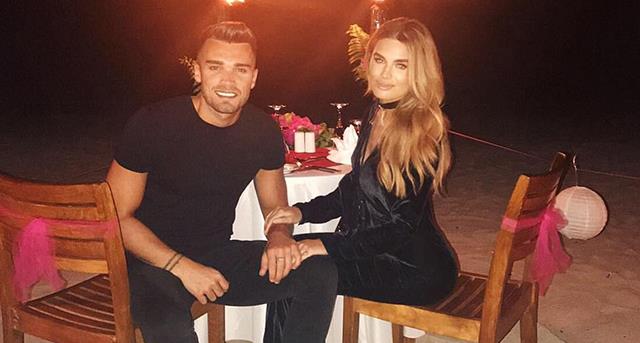 Loved up: The newly engaged couple smile for the camera
SPOILT FOR CHOICE
Our resort had no fewer than 12 restaurants - plus access to the 15 restaurants at the two other  properties. Chloe may be a model but she doesn't seem to have to worry too much about her diet. Both of us love Asian food - particularly sushi - which is available at a top-notch new restaurant called Soy.
We also loved the Indian restaurant Bombay, serving what I suppose you might call a posh curry -fabulous.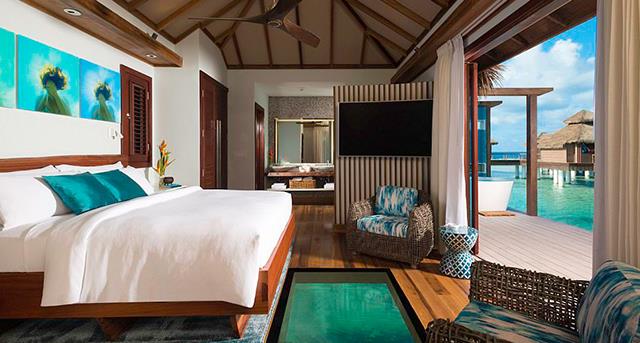 Beautiful views from the villas at Sandals

OUR NEW ROUTINE
We quickly settled into a daily round of eating and enjoying a little sport. We both snorkelled while I also had a go at water volleyball, playing with American guests. Chloe was on the sidelines to cheer me on.
Stand-up paddle-boarding has become our favourite holiday pastime: Chloe is a lot better at it than me, being more nimble and lighter and with better balance. We also loved the spa - a massage was wonderful for a shoulder injury I suffered recently.
The night-time entertainment impressed us. We really liked Arthur and his band, who performed hit after hit. After a few drinks everybody would be joining in a great singalong. It was great talking to him about music and bands - we've been in touch since we came back.
I resisted the temptation to get up and perform. After a couple of drinks I lose any bit of a singing voice that I have. It's a running joke. On my last birthday, we booked a really cool room with a karaoke machine. When I had my go, following a few drinks, I sounded like one of those X Factor contestants who come on and people laugh at!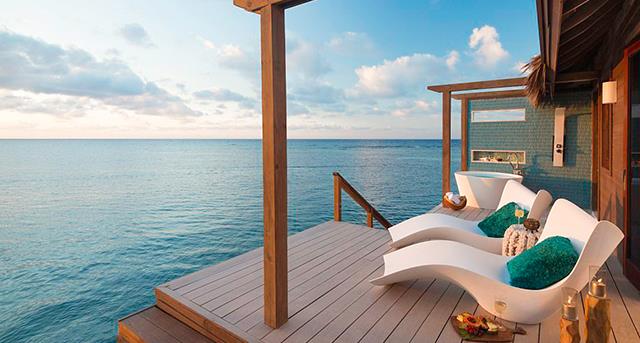 Enjoy being on the water's edge on the Sandals villa deck
WAKE UP TO SEA VIEWS
Our greatest pleasure was our over-the-water bungalow. It was a thrill to open our curtains every morning and gaze out over the sea. We spent a lot of time peering through our see-through floor. At night it's surprising how many fish you can see - there's a light you can turn on and there they are. It's wonderful.
We had two butlers, Michael and Karen, and they were incredible. Michael's a massive Manchester United fan, and I'm a big Chelsea fan, so we had a lot of football chat.
Chloe's favourite part of the holiday was splashing around in the sea and looking for good places to take photographs. Taking pictures is a big part of the holiday: Chloe has 250,000 followers on Instagram and I think I've got about 450,000. 
The biggest challenge all the time is taking pictures that we're both in - I use a ten-second timer which means I have to dash from the camera to get in the right position: I rely on Chloe to make sure I'm in the right place.
We have thousands of photographs - memories to look at when we get older, including those of St Lucia.