The clue is in the name.
Moored alongside the sun-scarred pier, amid a smattering of yachts nodding at anchor, the Happiness ferry boat is waiting.
Untie the mooring ropes, Skipper. Point the bow to the horizon. Destination: Sandy Island - where you'll find perhaps the most beautiful remote restaurant in the world. Happiness indeed.
Sandy Island (again, the clue's in the name) is a tiny spit of white powder a few miles off the coast of Anguilla.
Unfamiliar with Anguilla? Partly, that's because it's not the easiest of Caribbean islands to reach, involving a transfer through Antigua.
But unlike nearby St Barts, Anguilla's 33 pristine beaches aren't stalked by paparazzi, even though this is where Justin Bieber spent a Christmas, Jay-Z wooed Beyonce, Robert De Niro comes to eat Italian beachside, Paul McCartney is a regular and where Leonardo DiCaprio and his posse came cruising aboard Steven Spielberg's superyacht.
And where did Leo choose to drop anchor for a spot of lunch and snorkelling? Sandy Island.
Little more than a tin shack and a few sun loungers spread out along a few hundred feet of shifting shoreline, it manages to serve up the most deliciously simple seafood imaginable.
Carrie Bogar inspects the day's catch for her restaurant Veya

We opt for the lobster, Sandy Island style - super-sized, flashed over the grill and licked with a lightly curried coconut sauce. Exquisite.
Here is an island where the great food is a reason to visit in itself. At 16 miles long and three miles wide, Anguilla has more than 100 restaurants, many among the best in the Caribbean. My tip: hire a car and work your way round as many as you can.
Our base for the week is Meads Bay, a crescent of golden perfection that plays host to two of the island's most stylish hotels. At one end is what was until recently The Viceroy, and now under the Four Seasons banner - and still a benchmark for slick service.
After a day spent exploring the island on a pair of hotel bikes, we head to the spectacular bar where a chilled reggae soundtrack is the backdrop for a chance encounter with the island's young British Attorney General and its recently appointed police chief, formerly a chief superintendent from Sussex. 
'So how do you land plum postings like this?' I ask, over a passion fruit and chilli margarita. Their life, they claim, is not quite the mixture of idyll and intrigue of TV's Death In Paradise, but as the sun dissolves into the ocean, it must beat a post-work pint in the Dog & Duck.
At the other end of Meads Bay lies the Malliouhana, an intimate 44-bedroom hotel perched on its own headland. If the Viceroy/Four Seasons is a symphony in muted Armani greys and neutrals, then the Malliouhana is a celebration of colour, with Hermes orange and Tiffany pale blue to the fore.
For those of a nautical bent, there's a treat in store. The Tradition is one of the last seaworthy wooden trading sloops that were once the juggernauts of these waters, shipping rum, tobacco and spices between the islands, not always with full regard to the customs office, but don't tell the Attorney General.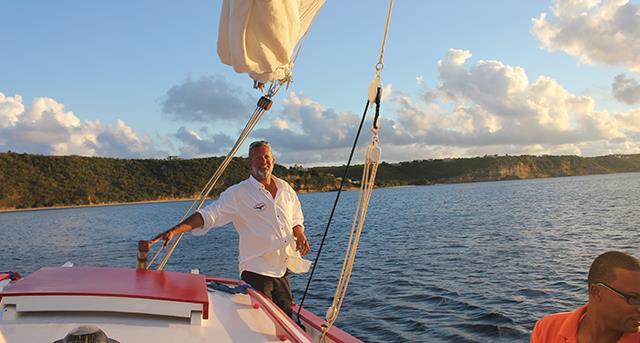 Laurie Gumbs at the helm of The Tradition, one of the last wooden trading stoops

Now restored and taken on by local bar owner and master yachtsman Laurie Gumbs, she takes day trippers to hidden coves and islands. With neither winches nor windlasses to help haul the canvas up, this is big-boat sailing in the raw. 'Wanna take the helm?' offers Laurie, passing me a tiller the size of a fallen oak.
Tucking it under my armpit, we yaw against the wind as the surf froths at the gunwales and the rest of our passengers look on with alarm at their novice helmsman. Scurvy lot.
Next morning, we drive to the far north of Anguilla where we find a winding track to remote Junks Hole. Here, local legend and grandfather Nat Richardson serves up grilled crayfish and johnny cakes, a sort of savoury doughnut with a slather of hot pepper sauce made to a secret family recipe.
Judging by the nuclear reaction it provokes after one bite, I'm guessing it includes a generous dollop of enriched uranium.
We buy a bottle to take home, and as the winter chill descends in Britain, it comes out every now and then to bring back those warming Anguillan memories — a reminder that this is an island that packs a whole heap of good taste into a very small package.
First published in the Mail Online - March 2017
More articles below...