Never have I seen an art exhibition as mobbed as this one. Bumping, jostling and sometimes just hovering straight in front of me, this crowd is relentless.

Yet there's not a human in sight. My fellow art lovers aren't school groups, but actual schools of fish.

The gallery as such is an underwater sculpture park, off the coast of Molinere Bay in the tiny Windward Island of Grenada. I am joined by tubular silver trumpetfish, garish squadrons of parrotfish and sergeant major fish, the latter with the kind of flamboyant technicolour markings that would please budding abstract expressionists.

British artist Jason deCaires Taylor's giant stone sculptures have been immersed here for more than a decade and have taken on the form of an artificial reef, which was his aim, in a vast range of colours and textures on top of eerie works such as Vicissitudes – 26 life-size children holding hands in a circle.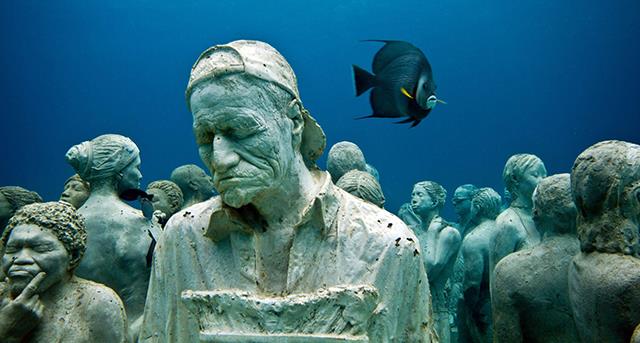 Visit the Caribbean's first underwater museum to see Jason deCaires Taylor's sculptures
Taylor's creation is in fact the world's first underwater sculpture park and underwater museum, integrating his skills as a sculptor, marine conservationist, underwater photographer and scuba diving instructor.

His works in Grenada have been listed among the Top 25 Wonders of the World by National Geographic. He has also created the Cancun Underwater Museum off the Mexican coast between Cancun and Isla Mujere, as well as Ocean Atlas, a five metre tall, 60-ton sculpture off the Bahamas. He is currently working on a major new underwater museum off Lanzarote.

Drifting along the surface of Molinere Bay with my snorkel I spot The Lost Correspondent, a sculpture of what looks to me like a long-lost Seventies BBC newsreader hunched over the front of a desk, reading a bulletin that will only ever be heard by the fishes.

Thoughts of a submerged Kenneth Kendall or Cliff Michelmore abate when I emerge for air, gazing up into turquoise skies, the odd scudding cloud and a vista of mountainous hillsides smothered with gargantuan fan palms, mango, mahogany and breadfruit trees.

Every Caribbean island dances to its own particular rhythm. Grenada's energetic capital, St George's, has more bump and grind than the neighbouring Grenadines islands, but there's nowhere near the kind of frenetic booty shaking that you'd find in Jamaica or Puerto Rico.

Grenada was ruled by Britain until it gained independence in 1974, and for such a small island, just 134 square miles, it has had an incident-filled history since then - including more than one coup d'etat, invasion by the United States, and almost total destruction by a hurricane in 2004.

The resilience of its people shines through and the island is still working to regain its position as the world's leading exporter of nutmeg.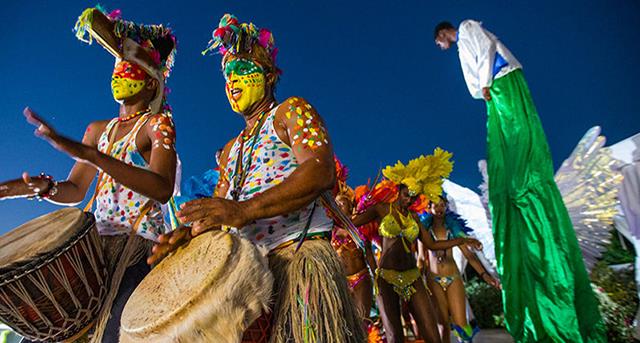 Not recognised as a carnival island, yet Grenada still dances to its own rhythm
So much to admire
It takes barely 90 minutes to drive from one side of the island  to the other, but there's much to admire. Taking to the thin, tapering ribbon of mountain roads with my guide Edwin (a former presenter of the weekly Grenada lottery show), we spend the day spotting churning waterfalls, volcanic crater lakes, ancient stone chapels and fields of sweet potato, cabbage and nutmeg at vertiginous gradients, tended by locals while indolent goats look on.
St George's is built around a perfectly-shaped horseshoe bay, where the ramshackle covered market is one giant spice rack full of potions, seeds, pastes and powders made from the locally grown nutmeg, mace and saffron. Hence Grenada has gained the Spice Island moniker.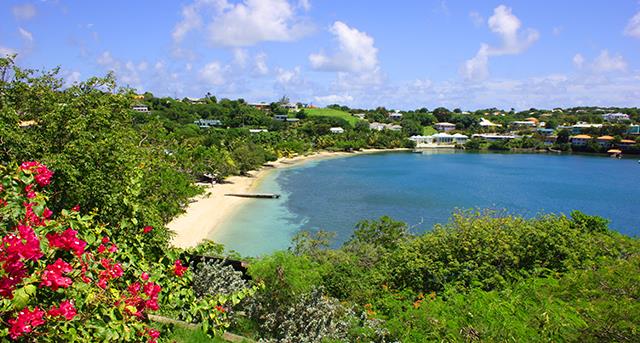 The beautiful pristine beach at the Calabash Boutique Hotel
Night comes with a bang, rather than a sigh. With the alacrity of somebody hastily fumbling for a dimmer switch, the sun sinks, the ocean churns and I bid farewell to Lottery Edwin. 'Listen,' he tells me as I head back to my beach-facing room at the Calabash Hotel, the sun turning burnt-orange, the sea flicking its silvery spume ahead.

'We'll never be a mainstream destination. But did you notice when you were under-water? Even most of the sculptures are smiling here. It's what Grenada does best.'
First published in the Mail Online -  October 2018
More articles below...