As soon as Donald Trump became President, the number of Americans applying to move to Canada went through the roof. And Brexit has even made many Britons think about heading for 'The Great White North'.
But where in this vast country should you go? I've the answer – although I'm biased as my wife is from Ontario and I have travelled extensively through the province and fallen in love with it. 
It's enormous (half a million square miles) and home to 40 per cent of Canadians. You need to base yourself in Toronto which, to the average Trump supporter, would be hell on Earth - it has three million inhabitants and more than 160 languages.
The city has changed a lot since I first visited in the mid-1990s. Lots of shiny new apartment blocks have been added to the downtown skyline of the CN Tower and the glorious Gothic Revival of the Royal York Hotel. 
But the plus side is that the Lakeshore area is now properly utilised and full of things to do all year round. It's also where you can pick up a ferry and take the ten-minute ride over to Centre Island.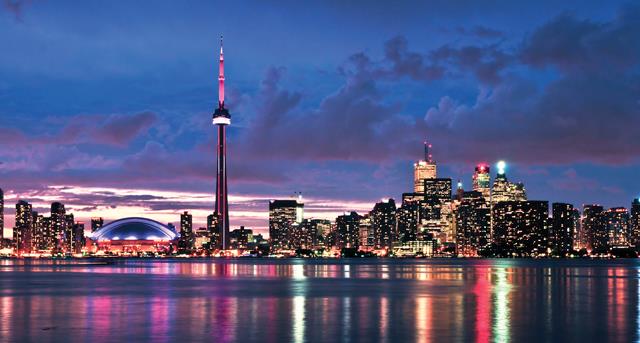 Toronto's skyline is up there with the finest
Toronto's offshore City Park is ideal for a family day-trip. On the way back, you could pop into the magnificent Roger's Centre and catch a baseball game. The Toronto Blue Jays are the only Canadian team in Major League Baseball and they're pretty good. Nothing gives a bigger hit of 'North Americana' than a ball game, with the wise-cracks of the hot-dog sellers, antics of the energetic furry mascots and maybe even the game itself.
Afterwards, you'll need a good restaurant. My favourite is Byblos, a hip modern take on Lebanese cuisine.
Toronto is a city of villages - discover them on foot. Have breakfast at the Thompson Diner, check out Kensington Market to funk up your wardrobe, visit Chinatown for lunch at Lee Garden.
Come the weekend, Canadians go 'up North' to reconnect with their pioneer roots…and drink beer. Most people have a 'cottage' somewhere on one of the 30,000 lakes, ranging from a simple hut to vast affairs with helipads and boathouses.
We head for the Muskoka Lakes. Three vast lakes – Muskoka, Rosseau and Joseph – are dotted with hundreds of little wooded islands and connected by locks to form the ultimate summer playground (they freeze over in winter which is pretty fun, too). 
If we are going for a short time we stay at the Red Leaves Resort on Rosseau. When we rent a cottage we also get a speedboat and life is spent almost permanently on the water.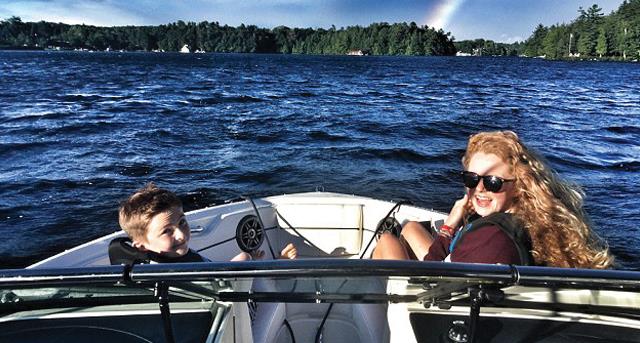 Dom's children Jackson and Parker explore Musoka Lakes by boat
We were having a meal with friends in Toronto when they insisted we go to stay in their cottage on Christian Island, on Georgian Bay. They said it was always unlocked and that the water was the clearest in Canada.
We took the rickety passenger ferry over and drove the short distance on a dirt track to Horseshoe Bay. We came to several rows of cottages nestled among birch trees. We found ours and dragged in everything we needed for our stay. It was compact, but incredibly sweet.
The beach was a two-minute walk away, and over the next few days we swam, paddle-boarded, ate simply but well and slept like kings. Life was good.
On the fourth day, we were eating brunch on the deck when a car turned into the driveway. Assuming neighbours were calling in to say hello we waved vigorously. The family exiting the car appeared very confused. They wondered what we were doing in their cottage!
We were in the wrong one. They were all left unlocked and we'd made a stupid mistake. We were mortified. They, being Canadians, were more upset at having to turf us out, although we explained we really did have the correct cottage somewhere nearby in which to stay.
It was so gloriously Canadian. These are good people, possibly the best in the world. We had to almost force our way out of their cottage. And our new friends lined up to wave us goodbye.
We can learn much from this wonderful country. For Trump, Brexit, anything really, there is a solution. Canada – it truly rocks.
First published in the Mail on Sunday -  July 2017
More articles below...