In hindsight, spending my first afternoon in Vietnam pounding the busy city streets, visiting every incense-filled pagoda and finishing at the heaving Ben Thanh market in Ho Chi Minh City was a baptism by fire on my first day.
I can't deny it was a relief when I returned, footsore and weary, to my hotel, the Park Hyatt Saigon - an oasis in that buzzing city. 
Huge bouquets of flowers and dazzling chandeliers greeted me in the cool lobby while the luxurious French colonial style rooms featured delightful white wooden shutters and a superbly soft carpet tastefully decorated with a bird motif.
When I woke next morning in the vast and very comfortable bed and delightfully appointed and furnished room I found the whole place exuded relaxation – a feeling that was ramped up when a tiny Vietnamese woman arrived for my massage. She used her knees, elbows and hands to pummel my back. It really was an excellent massage, vigorous but highly relaxing and diffusing knots of tension I hadn't realised I had.
Dinner at the Park Hyatt proved mouthwatering, with salmon tartare, pomello salad, pork with prawn crackers and bread with anchovy tapenade. This was followed by succulent Australian wagyu steak, with puréed potatoes, sweetcorn and asparagus.
Breakfast was also divine and I couldn't get enough of the buttery croissants and yoghurt with figs. 
When the time came to haul myself away from the luxury of the Park Hyatt, and bid farewell to Ho Chi Minh City, I made my way south to the Mekong Delta - a vast maze of rivers, swamps and rice paddies.
I stayed in the city of Can Tho where an absolute must is the floating market which sees traders take to their boats and sell their wares from the middle of the river.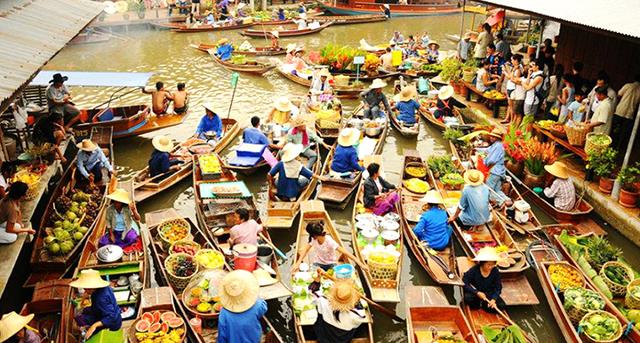 Visiti the bustling floating markets for a taste of some fresh local produce
Huge mountains of melons, pineapples and gourds filled the boats while sellers cried out to anyone passing by what they had to offer. Others busied themselves with weighing the fruit or sprucing up their boat with a fresh lick of paint. Some stall holders simply lazed aboard their vessel, gossiping with friends.
The Victoria Can Tho Resort organised the morning's river tour. Just like the Park Hyatt this hotel was decorated in a colonial style. A bowl of exotic fruits welcomed me upon my arrival, many of which I couldn't begin to name.
The room looked onto the huge swimming pool in the courtyard below, the fourth 'wall' of which was lined with towering palm trees, providing privacy from the gardens and river beyond. 
Visit any of the beautiful pools at Victoria Can Tho
If it's real escapism you're after in Vietnam, the island of Phu Quoc is where you want to be – and it's just a very quick plane ride away.
It boasts breathtaking white sand beaches, a wonderfully temperate sea and dense, tropical jungle – not to mention its world-famous fish sauce. 
It's no wonder that many an A list celebrity including Brad Pitt and Angelina Jolie have been drawn to the island's serene and sparkling shores which offer privacy from the outside world.
I stayed at the divine La Veranda which is right on the sea-front. It feels secluded and peaceful in the resort itself, but venture onto the beach and you'll see bars and eateries up and down the sands blaring out music and attracting relaxed backpackers cradling tumblers of beer, the water lapping at their toes.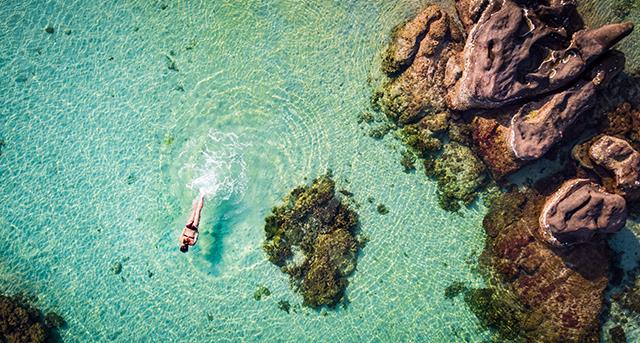 Explore Gam Ghi - La Veranda's own private island
La Veranda's delightful terrace, shaded by palm trees, offered a brilliant view of the picture-postcard seascape, while at night waiters brought out huge flaming torches to light up the restaurant tables set out on the sand.
Before dinner I took a swim in the blue, blue sea and was delighted when the most amazing sunset began to form on the horizon, the sky filled with reds and orange gold.
My trip may have started with a hectic whirl of activity, but this haven of peace and quiet highlighted the incredible contrasts that Vietnam offers.
First published in the Mail Online -  October 2017
More articles below...