It must surely be the ultimate resort. No other word could do full justice to Fregate Island in the Seychelles, as ecological and nurturing of wildlife as it is luxuriously exotic.

It's a place for honeymooners and second-honeymooners, for any of those extra-special, once-in-a-lifetime holidays that come tied up with a romantic red bow.

At Mahe airport, we were whisked into a waiting helicopter, lifting off almost instantly for the 15-minute flight. Fregate doesn't do things by halves.

The white fringes and forest-green interior of Fregate Island came into view; it looked remote from the world, like a Desert Island Discs island.

Yet this is a mirage with a helipad, a landing strip, harbour, yacht club and a tiny historic chapel - not to mention sumptuous villas, each with an infinity pool, Jacuzzi, large sun terrace and shaded double day-bed.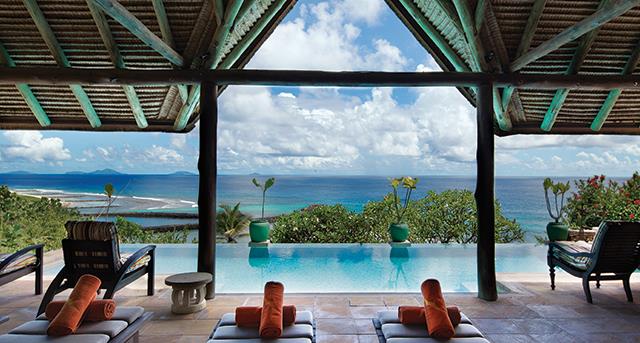 Impressive views from the Banyan Hill Pool at Fregate Island
Our villa was perched on a clifftop looking out over a sapphire sea, and a more romantic home for five days was hard to imagine. Rough-hewn steps led down to a tiny private beach where the sand was white and soft like tropical snow.

We had a butler, Jared, to look after us. Showing us round the three-room villa, he explained its delights and luxuries - the flatscreen TVs, the music system, the outside and indoor showers - then suggested we must be ready for some food.

Meals, we soon discovered, could be taken whenever and wherever we chose: at Plantation House - the restored home of the island's original 19th Century planter that had a little museum attached - in The Pirate's Bar, the library, on any of the island's seven beaches, or even in a splendid treehouse high up in a banyan tree.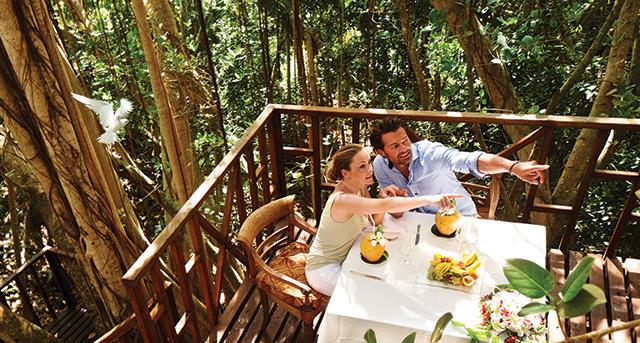 One of many dining options, the treehouse in a magnificent banyan tree
We chose to explore the Fregate House restaurant adjacent to the reception and boutique, effectively the island's hub.

We ate delicious seafood and crab salads while marvelling at the view. The watchword of Fregate is privacy: it is in the island's DNA. This wouldn't be a perfect holiday destination for clubbers, but nature-lovers, paparazzi-shy celebrities, honeymooners - who can request a distant villa - and seekers of sun and solitude would all be in seventh heaven.

Families, too, would love it. The island, three miles square and the most isolated of the Seychelles granite islands, has species unique to its shores and is a natural playground.

About 2,000 giant Aldabra tortoises roam free, and during a tour of the island we were shown the nursery for the protection of the vulnerable baby tortoises.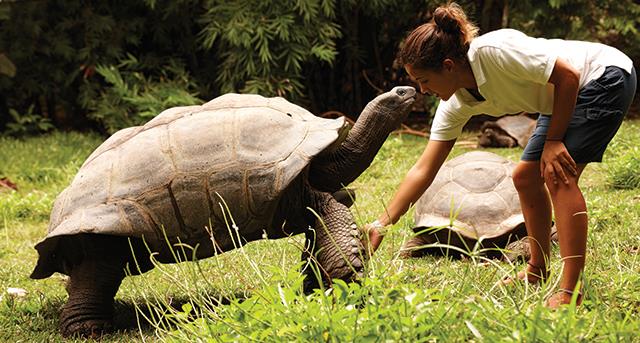 Giant tortoise numbers are increasing thanks to Fregate Island's conservation ethos
Our island tour had begun with a history lesson, taking us back a few million years to when India parted from Africa and floated north, leaving 115 scattered fragments that were to form the Seychelles.

They were uninhabited until the 15th Century, when pirates became the first settlers - the famous Olivier Levasseur, 'La Buse', is said to have buried his treasure here, but it has still to be found.

The ancient tortoises provided meat and were almost wiped out over time, though happily numbers are healthier now, for which Fregate, committed to conservation, can take much of the credit.

As well as our tour, we went on a nature walk with Carl, one of the conservation team. He told us about the ground doves eating the fallen fermenting figs from the banyan trees and becoming tipsy - we enjoyed seeing them rolling around like drunken sailors on the paths.

Fregate has an organic market garden, the pride and joy of chef Arnaud. His dishes were light and innovative. He prepared lunch using just-picked ingredients and, seated under a dainty pergola that Jared had erected for shade, we had an unbeatably healthy meal.

The night before, Jared and Arnaud had surprised us with a softly lit, romantic dinner à deux in the atmospheric library. We felt like a pair of honeymooning potentates (at our age?) and the menu was something else: yellow cherry tomato gazpacho; scallops flambeed with vermouth and served with oregano risotto; lobster mousse with caramelised fennel and a light lobster bisque; and a passion fruit sorbet for dessert.
Deep sea fishing is just one of many activities on offer
But we did more than gorge on scrumptious food. There was almost too much to do in such a short space of time, including snorkelling with hawksbill turtles. On another morning we went deep-sea fishing and afterwards, what could beat an indulgently therapeutic massage at a top spa? Ornamental ponds, lemongrass tea to greet us, fragrant aromas: oils of the local ylang-ylang fruit gently applied.

With winter on the way, we are already thinking back to our five heavenly days there, the scintillating water, tropical sun and sumptuous meals, the fabulous views of the Indian Ocean. It was a place of sensuous serenity. 
First published in the Mail on Sunday - July 2016
More articles below...