I'm a travel company's worst nightmare.I want adventure, but not scary, I want total luxury but not in-your-face formality...and a beach, but a Robinson Crusoe one. And I want gourmet food and a world-class spa.  The suggestion was an African safari followed by a relaxing island retreat in the Seychelles.

As a little girl, I'd always dreamed of going to Africa. My mother would say it was a consequence of watching Born Free and endless episodes of Daktari. I imagined I was Paula Tracy decked out in appropriate safari gear, riding high on the back of Clarence The Cross-Eyed Lion - accompanied by Judy the adorable chimpanzee.

So I embarked on my first true experience of Africa: Botswana and the Okavango Delta, an area that covers 3.2-million acres when in full flood. A lush, green sparkling jewel made up of permanent and semi-permanent channels, lagoons, islands and floodplains.

We flew to Johannesburg, then took a  two-hour flight to Maun in Botswana and from there a ten-minute light aircraft transfer to the middle of the Delta.

Our guide Martin met me and my husband Brian and whisked us off to our home for the next three days. Sanctuary Baines' Camp has five bedrooms, on stilts and connected to the communal dining area by swing bridges. It has a swimming pool, although the day I wanted to use it a rather large elephant was hogging it and I wasn't about to argue.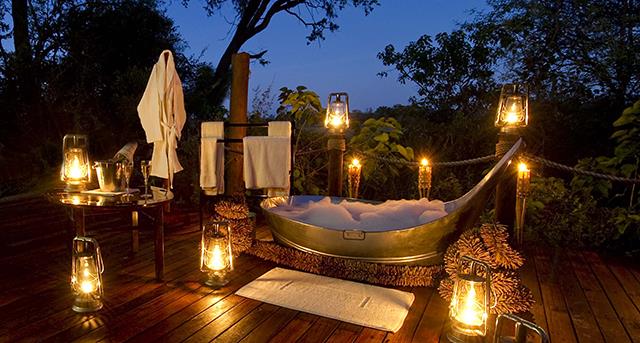 Baines Camp: with bedrooms on stilts and open-air bathrooms
The evenings were spent exchanging stories of the day's animal encounters, followed by early nights. The luxurious suites, with terraces, had all mod cons, including a watercolour painting kit for those of an artistic bent. A family of huge, fluffy bats was nesting right outside the bathroom window.

The game drives took place early morning and late afternoon. We were thrilled with the show of wildlife. Large, lazy lions snoozing after a big kill, giraffes, wildebeest and impalas.

We spent one early morning following the tracks of a leopard and cub. Martin was persistent and, after two hours, we came across the pair running away from a family of baboons. We followed the pair for about three miles until mum and her cub climbed a large tree and allowed us to sit 14ft away and watch their daily rituals.

I spent an afternoon on a mokoro, a traditional dug-out canoe, drifting on the crystal-clear waters, with the only sounds the breezes in the reeds, exotic birdsong and frogs.

One day was spent walking with three beautiful, majestic elephants.

They belong to Doug and Sandi Groves, who dedicated their lives to caring for them after they were orphaned by culling operations years ago. The elephants now act as ambassadors for their wild counterparts and in 1999 the Living With Elephants Foundation was launched, dedicated to relieving conflict between the African elephant and human populations in Botswana.
To become personally acquainted, observe and interact with these silent beauties was one of the most joyous experiences of my life.

On our final evening our bed was wheeled on to the terrace for a night under the stars - to be woken by the wonderful sound of a hippo grunting and munching happily, 5ft beneath my bed.

Next, we headed east for the Seychelles.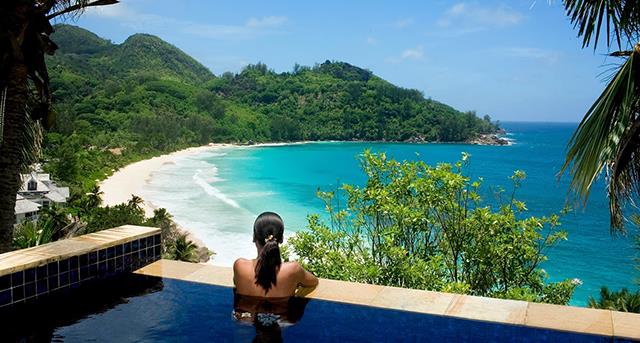 The Banyan Tree, overlooking a beautiful bay
Arriving by light aircraft on the island of Desroches was like the opening sequence of Fantasy Island. Desroches is a three-mile long castaway island, with immaculate beaches, azure waters and coral reefs. It offers exquisite gourmet food, luxurious surroundings and a compulsory instruction to lie back and kick off your shoes. Even the general manager hasn't had a pair of shoes on for two years. I revelled in dining on fresh sashimi, seafood and fine wine while in bare feet.

Days were spent cycling around the island, visiting the giant tortoises to give them a daily scratch under the chin, kayaking and snorkelling on a beautiful reef.

The sea is teeming. There was a kaleidoscope of fish, lemon and reef sharks, graceful stingrays winging their way past you and - the ultimate joy - swimming alongside an enormous hawksbill turtle.

After six nights we moved on to the Banyan Tree on the island of Mahe.
Calm waters were exchanged for huge, thundering white horses on a beautiful beach, Intendance Bay, famed for its incredible granite rock formations.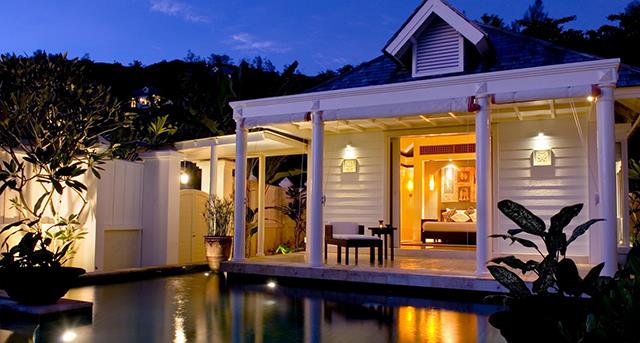 The Banyan Tree, where suites have private pools
The colonial-style Banyan Tree winds up the hillside, and all suites have private pools, Jacuzzis and spectacular views.

Getting around was fun. The resort was steep, so served by golf buggies.
Every night I was treated to a wonderful show while indulging in a sunset massage on our terrace: the sight of huge bats riding the thermals above, swooping for insects.

Although each place was different, they all have one thing in common, conservation. Ethical tourism at its best.
First published in the Daily Mail - October 2015
More articles below...