I have been ruined. After visiting the North Island resort in the Seychelles, I never want to go anywhere else. It was a holiday that changed me, my husband Paul and our 14-year-old twin daughters for the better, and at the same time we contributed to making the island just that little bit better for the locals.
We travelled there during our daughters' half-term. From the capital Mahe, the easiest way to get to North Island in 15 minutes is by helicopter. Of course it is!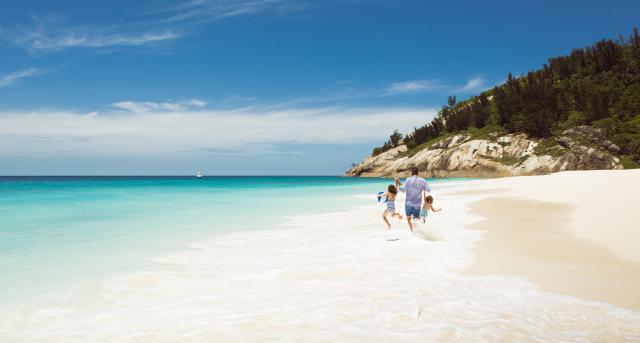 Take the family to the beaches of North Island
A SPECIAL PLACE
And of course the island, which measures just five square miles, has beautiful white sand and the bluest of seas. There are only 11 guest villas here, all five-star plus luxury, but the wonderful thing is there's nothing fancy or flashy - no unnecessary in-room gadgets, just simplicity that enhances the natural beauty of the island.
The combination of barefoot luxury within an exquisite wilderness sanctuary, laden with experiences and immersive learning about the environment, makes it unforgettable. On our second night, we'd had dinner on the beach and were heading back to our villa when, in the dim headlight glow from our buggy, we saw the outline of a magnificent giant tortoise.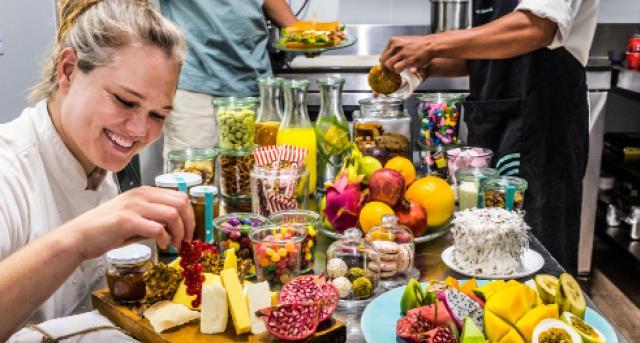 Snacks being prepared by staff at North Island
ADOPTING A TORTOISE
What a beautiful creature, almost prehistoric. And there it was, just a couple of feet from us. There are between 80 and 100 giant Aldabra tortoises on the island, a breed endemic to the Seychelles. The one we were now crouching down to admire was about 3ft long and 90 years old.
The next day we were invited to discover more about these beauties from the passionate environmentalists and scientists who live and work on North Island.Not only did we learn so much but we also became adoptive parents to a baby tortoise called Corona. Maybe one day my great-grandchildren will visit the island and see Corona fully grown.
One night we slept with a telephone next to our beds so we could be woken if baby turtles, protected within their eggs at several points around the island, hatched and needed help heading down to the sea. Alas it wasn't to be on our watch.
Pelagic fish, rare tortoises and towering fan coral can be seen
NORTH ISLAND HISTORY
In 1997, when The Wilderness Group bought North Island, it was a wasteland where feral animals and alien plant species were choking and destroying all indigenous fauna and flora.
The company set out to reverse this situation, and it has since established a sanctuary where natural beauty, and threatened flora and fauna, have been saved.
Children throughout the Seychelles come to stay and experience the island, and there is a constant effort to help locals improve the environment.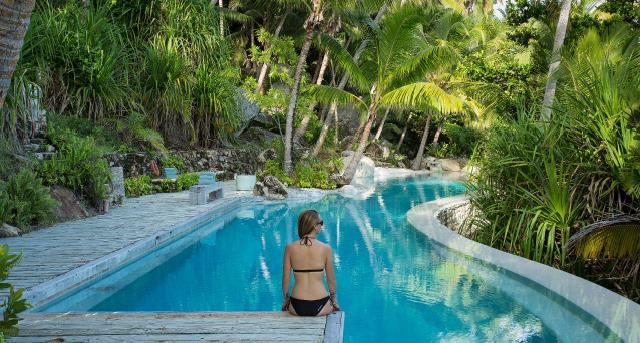 Take a quiet dip surrounded by palms at North Island Resort
LOCAL ACTIVITIES
I could have spent my week doing very little but because everything is made so easy we ended up doing things we would never normally do. I learned to scuba-dive along with the girls, Phoebe and Theodora - something Paul has been pleading with us to do for years.
One afternoon we went fishing, trawling from a boat, while Paul and I enjoyed a beer. We caught so many fish that I barely had time to finish my drink. The chef was waiting to take our catch straight to the kitchen and an hour later we were eating sushi by candlelight on the beach.
Each of the 11 villas stretches out on to powdery white sand and the properties feature a plunge pool, indoor and outdoor bathrooms, and a kitchen filled with goodies.
Visitors here have included the Duke and Duchess of Cambridge (on their honeymoon), George and Amal Clooney and David and Victoria Beckham.
Meals on North Island are what you want when you want - and more or less, wherever you want to eat them. 
On our last night, the team prepared a surprise for us and led us up a hillside jutting out into the ocean. As we rounded the hilltop, we found cushions scattered on the rocks, a fire pit, and tray containing all of our favourite drinks over the past week.
It was a most beautiful occasion in the most amazing spot, overlooking the sea as the heat faded from the day. 
First published in the Mail Online -  September 2018
More articles below...