She keeps popping into my head. No doubt teenage eco-warrior Greta Thunberg would approve wholeheartedly of Costa Rica's much-heralded efforts to look after its outstanding natural beauty.

But you just wish Greta would smile more, despair less and have some unadulterated fun.

Thank goodness the five-million people in this spectacular country - with Nicaragua to the north, Panama to the south - smile a lot and have fun. Ticos, as Costa Ricans are called, are gentle, welcoming and wear their eco-credentials lightly.

Almost three million people visit every year, with Britons at the forefront.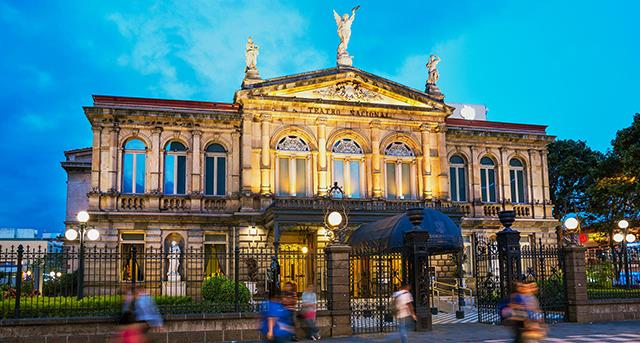 Standing proud in the capital San Jose, the National Theatre evokes memories of a colonial era
Despite its small size (roughly similar to Denmark), Costa Rica possesses more than five per cent of the world's total biodiversity, and its disbanding of its army in 1948 means huge financial resources have been ploughed into education, resulting in a literacy rate way above the Central America average.

Its slogan 'Pura Vida' (pure life) is apt considering the ancient rainforests, volcanoes, waterfalls, coffee plantations, national parks, hippy-dippy surf towns, rumbustious Pacific and calm Caribbean coasts, plus, topping the bill, wildlife comprising 250 species of mammals, nearly 9,000 bird species and more than 250,000 types of insect, including a quarter of the world's butterflies.

We flit back and forth between the two coasts and experience ferocious but exhilarating downpours, plenty of clear skies, high humidity and temperatures around 28 degrees.

In the capital San Jose we stay our first night at Grano De Oro, a colonial-style hotel.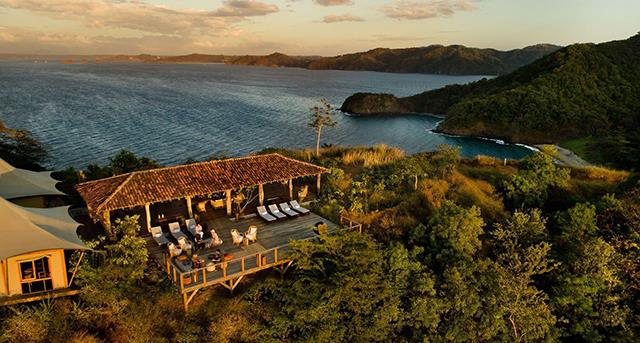 Kasiiya is an eco-lodge built with extraordinary sensitivity to its surroundings
Next day we head in our rental car west to the Papagayo Gulf, where Moroccan/French entrepreneur Mehdi Rheljari has opened a five-room eco-lodge called Kasiiya -  one of the most exceptional projects I've ever seen, mainly because you might never know it's there.

Such is the minimal footprint of the tented suites that it's howler monkeys who have more of a presence. The young staff are totally committed to Mehdi's vision. A shaman-type character operates from a treehouse spa; barefoot Bruno, originally from Berlin, offers 'movement sessions' (some of which involve taking your cue from animals); and naturalist Manfred leads hikes pointing out the wildlife (with a tear in his eye when an osprey does a fly-past).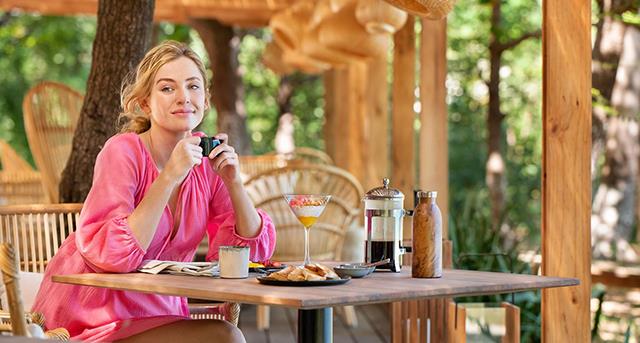 Breakfast amongst Costa Rica's natural environment at Kasiiya eco-lodge
Even with Satnav our next drive, south to Santa Teresa, is a challenge on roads sometimes bumpy, sometimes with giant craters.

Perfectly positioned Hotel Nantipa has been open less than a year. Its modern design (teak wood and huge sliding glass doors) is in stark contrast to Santa Teresa's hostels, shacks and yoga retreats.Mel Gibson has a place in town; so does supermodel Gisele Bundchen.
David Cameron has spent Christmas near here, as has Canadian PM Justin Trudeau .

I'm not a surfer, but if I were this must be one of the greatest places to practise one's 'aerials' and 'backsides'. A two-day stay was far too short, but we headed next for Tortuguero National Park and sloths, iguanas, crocodiles, killer frogs and snakes.

We break our journey in La Fortuna and stay one night at the highly-recommended Amor Arenal. A nearby farm has its own nature reserve, concentrating on sloths. By definition they don't do much, spending hours wrapped around a tree branch.

La Fortuna offers white-water rafting, canyoning, zip-lining, horse-riding and hot springs, in the shadow of the country's biggest active volcano, Volcan Arenal.

The main access point to Tortuguero National Park is some four hours away, in La Pavona. Included in the rate at Tortuga Lodge is one morning and one afternoon safari.

Our final destination is Puerto Viejo in the far south-east. It's a colourful, buzzy little town where Jamaicans settled some 100 years ago. They came to Costa Rica to build the railways - and never left.

It's ramshackle but with a growing number of chi-chi shops, bars and restaurants.

We stay just off the main drag at a delightful little place called Aguas Claras, handy for the beach.

'We've left the best until last,' I tell Joanna as we head for supper at a restaurant packed with locals. Puerto Viejo is a glorious fusion of Central American and Caribbean cultures - and reason enough to return to this gentle and engaging country.
First published in the Daily Mail - April 2020
More articles below...