I am writing this from a balcony at Blue Waters in Antigua and five pelicans are doing a fly past before dipping down towards the ocean in search of breakfast.

The air is soft and warm, not stiflingly hot, and there's movement everywhere - the sea, the palm trees, the puffs of cloud, the sail boats, the staff in that wonderful languid style which makes this part of the world so irresistible.

Getting what the Caribbean is all about means there's no point fretting.
Service will not be American snappy and you might not always get exactly what you order. But that is somehow part of the charm.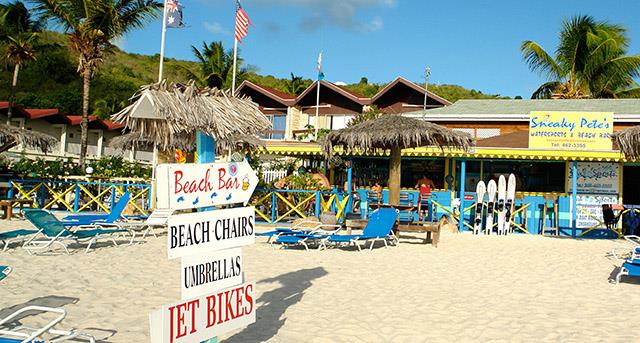 You'll be spoilt for choice of beach shacks at Dickenson Bay, and the service is equally relaxed
It took us almost an hour to find the excellent Coconut Grove shack restaurant on Dickenson Bay because the sign on the road had fallen down and no one had the inclination to put it back up.

Then, at Beachlimerz, a bar and restaurant on the northwest side of the island - popular with ex-pats and with good live music - my starter arrived 20 minutes after my wife's soup and getting a second glass of Sauvignon Blanc required patience.

But not minding about such a relaxed approach to things is what 'getting' the Caribbean is all about. The manager at the restaurant asked if we were having a good time.  Of course we were having a good time.
To drive around the island on a Sunday morning when all shops are closed and pass churches where all windows are open and hear a Pentecostal choir in full voice, or a fire-and-brimstone preacher warming to his theme, is truly inspirational.

And to see children on weekdays dressed immaculately in school uniforms and never dropping litter on the ground reminds me of what we've lost at home. To get a flat tyre (as we do) and witness five men, one wearing a huge Rastafarian hat, all trying to out-do each other in the how-can-I-be-helpful stakes makes me long to return to this part of the world.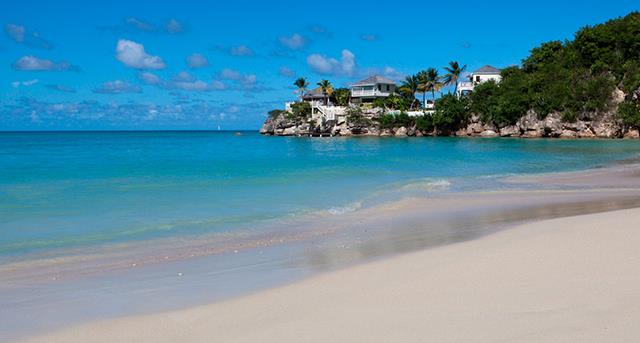 Blue Waters enjoys an enviable position overlooking another pristine beach
Blue Waters is on the north of the island no more than 20 minutes from the airport. Owned by a British family, it has undergone a steady refurbishment that has made it even more delightful.

You'll find it's all-inclusive central, with three choices of restaurant, immaculate gardens that attract an array of singing birds, adult-only pools, two easily accessible beaches and a new bar, where most nights there's live music.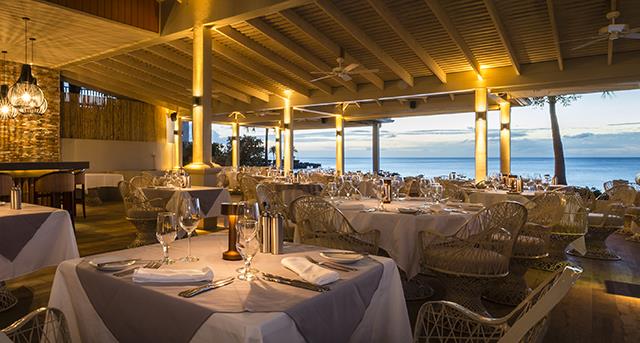 Cove Restaurant at Blue Waters
People return year after year.We were here a decade ago and are impressed by the changes, not least the new Cove restaurant where the tables at the front are so close to the sea wall it's a wonder a passing mahimahi doesn't land on your plate.

Antigua has some of the best beaches and the colour of the water is so inviting that on more than one occasion near Darkwood Beach in the south west, we park the car on the verge and run into the sea like a couple of eight-year-olds.

Anyone new to the island has to do English Harbour, the only remaining Georgian naval dockyard in the world. It's changed a bit from when Nelson was here in 1784. He was only 26 and not popular with the locals as one of his jobs was to prohibit trade with ex-colonial Americans, which hit the economy.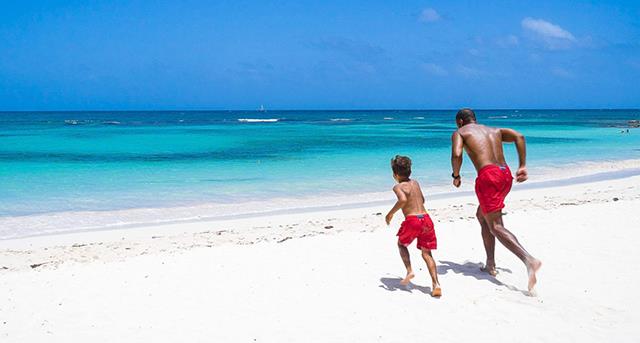 Kick of your shoes and head for the beach
From English Harbour, there's no excuse for not pushing on until you reach Half Moon Bay, one of the most beautiful unspoilt beaches in the world - for the moment. After a long legal battle it's to be developed, including a Rosewood hotel, due to open in 2021. A mile-long crescent of white sand protected by a coral reef, it's wide enough so that on certain days you can surf in the middle and swim in the calmest of waters on the two flanks.

When we arrive on a Sunday afternoon, a game of beach cricket is nearing its conclusion. Locals and tourists are taking part; a cardboard beer box is the wicket.

I go all sentimental and position myself at square leg in case a catch should come my way - and defy anyone not to 'get' the Caribbean when confronted by such a scene. 
First published in the Daily Mail - February 2020
More articles below...