Many a tropical paradise has snakes in the grass – figuratively, if not literally. Maybe there are jet-skis in the bay or biting insects.

You think you've found heaven – but there's a chance of disappointment.

However, The Datai is perfect. This five-star resort is set in lush rainforest on the north-west corner of the Malaysian island of Langkawi, an hour's flight from the capital, Kuala Lumpur.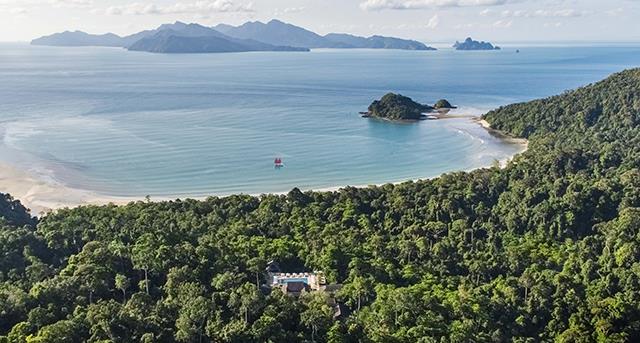 The resort is on 28 hectares of rainforest and beachfront grounds along Datai Bay

An impressive place
There are a total of 121 rooms, suites and villas. The main building stands on a steep hill. Below lie the individual villas, hidden among trees that descend a quarter-mile to the beach.

The hotel has recently had an extensive renovation - but under the supervision of the same architect who worked on the original construction in 1993 to make sure the unique 'Datai DNA' was retained. So all the rooms and villas have been delightfully refreshed and there is a new nature centre to underpin the resort's focus on sustainability. And there's also a new health club right by the beach.

We are visiting this fine retreat for the second year running. Nothing is less than wonderful.  At The Datai, every day seems better than the last.
Stay in a Pool Villa amongst the trees for ultimate luxury

What to expect
The weather, outside the rainy season, which starts in April, is hot but not humid; a breeze keeps the sun's effects in check. High season runs from Christmas to the end of March, then resumes in August.

The private beach is one of the most beautiful on Earth, and runs for a third of a mile below the loungers of the beach club, where we sip cocktails and savour seafood linguine for lunch.

There are four restaurants, in which 60 chefs produce a range of European, Malaysian and Thai food which is never less than delicious – and they also have a good children's menu. And there is the Lobby Lounge for light snacks.

Perhaps to celebrate a special occasion, or just if you feel like it, The Datai can also create a personalised candlelit dinner on the beach for you.

Penny, my wife, accuses me of committing genocide on the local prawn population – but my, they are superb, served with a range of spicy sauces that never get boring.

I pig out on scallops and octopus slices, served on a bed of celery puree with tamarind sauce, followed by lobster medallions and... well, I could go on endlessly.

Penny and I are the world's worst golfers, but play a couple of times a year. The Datai course must be one of the loveliest anywhere, with the sea almost lapping some of the greens. Others lie beneath a towering virgin mountain. I lose more balls than I can count by smiting them into the neighbouring rainforest – but recover plenty by wading into streams where other players have not bothered to retrieve them.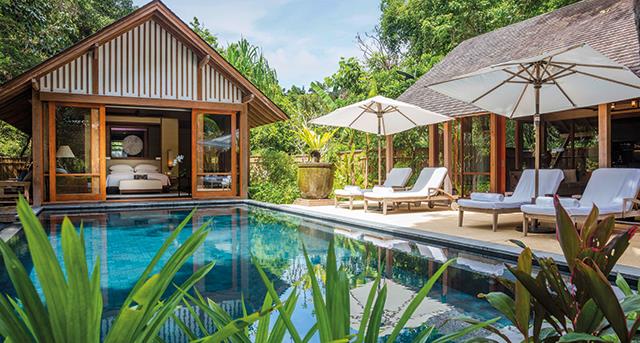 Step out from a two bedroom beach villa and straight into your own pool at The Datai

Blissful days
We swim a lot. We collect shells. One evening, we embark on a sunset cruise aboard the hotel's delightful replica Malay sailing vessel.

Penny's favourite active outing is our attempt to circle the bay while standing upright on a paddleboard.

Both of us decide this is pretty good going for a 70-plus-year-old. All around us, young things are falling off their boards. Not that I am any better. My giraffe-like frame cannot hold its balance for more than ten seconds.

Many of the guests are British, many of whom have been holidaying here for years. One-third of the hotel's business is repeat, which is always a good sign – and many of the 420 staff have worked at the resort for more than ten years.

Most visitors stay at least a week, and linger for as long as a month.

Penny strolls to the beach and has the thrill of seeing a big sea otter only a few yards distant, up a little creek. The butterflies are fabulous, too, and the hotel offers guided nature walks as part of its package.
A reason (or two) to return
Fantastic food, natural beauty, stylish simplicity and blissful comfort are the selling points of The Datai. The Malaysians are wonderfully friendly hosts and nothing is too much trouble.

I will not be popular with our fellow guests when we return next year – as we certainly will – for whispering The Datai secret. But we love the place, and it seems mean to keep it to ourselves.

I have stayed in few resorts where we have experienced such contentment, and that sensation is worth a king's ransom.
First published in the Mail Online -  November 2018
More articles below...