A hand-written card has been left on the table in our room. It urges us to 'pause, listen, smell, taste, feel and see' while staying at Singita Ebony Lodge in South Africa.

Whoever wrote the note could easily have added: learn.

Because for all the game drives, sumptuous late breakfasts, sundowners in the bush, brandies by the pool, massages in the spa, a safari is a crash-course in animal welfare, a tutorial into the workings of nature. At least it is in the Sabi Sands Reserve near the Mozambique border, where Singita covers 18,000 acres.

Even the daftest of questions from the back of the Jeep are taken seriously. My ignorance knows no bounds, but our guide, Andries, and his spotter companion, Martin, never make you feel a dunce.

And I pick up a few nuggets along the way: impalas are born with 90 per cent of their brains fully formed, giving them a sporting chance of surviving into adulthood; lions see in black and white (which must be infuriating for zebras); two-thirds of a termite mound is underground; giraffes have hearts the size of footballs; elephants flap their ears for ventilation.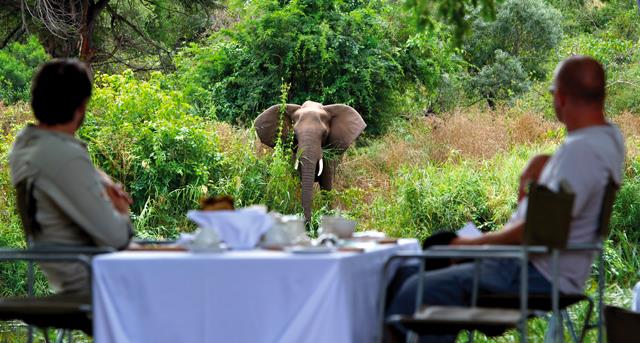 Uninvited dinner guest
BATTLE FOR SURVIVAL
But the most important thing I learn is that it's brutal out there. It may be a bewitching landscape as the sun rises and falls on the greatest show on earth – but it's also one big battle for survival.

You feel the tension everywhere, as the tails of the buffalo twirl furiously when danger lurks and a female elephant hurriedly scrunches through scrub. You see it as vultures perch on a branch ready to cash in on a kill.

The fear of death is omni-present. Survival of the fittest is not an evolutionary theory but a day-to-day reality, where one lapse in concentration, one misguided stop at a watering hole and you're finished.

I can see why honeymooners are drawn to safaris. A few days in the bush sets you up nicely for a partnership in marriage. The habits of males and females are often at odds, but they need to get on. You have to be patient, too - and it's so primal that passion is never far away.


Singita Ebony Lodge with views of the river and the bush beyond

Singita's story began in 1925 when James Baines bought land in what would later become the Sabi Sands Reserve. It started as a hunting opportunity, but today it's all about protecting the bush. His grandson, Luke Baines, now runs lodges and camps across five African countries and is regarded as one of the great protectors of the wild.

He's also practical. Realising that the reason poachers kill animals is to make money, he encouraged them to become gamekeepers instead, and it seems to have worked. Most of his 120 or so scouts are former poachers.

'If they started protecting the animals rather than killing them, then tourism would flourish and they could have jobs for the long term,' says Luke. 'The success has been remarkable.'

Certainly, his lodges are remarkable. Singita Ebony Lodge and nearby Singita Boulders have just been refurbished and must be two of the most stylish and yet authentic safari lodges in the world.

With their soaring thatched roofs held aloft by a combination of trees and wooden posts, the main lobby, bar and restaurant areas look out over a river and mile upon mile of bush beyond, as do almost all 12 suites in each lodge.
Hippos in command of the watering hole
OUT OF AFRICA
You get your own little pool, four-poster bed, outside shower, freestanding bath, a watercolour paint palette, fabulous food and drink (it's all inclusive so you don't have to sign for anything) and a licence to imagine you're Robert Redford and Meryl Streep on the set of Out Of Africa.

On our first 6am game drive we come across a pride of 12 lions lounging by a watering hole occupied by a hippo.

Andries assures us that the lions are not hungry – which is comforting because by the time he turns off the engine we are a mere 10 yards from them. Occasionally one of the lions stands up and looks at us intently before flopping back down on the baked ground much in the same way as a dog might spread itself out by the fire at home.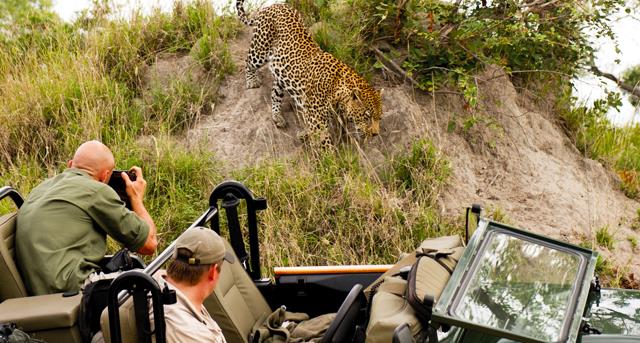 Up close and friendly

We get up close and personal with rhinos, elephants, giraffes, hyenas, water hogs, antelope, eagles – and closer than I could ever have imagined to a leopard.

But not just any leopard. Andries remembers Nhlhbankunzi - as she has been named - as a cub and now she's a mother herself, out looking for food for her charge. She's regal and ravishing in equal measure, treating the rough terrain like a catwalk, moving elegantly, seductively.

They say nothing prepares you for the moment you see your first lion or leopard in the wild – and they're right.
First published in February 2017
More articles below...