Half the celebrity world, including singer Rita Ora and Star Wars actress Daisy Ridley, have been carousing on Miami's famous beach.

Everyone else in the know (and with a few million to spare) is buying up property. Last year, more than 4.9million cruise passengers sailed through its port. What's going on?

Well, the climate helps. The mid- 20s is a typical temperature for a winter day in this part of Florida, while we're shivering in Britain. The changing arts scene is upping the temperature, too.

Art Basel, a cultural showcase that stages art fairs around the world, brings in dealers and innovative artists.

Last year's festival was bigger than ever, with 77,000 visitors. A new art museum, Perez, opened in 2013, featuring contemporary works from the U.S., Caribbean and Latin America.
Vibrant grafitti at Wynwood Walls
And there's a lively street art scene, the best of which can be seen in the former warehouse area of Wynwood, north of downtown Miami and roughly bounded by NW 36th Street, NW 20th street, I-95 and NE 1st Avenue.

In just a few short years, this once undistinguished locality has become the arts hub of South Florida. It started with murals, street art, and graffiti, encouraged, unconventionally, by the neighbour-hood's early developers - spawning vibrant spaces teeming with outdoor art.

Today, there are more than 70 galleries and museums, dozens of new restaurants and bars, and hundreds of companies and innovators working in a place that feels alive with creativity.

Here, one wall – with its wild splashes of colour by graffiti artist Rafael Sliks – is not dissimilar to the creations of Jackson Pollock.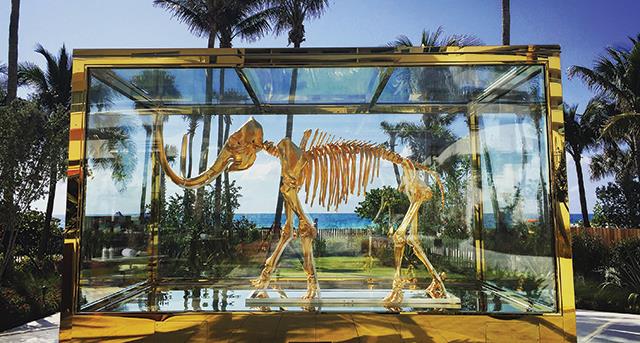 Damien Hirst's golden mammoth at the Feana hotel
There are wonderful new hotels. Faena, at the north end of South Beach, is pure theatre. There are gold columns and cosseting scarlet all over the place, from the toiletries to the bedroom curtains, and extraordinary art.
Have you ever seen a mammoth skeleton embossed with gold leaf? Me neither. But there's one by Damien Hirst called Gone But Not Forgotten, displayed in a climate controlled box on the terrace. You can see it from the beach and it's even illuminated at night.

There is also an exotic mural in the entrance by the Argentine-born artist Juan Gatti, which features flamingos, palms, tropical birds and skulls, transporting you into a fantasy jungle – a theme that's continued throughout.

This is the vision of Argentine developer Alan Faena in collaboration with film director Baz Luhrmann. And it extends to the surrounding area – the Faena Forum, which opened recently, holds art installations, intimate concerts, a theatre and a bazaar-style shopping area.

And that beach. It's on your doorstep. Skip across the boardwalk and you can explore its ten miles of sand and sample the life and soul of Miami.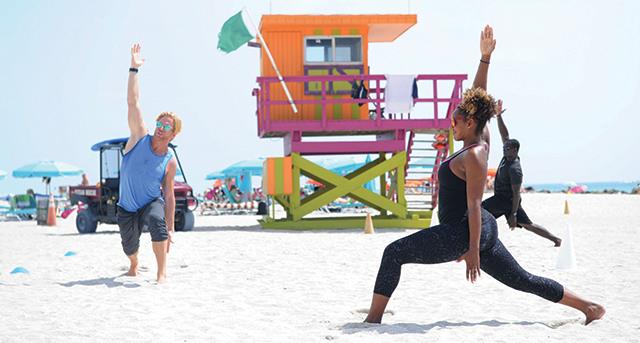 Trendy Aeroga class on Miami Beach
One morning, I take an Aeroga class, a mixture of yoga and aerobics, that has my heart thumping. On a more leisurely ramble, I see wiry retirees walking with little dogs, cyclists and even someone on roller blades.

More people are out and about in the shadier afternoons. But despite the many hotels that back onto its sands, it is still not especially crowded.
Brightly painted lifesaving posts make colourful markers.

In one spot, something involving police cars is being filmed. In another, an artist is sculpting voluptuous mermaids from the sand while, on the rocks, a model is being photographed in provocative swimwear.

You can walk from Faena to renowned Deco Ocean Drive in around 40 minutes, or hire a Citi Bike from £2.80 for 30 minutes.

Author Jan Morris, in Coast To Coast, called Fifties Collins Avenue, which runs parallel to Ocean Drive, 'a street of nightmarish hotels, each more feverishly grotesque than the last. Pink and saffron and blue, with… a constant stream of visitors, like a flood of some barbarous beverage, forever moving in and out of their doors'. But I like the pina colada paint job on Ocean Drive, though it is similarly busy with just a touch of the tawdry.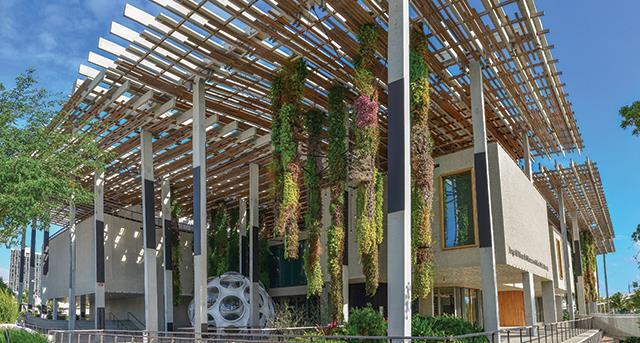 Perez Art Museum
Bars line the streets, Bentleys cruise the Tarmac, drunks sway along the pavements and you can have your fortune told by a South Beach psychic.

The north end of Collins Avenue is a classier turn. Here, you can start or end the evening in The Regent Cocktail Club at the Gale Hotel. Or sit outside in the enveloping warmth of a Miami evening at 27 Restaurant And Bar.

They serve a tasty twist on tapas, but the portions are not small. This is America, after all.

Round that off with a Smoke and Sparks cocktail (tequila, jalapeno, lime, flaming salt) in the bar back at Faena and you'll be as convinced as I am that Miami is still living the dream.
First published in the Daily Mail - August 2016
More articles below...