Usually boutique and with an intimate and luxurious atmosphere, hotels based on an historic plantation house give you the chance to truly embrace the authentic character, culture and charm of the Caribbean. Here we've showcased for you some that could hardly be more beautiful and beguiling.
Strawberry Hill Hotel, Jamaica
Set at 3,000-ft on the steep slopes of Jamaica's Blue Mountains, Strawberry Hill benefits from an eco-system of tropical warmth combined with cooling breezes - and a micro-climate that means a huge variety of plants thrive in the hotel's celebrated gardens. Guests stay in 13 white Georgian clapboard cottages, each with a four-poster - and a veranda and hammock.
Plantation owners usually built their homes to take full advantage of the view - and from the pool deck here it's stupendous, with the vista of Kingston far below and the Caribbean Sea glinting beyond. Nelson visited and was beguiled.
It's said the name was chosen by original owner Horace Walpole, British man of letters and Nelson's cousin. It was opened as a hotel by Island Records founder Chris Blackwell in 1994.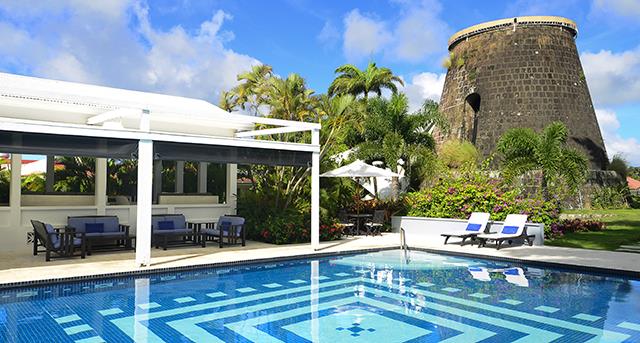 A 300-year-old sugar mill houses the dining room at Montpelier Plantation Inn
Montpelier Plantation Inn, Nevis
Few plantation hotels can claim to be more elegant than the Montpelier, set at 750-ft on a hill in the island's quiet south, with views of a volcano and the sea.
Semi-detached cottages, providing 19 airy guest rooms plus three separate villas, are dotted discreetly about the hillside, looking out over lush tropical gardens. The emphasis is on relaxation and getting away from it all - there are giant beds, tiled floors, white linen...and no televisions in the rooms.
A 300-year-old sugar mill houses a lovely dining room, with wonderful cuisine. There is of course a Nelson connection - he married Fanny Nisbet on the estate in 1787. And a Princess Diana connection too - she visited with William and Harry in the early 90s. The hotel runs a shuttle to its own private beach.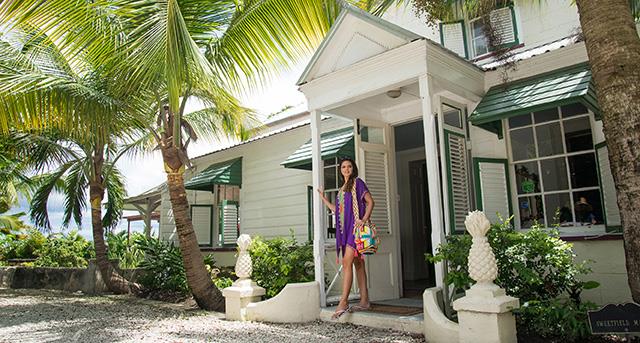 The extensive gardens of Sweetfield Manor offer gentle shade for the resident peacocks
Sweetfield Manor, Bridgetown, Barbados
White-painted, green-shuttered and shaded by palms, the calm, easy-going charm of Sweetfield Manor is immediately apparent. Inside are stylish, antique-furnished bedrooms, good food, an enticing natural-looking swimming pool - and the whole ambience enhanced by peacocks roaming the lovely grounds. There are ten bedrooms, some in the main house with others in separate buildings reached through a pretty brick-paved courtyard.
It could hardly be more restful (with the occasional squawk of a peacock!) - some rooms have wooden decks, rocking chairs and daybeds suspended on ropes. Bathrooms have walk-in rainforest showers.
The hotel is set on a ridge inland, very handy for the island capital of Bridgetown but well away from the hustle and bustle - and the extensive garden has peaceful and intimate seating areas.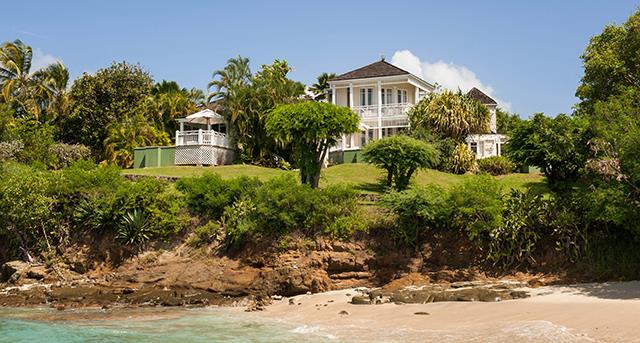 With its enviable location, Cotton House is a dream holiday paradise favoured by celebrities
Cotton House, Mustique
Fabulously set on gently rising lawns close to the beach on the 1,400-acre private island of Mustique, this is an enchanting 17-room hotel on the site of a former sugar mill and cotton warehouse. It's the epitome of colonial charm meeting modern comfort.
The heart of the property is the ultra-elegant Great Room, remodelled by Parisian designer Tristan Auer - each week a complimentary cocktail party is held here, attended by virtually everyone on the island.
Mustique, in the Grenadine island chain, was bought in 1958 by aristocrat Colin Tennant, who made it a dream holiday paradise much prized by celebrities. Cotton House is surrounded by walking trails and there's an equestrian centre - plus utterly superb coral-sand beaches for romantic strolls.
Nisbet Plantation's dining room has gorgeous views from the verandah
Nisbet Plantation Beach Club, Nevis
All boxes are ticked here for the perfect Caribbean getaway. Nisbet, built in the late 1770s, is idyllically set right on the beach. Around the extensive grounds - dotted with coconut palms leading down to the beach - are 36 rooms and cottages, while The Great House, an elegant haven of rugs and antique chairs, houses the drawing room and bar. The dining room is on the covered wraparound veranda.
Nisbet was once a sugar plantation and it was here that Nelson first met Fanny Nisbet. The pool is gorgeously set by the sea, and there's a hot tub, sunbathing decks, a tennis court and croquet lawn - and early-risers can join the manager and his wife on a complimentary hike! 
First published in the Daily Mail - April 2020
More articles below...