Some parts of Thailand have a reputation for noisy tourists, cheap hostels and wild bachelor parties - but all that's changing, thanks to celebrity power. Many are making it their destination of choice. 
Kate Moss has been there frequently (she prefers the white sanded beaches of Phuket), Bear Grylls has bought a villa there, and Blake Lively, Beyonce and Jay Z are also semi-regulars. 
Not to mention the entire Kardashian family who set up camp back when Caitlyn was still Bruce at the posh new Inlala resort in villas that ran around $150,000 per week.
Indeed, at the moment, visionary hoteliers are finding unspoiled spots to create getaways that offer a level of luxury and style that feels very new for a place that's been a tourist attraction for a very long time. 
Thailand is getting a luxury makeover, and it's the right time to find some incredible places to stay.
The main pool area at Panacea Koh Samui
PANACEA KOH SAMUI
The first is Panacea. On a grassy hilltop overlooking the Gulf of Samui and tropical forests lies Panacea Koh Samui, an extraordinary destination that has reinvented the private villa experience. 
Recently opened, Panacea Retreat has already established itself as one of Koh Samui's most extravagant destinations. Created by a wealthy French businessman who, upon discovering that he could never find exactly what he was looking for when he planned his own family's holidays, decided to build it himself. It's all about privacy, luxury, and more privacy. Private chefs cook meals in villa and the spa treatments and yoga instructors come to you. 
A collection of really stylish and secluded villas all have glass walls to allow as much of the outside in as possible. 
Each villa is immense - the smallest is 14,000sqft and the largest 43,000sqft – and every residence includes a minimum of four bedrooms, manicured private gardens and stylish grounds with at least one 20-metre infinity pool. 
It's a bespoke experience - every villa has at least 10 full-time staff assigned to help, so there is never a need that goes unmet. Whether it's sailing or diving, swimming or lounging, the experience is custom made. 
If you want to spend a day just lying at the beach, staff will organise a beach butler to bring along sun loungers and towels, along with champagne on ice and a packed lunch.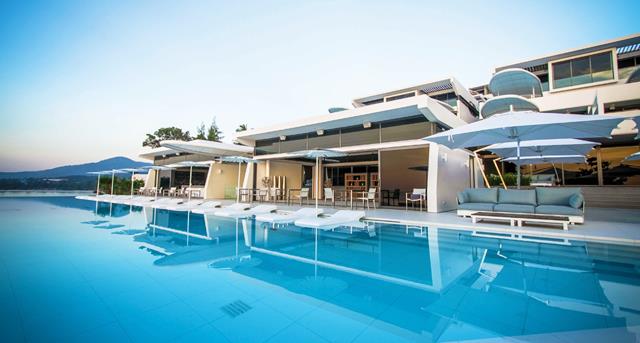 Sky Villas at the ultra chic Kata Rocks
KATA ROCKS
Over on Phuket, Kata Rocks is ultra chic and a real game changer for Thailand. It offers a stylish, minimalist vibe with contemporary apartment-sized suites. The stunning spa has private infinity pools, fabulous Andaman sea views and a spectacular cliff-side location. 
The hotel is located near Kata, a clean-cut resort town, popular with the yachting crowd, on the south west coast of Phuket. Furnishings are sleek and Italian-made - with white umbrellas shading white sunbeds beside a white-tiled pool.
There are 43 one, two, three and four-bedroom sky villas stacked across the hillside - big, bright and beautiful, they come with fully-fitted kitchens, living and dining areas, and floor-to-ceiling sliding glass doors opening onto private infinity pools, each of which is a minimum of seven-metres long. 
Private chefs prepare fine dining in the privacy of your villa, celebrity DJ's playing over brunch and TV's that come down from the ceiling over the bed. Not to mention a fabulous view from the bathtub. 
Their 'Rock Stars' are concierges whose job it is to make sure that each and every need is met at all times. 
Indigo pearl pool
INDIGO PEARL
Last but certainly not least is the incredible Indigo Pearl. This is an ultra stylish, luxury boutique hotel in Phuket designed by American designer Bill Bensley, comprising super-luxe suites and villas with a rather spellbinding industrial-chic décor. 
Sea fronted, with lush green gardens everywhere, it oozes a local, authentic almost colonial feel – and every single detail is considered. The Pearl Suites are gorgeous but I recommend the private villas. 
Encased within lush walled tropical gardens, there are separate living and sleeping areas in two pavilions, linked by dark timber decking dotted with exotic blooms and frangipani trees. 
Sunloungers and day-beds abound, and with a private pool, bar, dining room, Jacuzzi, spa, sauna, steam room and a 24-hour butler service, there's little reason to leave. There is also the Coqoon Spa - a must-try for all spa enthusiasts. 
The spa has to be seen to be believed and consists of multiple luxurious spa suites called 'The Nests' - huge spherical structures seemingly suspended in mid-air. 
The treatments are incredibly luxurious with purple frangipani oils, jasmine essence and native Andaman elixirs that work magic. 
First published in February 2016
More articles below...