Bali was the place friends kept telling me I should visit. Surely nowhere could be that fabulous - but it lived up to the hype. I loved it.

There was an enormous sense of tradition, belief in family values and beautiful aesthetics - there's nowhere like it.

I  hadn't gone with any intention of searching for new fabrics or inspiration for designs - after all, I really had no idea what I would find.

It is so spiritual - it's astonishing how many temples there are. I arrived after an exhausting Fashion Week, but from the moment I entered Alila Villas Soori - the most amazing hotel I've seen - I felt thoroughly relaxed.

Alila Villas Soori is on Bali's south-west coast in the Tabanan regency, 20 minutes from Tanah Lot temple, the island's most sacred. It's one of Bali's prettiest regions, between the sea and rice terraces, with mystical Mount Batukaru in the distance.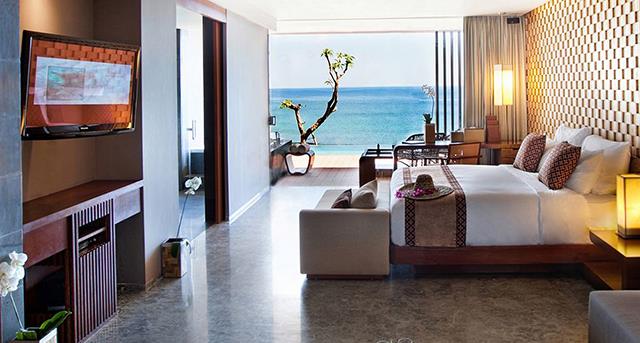 Sea view from a room at Alila Villas Uluwatu
My bedroom overlooked a glorious beach - the sand black and volcanic.
When I woke on the first morning, it felt almost enchanted. It had been stormy overnight and the beach was full of people collecting driftwood for fuel. Some were dragging away large pieces to turn into sculptures, to sell to tourists.

I had incredible spa treatments. ?They make their own soaps - volcanic, rice and cinnamon - all beautifully scented. And I saw how they use volcanic sand in body scrubs 

The hotel's Cotta restaurant had a French and a local chef, together creating a magnificent fusion of French and Balinese.

After three days it was time to explore. The mountains in the centre of the island were a two-hour drive, but worth it.

I was in the picturesque Bali you see in guidebooks - rice fields and irrigation ditches everywhere.

I went whitewater rafting - and all around were stunning temples and rice fields. It was one of the greatest outdoor adventures I've ever had.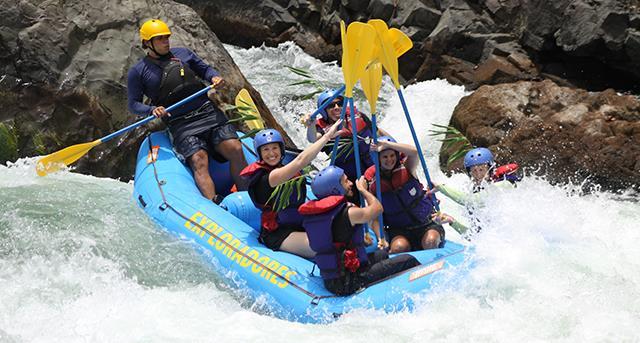 The thrill of whitewater rafting
Later I thought I could hear music. When I asked what it was, I was told: 'It's the monks praying.' 

There were often religious processions, and I was able to enjoy it all at close quarters.

For the second part of my stay, I moved to the Alila Villas Uluwatu at the south of the island. It was in a gorgeous area, above limestone cliffs and sandy beaches - very smart and fashionable, yet very tranquil.
A pool was set high above the Indian Ocean, with one of the world's best views.

I was surprised to find a well-stocked library, with books about traditional crafts such as weaving and basket-making.

My guide took me to a museum in Denpasar focusing on local handicrafts, with displays of traditional textiles and hand-made masks and tapestries.
Then I went on a bit of a 'treasure hunt' to learn more about the local dyeing techniques of batik and ikat. I discovered beautiful ikat weaves using gold and silver threads. I was learning about the culture and history of Bali through its crafts.

I bought so much local handiwork I had to buy a second suitcase.
I came across antiques shops where they have lots of textiles - some hundreds of years old - which you can buy.

At a temple at Uluwatu, on a cliff edge, I saw people performing a traditional dance.

There was a choir of 70 men who sang and then went into a meditation dance called a kecak -extraordinary.

What I saw in Bali proved to be a source of inspiration for my designs. I took many pictures, and I'm going to translate my experiences into some very modern, glamorous, Julien Macdonald designs.

I'm sitting surrounded by batik, ikat and incense - ready to go to work.
My ten days in Bali simply weren't enough. I'm already planning another trip.
First published in the Mail on Sunday - October 2015
More articles below...