Overview
If you are on holiday Down Under this short Outback safari, which begins and ends in Adelaide, will make an exciting addition to your itinerary. Travelling out of the city to the Flinders Ranges you will pass through spectacular and picturesque scenery and enjoy the unique experience of dinners around a camp fire. More drives through beautiful rugged gorges follow and you will get to see lots of Australia's native wildlife along the way.
Enlarge map
Day 1
Flinders Ranges
You are picked up at your hotel in Adelaide and head north via Port Germein to Mount Remarkable National Park for lunch, where there are spectacular views of the mountains and Spencer Gulf. Then travel towards Port Augusta through the picturesque Pichi Richi Pass to Quorn, which is the the start of the original Ghan Railway. Explore the deserted Willochra Plain on the way to the centre of the Flinders Ranges, stopping at the Yourambulla Caves where you have the opportunity to view Aboriginal art work. Enjoy a hearty meal and a relaxing evening around the campfire. Overnight at a luxury eco-villa at Rawnsley Park Station.
Day 2
Wilpena Pound
Enjoy breakfast and the morning view of South Australia's iconic Wilpena Pound. Explore the unique area that surrounds Wilpena Pound, then visit the famous Bunyeroo and Brachina Gorges, also called the corridors through time, and see some of the oldest rock formations in the world. Enjoy a picnic style lunch, and search for the elusive Yellow Footed Rock Wallabies. Wildlife including Kangaroos, Emus and the bold Wedge Tailed Eagles are prolific in this rugged area. Then travel back to Rawnsley Park via the spectacular Moralana Scenic drive following the south-western wall of Wilpena Pound. Tonight settle down under millions of stars and enjoy another dinner around the campfire.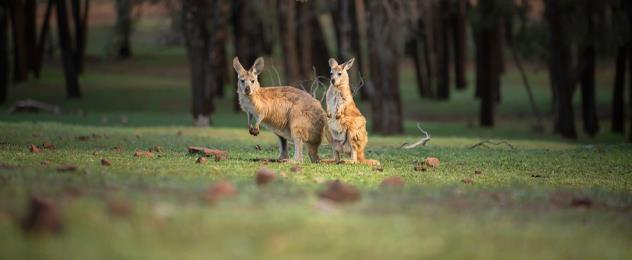 Day 3
Clare Valley
Today you leave Rawnsley Park Station and travel to Melrose, the oldest town in the Flinders Ranges and visit the historic buildings such as Bluey Blundstone's Blacksmith Shop. On the journey back to Adelaide visit Clare Valley, one of the winery regions in South Australia where you have the opportunity to taste the local wines and produce and enjoy lunch in the Clare Valley. This memorable tour ends in the early evening when you are dropped back at your hotel in Adelaide.