I had last visited the Whitsunday Islands in my early twenties as a stop-off on my backpacking adventure around Australia. Accommodation at the time was basic to say the least- a small catamaran shared with 20 other like minded 'twenty somethings' as we sailed from one breathtaking island to the next
Captivated by the glistening turquoise water, tropical green island peaks and colourful coral of the Great Barrier Reef, I made a promise to myself that I would one day return and I made this a reality when planning my recent honeymoon, 15 years later. This time though there wouldn't be a sleeping bag or backpack in sight ... It was luxury all the way at one of Australia's finest boutique hotels- Qualia on beautiful Hamilton Island.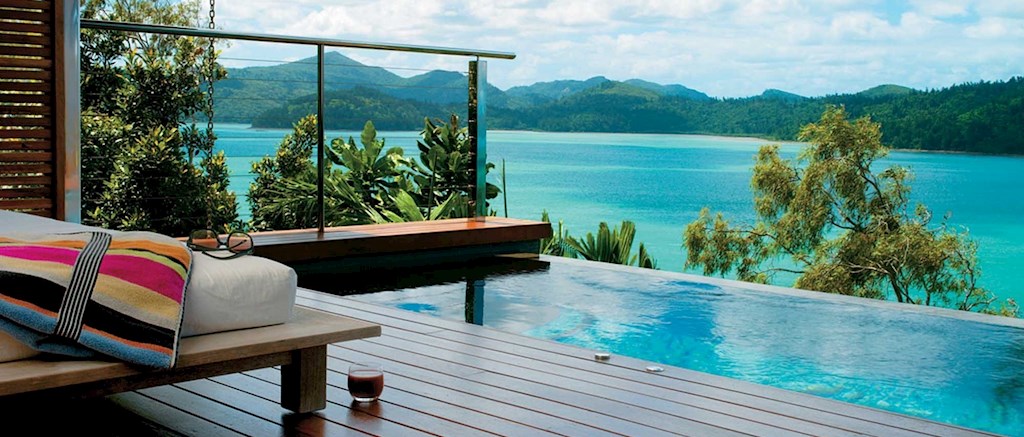 One of 74 Island wonders that make up the Whitsunday Islands, Hamilton Island seemed the perfect choice for our Whitsundays honeymoon as it was not only home to one of Australia's finest hotels, but also boasted a fantastic selection of fine dining restaurants, great access to the Great Barrier Reef and a spectacular marina with an ultra modern yacht club (designed to resemble a mantaray). We ate here one evening and the food was simply spectacular, rivalling any top London restaurant – I highly recommend.
Despite Hamilton Island being one of the more developed of the islands in terms of tourism, two thirds of this tropical island paradise remain untouched by tourism and preserved as natural bushland. This makes it ideal for nature lovers who can explore the island's scenic beauty on foot through an extensive network of nature trails. If like me, you're feeling very lazy, the island is almost as beautiful explored by golf buggy (the main form of transport on the island). One of the highest points on the island, One Tree Hill, is accessible by buggy and boasts awe-inspiring views of the island's natural beauty as well as the coral sea and neighbouring Dent and Whitsunday Island. This is also a great place to stop for a romantic picnic.
For us though, the main highlight of our Hamilton Island stay was our beautiful hotel- Qualia. We treated ourselves to a stay in one of the hotel's Windward Pavilions- a villa with its own private plungepool , perched upon the hillside overlooking the coral sea and islands beyond...simply spectacular and the perfect spot for watching the sun set with a glass of Champagne.
The hotel has two sensational restaurants: Pebble Beach which is open for lunch and dinner, is the less formal of the two and is famous island-wide for its incredible seafood platters. The Long Pavilion is the jewel in the crown of Hamilton Island's restaurant scene and offers fine dining from Executive Chef Craig Knudsen including a four, six or eight course signature tasting menu.
What really sets the hotel apart though is the wonderful team who are on hand to help guests make the most of their Whitsunday stay whether they're looking to explore the reef by air or sea, play a round on Dent Island's Championship golf course or book the best table in town. They discussed the very best ways of taking in the Barrier Reef which included boat trips, kayaking trips and helicopter flights. We opted for a scenic seaplane flight which took us over the reef before dropping us off for a romantic Champagne picnic on world famous Whitehaven Beach which boats the world's whitest sand- the perfect end to our stay!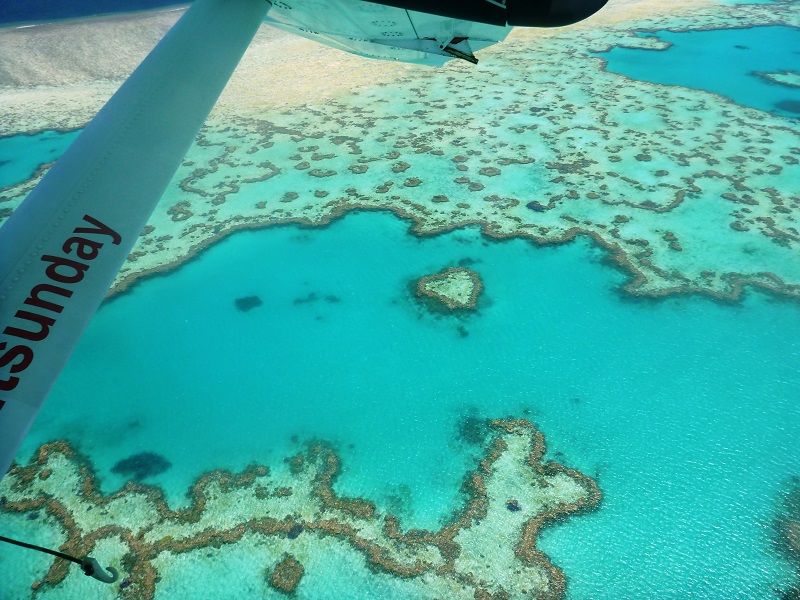 Getting there: Hamilton island and the Whitsundays are easily accessible via Sydney, Brisbane and Melbourne with regular Qantas and Virgin Australia flights. Save money by booking your international and domestic flights together using the Qantas Walkabout pass or the Sky Pass with Virgin Australia.