Abigail Gullo, the New Yorker who runs the bar at the much-hyped new restaurant Compere Lapin, has a theory about her adoptive city - 'they say you have to be successful to live in New York, beautiful to live in LA, but in New Orleans you can just be yourself.'

A 6in fleur-de-lis tattoo on her arm, the official Louisiana symbol, tells of her Big Easy love affair. 'I cherish bartending in this city because it's all about community. When Hurricane Katrina hit, many of the bars stayed open and staff did what they could to help, offering locals shelter.'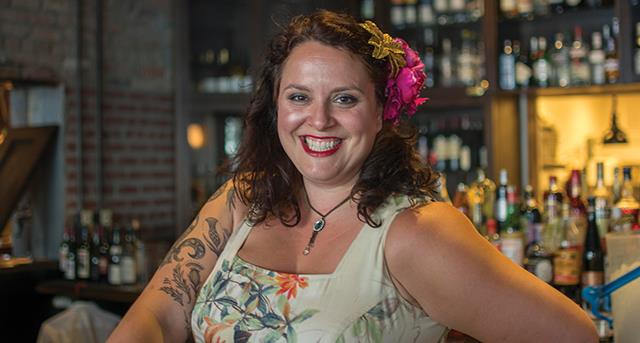 The self-styled Abigail Gullo
I'm not surprised. Community spirit is different here. Drink in the streets in other U.S. states and you'll be pounced on by the police. In New Orleans, they will stop for some banter or shout 'have a good time!' at revellers clutching their trusty Go Cups – plastic beakers you can grab from every bar and have refilled anywhere.

New Orleans' disdain for the status quo goes back a long way – 90 years ago it was named Prohibition America's wettest city and in 1928, when the Atlanta mayor asked Louisiana Governor Huey Long what he was doing to enforce the Prohibition Act, he reportedly replied: 'Not a damn thing!'

Most places found ways around the ban. To enter Mr O'Brien's Club Tipperary there was a secret password, 'storm's a-brewing', while guests dining at Antoine's restaurant were given teacups for their tipples. Both venues thrive today (with legitimate licences).

Drinking is still a theatrical sport. Sipping a Ramos gin fizz – one of the many local concoctions – at the 21st Amendment bar, we watch the swing-dancing couples cavorting under a deco chandelier. Ladies wear flippy skirts and bobby pins, men sport pork pie hats and shiny shoes.

Maybe it's the alligator-head voodoo sticks on sale at the market (a gift from Haiti immigrants), the celebratory approach to death with giant headstones and festival-style funeral parades, or the feeling you've stepped on to a Spanish film set that makes it so surreal.

Before the 1803 Louisiana Purchase, when the U.S. bought the whole state, ownership of New Orleans was tossed between France and Spain.
Stylish streets in the French Quarter
Often, it seems more European than American, particularly in the French Quarter, where the grand porches of 18th-century townhouses are covered by cascading plants making their escape from iron balconies.

It's also the location of our hotel. Twinkling fairy-lights hanging in the courtyard of the Maison Dupuy catch the eye of people walking by. With its Toulouse-Lautrec mural in the bistro we could be in France but for the maids gossiping in their Louisiana drawls.

A short walk away is St Louis Square, the heart of the French Quarter, where street performers perform magic for the crowds and brass bands mimic the puffed-out cheeks of Louis Armstrong.

The city's multi-culturalism means it's managed to swerve the rest of America's bind to hamburgers and fries. Instead its staple is Creole cuisine, mixing French cooking and hearty southern comfort food.

Worth trying are the alligator sausage and crayfish cheesecake at Jaquamo's restaurant, blackened fish at Tujague's and the deliciously thick grits at Brennan's.

From the hum of adversity – hurricanes, heatwaves and poverty – has erupted an attitude that life's too short. There's always an excuse for a party, and there is a festival practically every week.

Like a permanent morning-after state of dress, trees in even the most hidden neighbourhoods are abloom with streams of coloured beads flung up over years of Mardi Gras.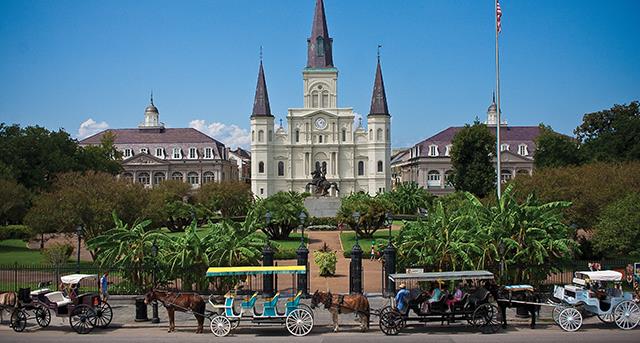 St Louis Cathedral in the heart of the French Quarter
People stick together. Strangers greet you with 'how y'all doing?' Smart and reliable like old-fashioned butlers, streetcars are the city's only method of public transport. They create a constant soundtrack as they rattle past the mansions of St Charles Avenue and vintage shops of the Magazine district.

The French theme continues in the trendy industrial area of Bywater, where you will find Bacchanal Fine Wine & Spirits shop.

Enjoy a bottle of plonk and a cheese platter in its beautiful garden, listening to the lunchtime band.

Like alcohol, music is ingrained in the city's rebellious spirit. In the Twenties, jazz was associated with the underworld, with the prostitutes and gangsters who conducted their business at seedy Storyville speakeasies.

Today, world-class bands play across scores of venues every night and tiny Preservation Hall is among the most renowned.

Somehow, the drummer in the five-piece band doesn't break a sweat as he hits the fast-as-lightning syncopated beats of his solo. The city has a big birthday soon, its 300th in 2018. But in the city where age is just a number, it'll forever stay a naughty teenager.
First published in the Daily Mail - February 2017
More articles below...