Laguna Beach in the late 1960s was overrun with hippies. It was home to Timothy Leary's Brotherhood of Eternal Love movement, on a mission to spread peace, love - and acid - to the world.
The focal point was a gallery and bookshop that supplied locals with its famous Orange Sunshine acid tabs. Surfboards were filled with them, and on one occasion Laguna Beach was showered with acid blotter dropped from a helicopter.
These hippies and surfers became major-league suppliers of LSD, and achieved superstar status among the psychedelic movement. Doug Oyen, our guide during a morning hike through the canyons above Laguna Beach, shows us some of the caves where hippies used to hang out.
We couldn't wish for a better guide. Doug is the first of many people we meet straight out of SoCal central casting: laidback, suntanned, wraparound shades and long blond mane.
The trek is painfully steep at times but worth it for panoramic views of the beaches and towns fringing the Pacific. A late afternoon walk in Laguna Beach confirms its counterculture days are over. Forget the 1960s ethos of 'Turn On, Tune In, Drop Out' - today's buzzwords are 'Tone Up, Tummy In, Work Out'. LSD has been replaced by the yoga mat.
They're everywhere: beside Gucci handbags in restaurants; in shopping baskets next to quinoa and kale; or clutched under the arms of shoppers looking at $200 ripped jeans in boutiques. 
On a stroll through Heisler Park we see a timeless SoCal sight: rows of surfers in the ocean, waiting for the big wave that will make them the envy of their friends. A long line of brown pelicans in V-formation flies just above the water.
We dine at Driftwood Kitchen, a fabulous new beachfront restaurant serving classic surf and turf.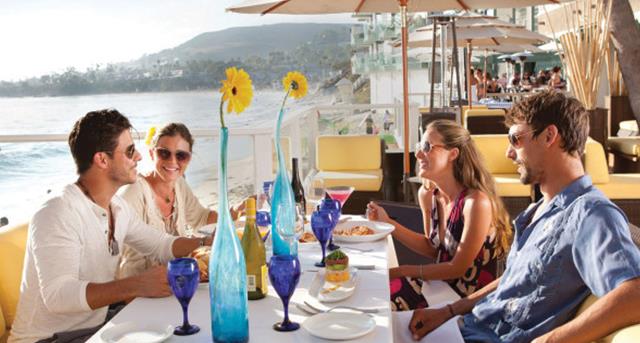 Enjoy waterfront views of the PAcifici whilst dining at Driftwood Kitchen
We stay the night at The Ranch at Laguna Beach. Transport is by a golf buggy, or else in a cool 15-seat Chevy Stageway. Next day we head up the Pacific Coast Highway to Huntington Beach, where we're greeted by two giant inflatable swans in the new Pasea Hotel's pool, facing the large sandy beach.
In the hotel's Tanner's bar, the centrepiece is a large, twisting tree trunk with a canopy of hanging lights. Hearing our English accents, our waitress reveals she's moving to London to take a drama course. Later, a surferdude taxi-driver blasts out Brahms from the stereo: SoCal folk can be so surprising.
After heading further north to Santa Barbara, we eat delicious ice cream at McConnell's and wander along Stearns Wharf, where children jump off into the sea.
We're treated to a helicopter ride over Santa Barbara, and fly above the huge Clark Estate, home to a former copper magnate and, later, his reclusive heiress. We also spot Michael Douglas's place and Oprah Winfrey's house.
We stay at luxurious El Encanto, in the Santa Barbara hills, where actress Hedy Lamarr once lived. The accommodation is luxurious Spanish-style villas among palms and lemon trees.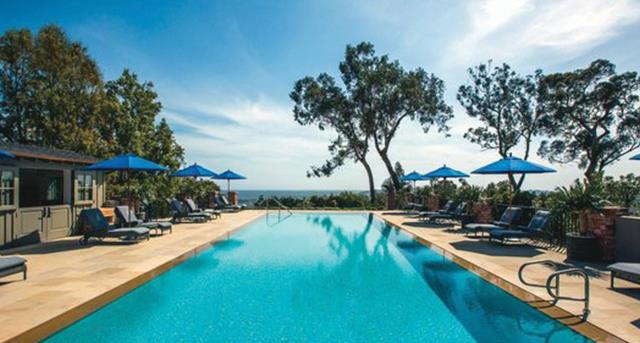 Sun trap: the pool at The Belmond
Next stop is a little bit of Denmark: Solvang, in the Santa Ynez Valley. In 1911, almost 100 Danish settlers arrived looking for farming land and built what now resembles a Danish village, with windmills, bakeries and their own version of Copenhagen's Little Mermaid statue. We pop into the Solvang Restaurant, famous for aebleskiver, a traditional, spherical Danish dessert served with raspberry jam and sugar.
This is the heart of southern California's wine region - the celebrated Sonoma and Napa valleys are much further north. Downtown Solvang has many bars and wine-tasting rooms,  serving wines from local producers. In The Wandering Dog, we're soon swaying on our stools but this is due more to the all-American sounds of Boston, Kansas and Don Henley on the music system than to the chardonnay, syrah and, of course, pinot noir.
Later, we drive up winding roads of Ballard Canyon to a vineyard called Rusack to taste its wines. When veteran American comedian Shelley Berman visited, he launched into an impromptu rendition of Que Syrah Syrah, which was met with delight from surprised guests. The estate's Marti Martin told him: 'You see, you're still getting applause wherever you go.'  Who needs LSD when you have a good bottle of syrah?
First published in the Mail on Sunday -  July 2017
More articles below...