Peru is often considered a backpacker's destination - after all, one of the highlights is a long hike to Machu Picchu in less-than-glamorous (but certainly scenic) conditions.
But as the country has become increasingly popular destination, trips there have been transformed - and it's possible to stay in the lap of Peruvian luxury. Following the cue of Gwyneth Paltrow, who visited recently with her children Apple and Moses, five-star options include hotels with personal butler service, restaurants with world-renowned chefs, and even (if you can really push the boat out, so to speak) private train travel.
An Inca citadel in the 15th and 16th centuries, Machu Picchu wasn't on most of the world's radar until it was 'discovered' by Hiram Bingham in 1911. With its breathtaking views of the Andes and improbably-located ruins, it's truly a sight to behold.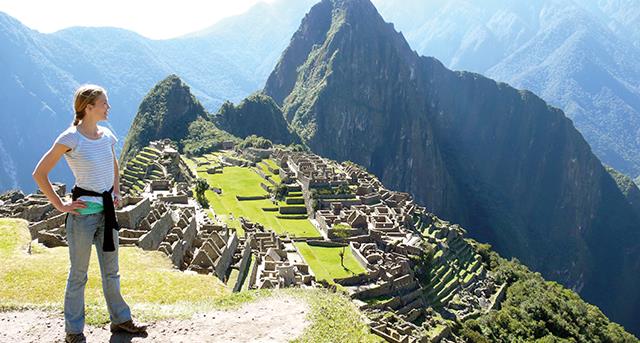 Worth the trek: beautiful views of Machu Picchu
The Sumaq Machu Picchu Hotel is one of two five-star hotels in town - it's the go-to spot for celebrity visitors such as Indian actress Aishwarya Rai and has racked up accolades for being one of the top hotels in South America. After being picked up from the town's rail station, guests are welcomed with a pisco sour - the country's signature drink - as well as home-made chocolate in their rooms, where they can enjoy sweeping views of the Vilcanota river and mountains. 
Following a day up at the ruins, nothing is more welcome than a stint at Sumaq's Aqlla Spa, where visitors have a range of blissful treatments from which to choose, including the signature Aqlla massage and Andean stone massage.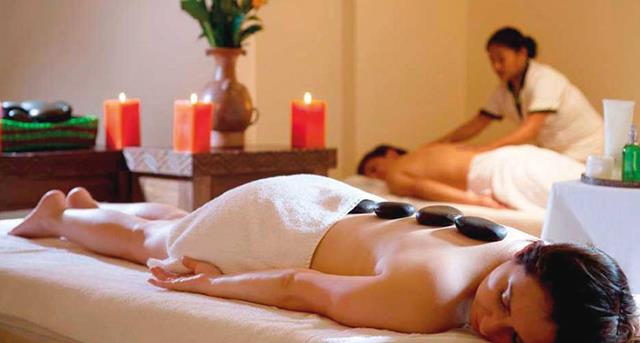 Relax and enjoy an Andean stone massage

Though there are direct trains that take travellers to Machu Picchu all the way from Cusco, Inca Rail offers a private chartered service, the Inca Princess, from the Sacred Valley town of Ollantaytambo.
Stars to have chartered it have included Miss Paltrow, Mick Jagger, Bono, and David Guetta, as well as foreign leaders. The Inca Princess provides an entire private car with a dedicated staff of three for the 1 hour 45-minute journey.
For a $10,000 round trip, the car seats up to eight, who are welcomed on board with champagne or tea, served a gourmet meal and who watch the stunning countryside through UV-protected windows, or from the car's balcony.
Peru's Sacred Valley is dotted with rich in Inca heritage, including villages, Ollantaytambo and Pisac, archaeological site, Moray, and ancient salt mine, Salineras de Maras.
The Tambo del Inka, a Luxury Collection Resort & Spa, Valle Sagrado is a Starwood resort that has earned awards for sustainability and enticed famous names such as Susan Sarandon and, most recently, Jill Biden.
Tambo del Inka's Hawa restaurant serves organic vegetables from its own garden, and adventurous eaters can try a local delicacy, cuy - that's guinea pig - served in a less intimidating fillet form.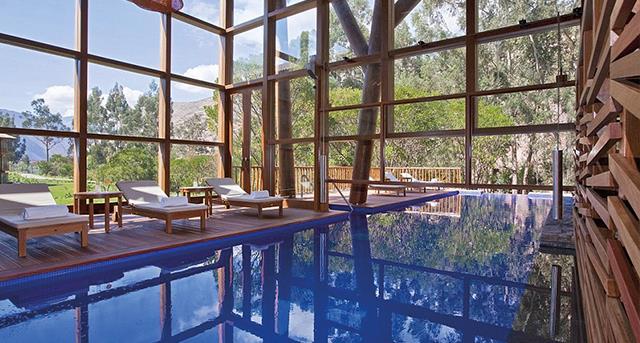 Kick back and relax: the heated indoor heated pool at Tambo del Inka
The former capital of the Inca empire, Cusco can keep a visitor busy for days with its beautiful churches, convents, and temples.
The JW Marriott Convento hotel is a restored 16th-century convent which retains some original structure. Check-in under the glow of a giant 70,000-Swarovski-crystal homage to the sun god Inti, and guests are welcomed with a helpful cup of coca or mint tea, which can alleviate altitude sickness. The property - the bedrooms of which have oxygen piped in - is built atop Inca ruins, and tours highlighting its history are offered.
The Belmond Palazio Nazarenas hotel, which has had stay One Direction and, again, Miss Paltrow, is also a former convent, with fountains in the courtyards dating back to the 17th century. The rooms here are also oxygen-enhanced. A personal butler escorts guests to their rooms.
The Senzo restaurant is beside the pool and is headed by Virgilio Martinez, the chef behind Lima's world-renowned Central restaurant. 
The capital is often overlooked, but is worth a stop for scoping out the pretty Miraflores neighbourhood and partaking in the foodie scene - particularly if you can get a reservation at Central, which ranked number four on the exclusive World's 50 Best Restaurants list last year.
The award-winning Swissotel Lima boasts a grand lobby with live music. Bedrooms have walk-in closets and cosy robes - while the spa is the last word in luxury.
First published in the Mail on Sunday -  April 2017
More articles below...