We're mountain biking at 12,500ft in the Andes, past dusty pueblos, along dirt tracks through the fields of red earth that give Peru's Sacred Valley its name. Sacred because of its fertility and ability to support the finest, fattest corn and a mind boggling 2,800 types of potato. 

The going has been unusually tough; the air up here is thin, but the stupendous ring of jagged crags and the coca toffees we've been chewing seem to have got us to the top of the world.

As we descend, heading towards the sunken terraces of Moray, one of the 3,000 archaeological Inca sites that litter the valley, we stop for a breather at a field of what could be red-hot pokers. The crop has floppy burnt-orange heads and bright-pink stalks, like the legs of flamingos.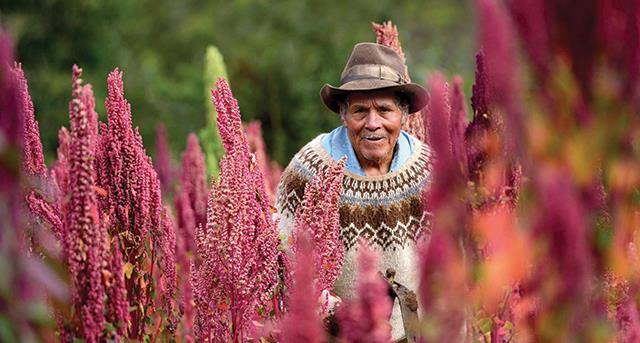 Quinoa - Peru's super-food is gaining popularity around the world
'Quinoa!' says our guide Juan Carlos, beaming with pride. 'It's famous now, no?' Indeed, it is. Not so long ago, only health-food nuts would have known about this tiny Peruvian grain; today, sales of quinoa have rocketed. You'll find it everywhere, a high-protein superfood.

There are 300 varieties of quinoa grown here (including a bright red variety that turns your tongue scarlet), but it's only one in a line-up of indigenous Peruvian ingredients taking the culinary world by storm.

Some are familiar - amaranth, acai - others relative newcomers to our plates, but you'll be hearing more of them soon: maca, lucuma, camu camu, cocona, yakon and huacatay, a black mint traditionally served with pork crackling.

Many can't be found anywhere else, and now there are direct flights to Lima from Britain, they're within reach of the new breed of traveller who will cross half the world for a decent lunch.

Any foodie tour starts in Lima, Peru's vast capital sprawling some 60 miles along the Pacific coast. These days, Lima is a cosmopolitan hot spot where beautiful people drink Pisco cocktails at colonial-era bars such as Ayahuasca, or take yoga classes on the terrace of the spanking new Hotel B in the Barranco, before swinging over to celebrity photographer Mario Testino's gallery in Miraflores.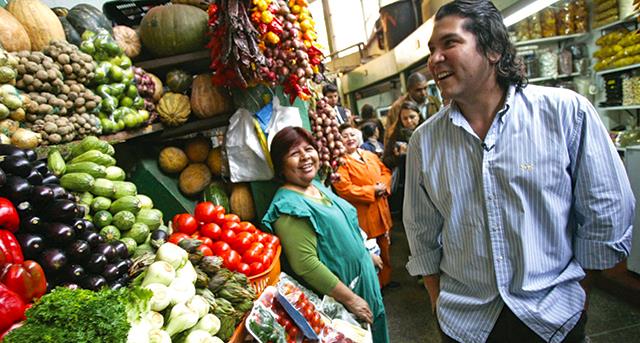 Chef Gaston Acurio is admired throughout Peru
Testino is a god here, but if you ask for the name of other famous Peruvians, it's the chefs' names that crop up – Gaston Acurio (the granddaddy of them all, 'he's treated like the Pope'), Pedro Miguel Schiaffino at Malabar, Virgilio Martinez at Central. These men are Lima's rock 'n' roll royalty.

But it's not just the high-end new wave restaurants of Lima that draw in the gastronomic tourists – it's the thousands of humble family-run picanterias, the bodegas serving sashimi-style tiradito and ceviche, marinated in a kicky 'tiger's milk' of lime and chilli. It's the street-food carts serving anticuchos meat skewers slathered in garlicky sauce, the stuffed rocoto chillis, and the Pisco bars on every corner.

I stayed at the Westin, a shiny tower of a hotel, its chef a superstar and its breakfast bar serving every superfood under the sun, from inca berries to bee pollen.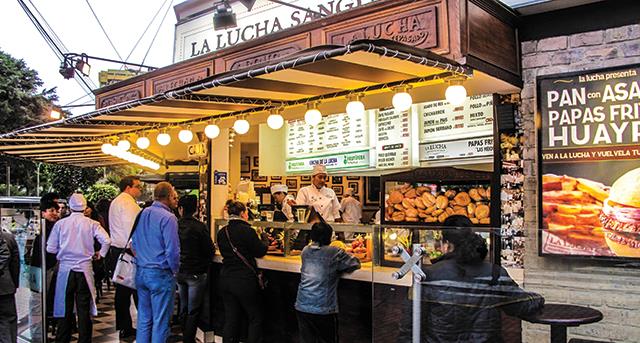 Family-run Street food stalls in Lima also serve excellent dishes
Cuzco, Peru's ancient capital high in the Andes and an hour's flight from Lima, is where you find some of the country's most exciting chefs.

Many of the dishes now gracing the refined tables here originate from pre-Inca times. You can see recognisable ingredients painted on the ancient ceramics housed at the unmissable Larco Museum in Lima; while in the 17th-century Andean Baroque painting of The Last Supper in Cuzco's marvellously gaudy cathedral, Christ and the Apostles are all set to tuck into a dish of roasted guinea pig.

Between meals, we visit Cuzco's Coricancha Sun Temple, an amalgam of sacred Inca architecture overlaid with grand courtyards from the Spanish colonial era. Many of the exquisite restaurants and hotels are built within Inca walls.

At the Palacio del Inka hotel, we're served coca tea, a traditional remedy for altitude sickness, and rest our backs against the longest original Inca wall in the country.

This is the story here: a marriage of the historic and the sophisticated buzz of the new.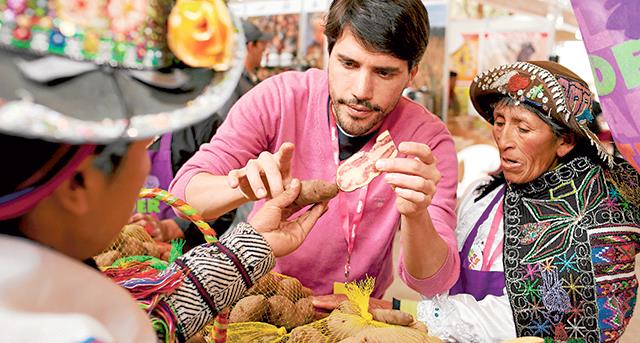 Chef Virgilio Martinez shopping in the local market for the freshest ingredients
Back in Lima, I meet British-Peruvian chef Martin Morales, the man behind London's acclaimed restaurants Ceviche and Andina.

'We're a nation obsessed with food,' he shrugs. 'But there's real soul here, too. This (he points to transparent slivers of river trout tiratador and melting cubes of ceviche) is soul food. You can get amazing dishes from a hole in the wall on a back street.' Like everyone I meet in Peru, Morales is full of pride in his nation's culinary endeavour. 

'Look,' he says as we leave El Mercado, 'there's history in every dish, the result of 7,000 years of cooking, and we're only scratching the surface.'
Expect a lot more from Peru on a plate near you soon – though the coca tea, I suspect, is unlikely ever to make it through Customs.
First published in the Daily Mail - September 2016
More articles below...